by Tubagus Boris Herlambang
Back in 1995 I started to take an interest in Ska music. It was the time when I used to look for any kind of information about Ska history and new bands. And it was the time that I found out about a 2Tone band called Madness.
Find "Complete Madness" at Amazon (affiliate link).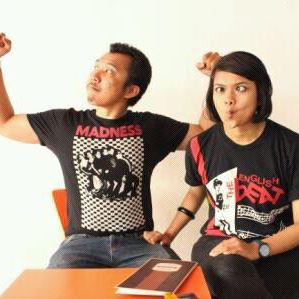 I never knew their music until I found the cassette "Complete Madness" in a flea market in Jakarta, Indonesia, the place where I live.
The first song that I listened to was "In The City", and it left me confused. I already knew The Specials. But I didn't think they sounded similar. Madness were not like any other Ska band that I had already listened to.
Their songs were different. Madness had their own style of playing Ska music with Suggs singing in his English accent, the piano, the chord progressions. It was totally different, their music had such a fun side to it.
At that moment I fell in love with the band. And I still love their music until now, Madness is all in the mind!
This post is part of the Madness Album Series at REGGAE STEADY SKA. To celebrate the arrival of Madness' tenth studio album "Oui Oui, Si Si, Ja Ja, Da Da", we asked Madness lovers from around the world for their personal tales on Madness and their albums. For an overview on all the texts from this series, please go here. "Complete Madness", the first compilation that included the hits of their first three albums plus some stand-alone singles, was released in 1982. It was extremely successful and for many the introduction into the world of Madness