by Joachim Uerschels
[dropcap]I[/dropcap]n 1999, I played bass in an Indie Rock band, wrote for magazines (mostly about HipHop, Jazz, Soul) worked for a Charts show at a music television station, and at home I listened to Country music (by Townes Van Zandt and other desperados). It was quite obvious that my Ska days were over. From 1984 until 1991 I had been in a Ska band, had written songs, recorded music and toured distant cities and even not-too distant countries. Long ago.
What had happened?
Somewhere around 1990 my Ska flame had gone cold. Exciting things happened elsewhere I thought. My band had split for various reasons, one of which was, that no one seemed to take our music seriously. Not the media. Not our friends. And maybe not we ourselves. Ska was a memory of our school days. Of having fun, drinking, being silly. When we tried to go slower, the crowd would go: "Faster." Did Ska really represent us any longer? I didn't write a song for many years. When someone at college asked me: "Didn't you play in that Ska band The Braces", I felt slightly embarrassed.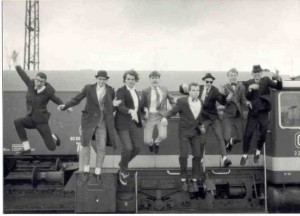 So much music, so little time
Because of my job, CDs with new pop music releases were piling everywhere I went. Most of them were just plastic to me. One day I saw a copy of the Madness album "Wonderful" lying around in the office at the TV station VIVA. It didn't seem to belong to anyone specific. So I took it home.
Lovestruck
I'm not saying that my reaction was quite as intense as the first time I heard The Specials when I was 14 years old. Far from it. But like a miracle, of all the records I had in 1999, this one was being played constantly – in the next days, weeks, months. And I deeply fell in love with it. Songs like "Lovestruck", "4am" and "Saturday Night Sunday Morning" had so much of everything I didn't even know I was missing: style, charme, a lightness mixed with a down-to-earth attitude. This album felt true, nothing seemed forced, Madness just did the right thing with "Wonderful".
The long distance
Most important, Madness showed me with "Wonderful": There is a way to grow up in Ska culture. Madness had never been a pure Ska band, whatever that means. There has always been a lot of British Pop tradition in the mix. But on "Wonderful" the Ska/Rocksteady vibe was stronger than on other releases like "Mad Not Mad". I liked that. With their re-union album, Madness made it clear as a collective: We're in this for the long distance.
Home Again
By 2000, I had written new songs and reformed The Braces. I discovered other bands like The Slackers, The Rhythm Doctors, Westbound Train, Intensified, The Hotknives, Liberator, later Babylove & The Van Dangos, Buster Shuffle. I even enjoyed my old songs again. And to me the beauty of activities like the "Madness Album Series" here at REGGAE STEADY SKA is to connect with people who know how it feels. It feels like home. Thanks, Madness.
[alert type="blue"]This post is part of the Madness Album Series at REGGAE STEADY SKA. To celebrate the arrival of Madness' tenth studio album "Oui Oui, Si Si, Ja Ja, Da Da", we asked Madness lovers from around the world for their personal tales on Madness and their albums. For an overview on all the texts from this series, please go here.  Album No. 7, "Wonderful", was released in 1999.
[/alert]