An interview with author Shelley Hinchliffe-Reece
A few years back, I visited Coventry, England, home of The Specials and The Selecter, and ground zero of the Two-Tone movement. At the Coventry Music Museum, I spent a lot of time staring at The Rude Boy's Bedroom exhibit, imagining what it must have been like to have grown up in England when Two-Tone topped the charts. Thanks to the sharp memory and strong storyteller skills of Shelley Hinchliffe-Reece, I now have a much better picture. Her debut novel, Under The Clock, is a semi-autobiographical story of growing up in a small town, far from the action but connected by and to the music. Rather than spending years trying to find an agent and get the attention of a major publisher, Shelley chose to release the book on her own, but what the novel lacks in professional polish it makes up ten fold in authenticity, passion and raw energy. It's filled with fun and flawed characters, the kind we all hung out with, and plenty of the stupid, reckless and sometimes criminal teen behavior that we all remember so fondly. Best of all, it perfectly captures that soul-crushing teenage boredom and growing fear that you're trapped forever in a do nothing, dead end town. As fun as the book is for readers, it wasn't all fun for the author. "The Essex town was always difficult for me with deep difficult memories to deal with, and I always struggled to go back for years after moving to London. I feel more at peace with the place these days, now that I'm older and slightly wiser."
Maybe you were there when it all happened, maybe you were a continent away, maybe you weren't even born yet. Doesn't matter. Shelley's book will put you Under the Clock. And that's a great place to be. So let's get to the interview.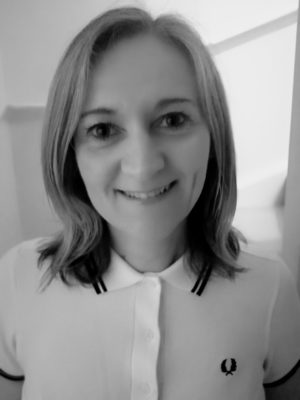 What are your first Two-Tone memories?
I would have been age 12 watching Top Of The Pops on TV on a Thursday evening round my mate's house. The day I saw The Beat doing Tears of a Clown on there, I was totally under the Two-Tone spell. Then One Step Beyond by Madness came along and blew me away. My goodness what an anthem! How can anyone sit down when that is playing? And the power of Gangsters, oh boy! Then in 1980 came my all time favourite song by The Specials, Do Nothing which seemed to capture our lives entirely in our small town. I have been in love with Two-Tone ever since and Terry Hall and Suggs spent many years above my pillow on my wall.
You paint a detailed picture of life in a small town. What role did music, specifically Two-Tone, play in your life, how did it connect you to the wider world or help you get through the day?
Music has always been my life. It has always been my escape from difficult times. Two-Tone was just heaven for me. It made me dance wildly and gave us amazing fashion and lyrics that fitted with our lives. We never had live music in such a small town and I was so desperate to get to the city where it was all happening.
The disco West Way plays a central role in your book, a safe(ish) place where the Two-Tone crowd shared space with Mods and Rockers. Was that an accurate portrayal of your town or more wishful thinking?
Yes, it was very accurate from my memory. There was rivalry of course, but I remember hanging out with the Mods and having good banter with them. The Rockers were always around but we all frowned upon their shabby look and had little to do with them.
People I know always ask me if they're in one of my books. Soooo – are the characters in your book based on real people or some mash-up of several people in your life?
Yes, the characters are all based on old mates. While writing, I would take one of my old friends and elaborate on their personality to make a good story. Marty was based on a couple of ex-boyfriends of mine mixed together. Some friends know that I based characters on them and others are still to find out. Every one of my old friends has given me great feedback on the book. All loving the memories it gave them. Many of them have guessed who the characters are based on. It has made me very happy to share a great set of memories with special people.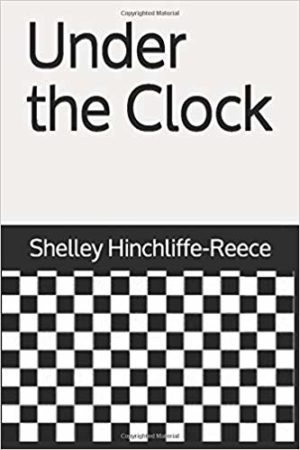 Your main character carries a sand-encrusted cassette everywhere she goes, an image that will resonate with just about everybody of a certain age. Still have any of those old cassettes?
I loved my cassette player. Took it everywhere with me when I was young. I used to put it in the front basket of my bike and blast The Specials to myself and anyone else in earshot. Still have our copy of Dance Craze on vinyl LP. What a fantastic memory that is! None of my recordings from the radio though. I don't know what ever happened to them. They were probably stretched from over usage and battered from pounding up and down in the basket of my bike!
Tell us a bit about your approach to the book, your research and your writing process.
I definitely had a plan for the book. I've had it in me for years waiting to come out. Life takes over and you just never find the time, but I had hip replacement surgery about 18 months ago due to painful Osteo Arthritis and it gave me a new lease of life after a long time in pain. Something just clicked that I wanted to do it before I was too old. Some of the [plot] twists came during the writing process and just felt right. I have been in London for over 35 years now and my husband is a London black cabbie* so it's all very familiar to us.
In fact and fiction, people have been meeting "under the clock" for as long as there's been clocks [WWII movie, rom-com, department store, NYC, Douglas Adams]. Was that something you and your friends really did?
The pact did not really exist but I thought it would have been a great thing to do. Funny enough, I met up with some of my old friends last summer for the first time in 35 years. It was really lovely and quite emotional. You see, Shell was based on me and my life. I did have the very same start in life, losing my parents at an early age and ending up in the care system throughout my young life. I did run off to London too. Not quite so dramatically as Shell. There were no waving friends off at the station and seeing them fade into the distance. I worked at a holiday camp for a couple of years first, age 16, and met my now husband, Graham, while he was a drummer in the resident band. We moved to London together at age 18 and never looked back. Hence this is where the character of Dan came from in the book.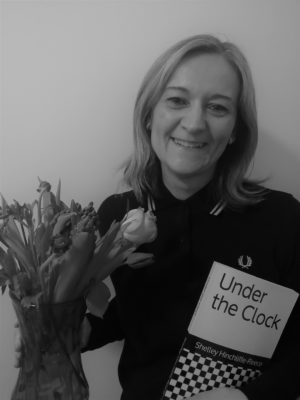 Shell (or Shelley) pounds down the play button on her sand-encrusted cassette player. What are the first 5 songs we hear?
Top 5 favourite sounds for Shell and Shelley would be:
"Under The Clock" by Shelley Hinchliffe-Reece is available at Amazon: Get it here.
---
*From The Knowledge, London's Legendary Taxi-Driver Test, Puts Up a Fight in the Age of GPS
By Jody Rosen, New York Times Magazine, 10 November, 2014:
"… the trial a London cabbie endures to gain his qualification … has been called the hardest test, of any kind, in the world. Its rigors have been likened to those required to earn a degree in law or medicine. It is without question a unique intellectual, psychological and physical ordeal, demanding unnumbered thousands of hours of immersive study, as would-be cabbies undertake the task of committing to memory the entirety of London, and demonstrating that mastery through a progressively more difficult sequence of oral examinations — a process which, on average, takes four years to complete, and for some, much longer than that. The guidebook issued to prospective cabbies by London Taxi and Private Hire (LTPH), which oversees the test, summarizes the task like this:
To achieve the required standard to be licensed as an "All London" taxi driver you will need a thorough knowledge, primarily, of the area within a six-mile radius of Charing Cross. You will need to know: all the streets; housing estates; parks and open spaces; government offices and departments; financial and commercial centres; diplomatic premises; town halls; registry offices; hospitals; places of worship; sports stadiums and leisure centres; airline offices; stations; hotels; clubs; theatres; cinemas; museums; art galleries; schools; colleges and universities; police stations and headquarters buildings; civil, criminal and coroner's courts; prisons; and places of interest to tourists. In fact, anywhere a taxi passenger might ask to be taken.
If anything, this description understates the case."
---
Full disclaimer: Some links are affiliate links, so if you buy the items by using those links, you support Reggae Steady Ska without paying a cent more than you would usually do.