Five years ago, three ska and reggae fans based in Cologne with no experience in the matter set out to start an annual festival on their own. By taking risks with unheard-of bands in the mix, connecting local bands with international stars and with special offers for young visitors, Freedom Sounds has been able to set a trademark and secure a place in the festival circuit.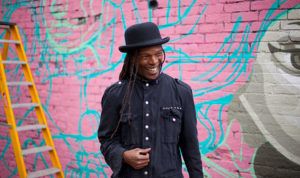 The three ska fans are Sven, Uli und Peter, and they are good friends of Reggae Steady Ska, which is not surprising, since we share the same hometown. Here's a chat with Peter Clemm about what to expect from this year's festival. There is also something in it for anyone who thinks about organizing a ska show.
Already a few weeks ago, the news was spread that there weren't many festival tickets left. Is it still possible to book?
You can still get tickets, but they will sell out, either in advance or, more likely, early on the first festival day. So don't wait for too long. The last day to order advance tickets via the website (i.e. without booking fees) is Easter Monday.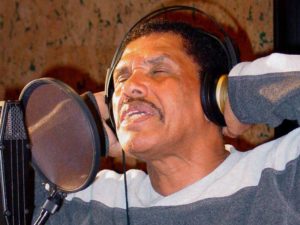 The headlining acts of this year's 2-day festival are The Beat featuring Ranking Roger and Jamaican recording artist Winston Francis. Two major acts from two eras. How did you get them for Freedom Sounds?
Because we really wanted them! Winston Francis is one of my favourite Jamaican singers and a really friendly person as well. I had a chat with him a while ago at another festival and invited him to come and play. The rest was arranged through a booking agency.
And The Beat… I have been a fan for nearly my whole life. When I was a teenager, I meticulously drew a lifesize copy of the Beat girl from the first album on my bedroom wardrobe. I adored them and tried to get hold of every single record. That was more than 30 years ago and now they will play at our festival. You could call it a dream come true – only I never even dreamed anything like this would happen.
One good thing about this music and this scene is that most artists are in it for the music and the joy of playing to an audience who listens and dances to their performance. Even though we are a relatively small festival and can't pay anybody's weight in gold, we try to look after our artists as well as we can. Plus we have a very appreciative audience. I think artists know that, so if there's a will, there's a way. In all the five years we have been doing the festival, there have only been one or two artists we wanted, but could not agree on an affordable fee with – or rather with their managements. That's usually where the fancy demands come from.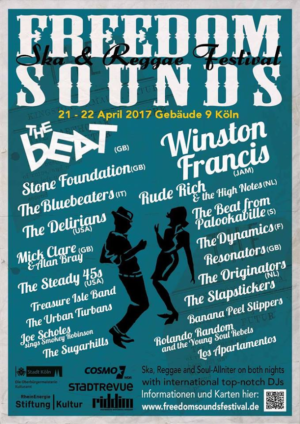 It is the first time that the festival has a motto. What's behind it?
The motto is "Freedom Sounds Festival – Celebrating diversity, love and unity". A few months ago a right-wing party announced that they would hold their party convention in Cologne – on the festival weekend. This party has been trying to scapegoat people – immigrants, minorities, the EU – for the last few years. Their politics go against everything the festival stands for, so we felt that we had to make a clear statement.
Ska, Reggae, Soul and most other pop music that we listen to were first created by black people. All three genres have had huge political impacts in the fight for freedom and equality, be it during the American Civil Rights Movement or Jamaican independence. That's one reason why we called our baby Freedom Sounds.
In a way, we are stating the obvious, but sometimes that needs to be done. Just like The Special AKA sang: "If you have a racist friend, now is the time for your friendship to end."
Ranking Roger himself grew up in an atmosphere of racism, but he managed to turn this bad experience into great art. The Beat were one of the forerunners of Rock Against Racism at the end of the 1970s. They have written some brilliant songs addressing the problems of racism, but always with a positive message. This is why we nicked the "love and unity"-part of the motto from their lyrics of "Stand Down Margaret".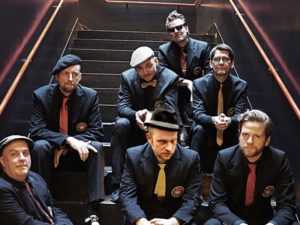 One speciality of Freedom Sounds has been to have one or two bands in the line-up that are even new to longtime ska fans, but who surprise with their epic performances. Goldmaster Allstars (2013) or Akatz (2016) come to mind. What do you expect: Who will be added to the list of discoveries after this year's festival weekend?
There is a number of contestants. I think, there are at least three bands hardly anybody will have seen before, but who will blow people away. The Steady 45s from L.A. are definitely one of the most promising new ska bands and will tour Europe for the first time. Resonators from Brighton have a great vibe live. I was lucky enough to see them in England, but they have never played in Germany before. To get the Beat From Palookaville over from Stockholm has been quite a lot of logistical work, so I bloody well hope they will tear down the place. Then again, there are also The Bluebeaters, who many Ska fans have heard on record, but never seen live. This really is their first show in Germany – after 23 years together.
When you look at the ska scene in Europe, you see artists and fans that have been active for quite a few years. But there are not that many new arrivals. Do you see ways to reverse this trend?
I think there are plenty of exciting new acts, at least internationally, but we all need to be ready to actually look for and listen to them. With the festival, we are trying to combine new acts with established ones and it works really well. People might buy a ticket because they know the headliners, but at the same time they might discover their next favourite band. One visitor said to me recently: "What I like most about Freedom Sounds is knowing that I will fall in love with new acts I have never heard of before." That's one of the nicest comments I have ever heard about the festival.
When it comes to the German scene, I do agree with you. We need more bands, younger bands that take risks, that leave the beaten ska tracks. Don't record the thousandth version of "Monkey Man" or "007". Try something new. That's how all the major ska waves started, like 2-Tone or the third wave.
You have been a fan of ska music for many years. How has organizing an annual festival changed your view on the music and the culture?
In different ways. I am still surprised and pleased at how many of my favourite musicians also turn out to be really great people. There have been one or two exceptions and that usually results in me not wanting to listen to their records anymore.
I know how much work, enthusiasm and financial risk have to be invested into setting up shows. And I can only thank the musicians and promoters who do that for a living.
I can get really angry when so-called fans of the music complain that paying 15 € for a 9-piece band from America touring Europe is a bit steep or download music illegally rather than buying it from the bands. It sounds like a cliché, but it kills our music. Culture costs money. Artist need to eat.
Last year, you helped connect the original Londoner Arthur Kay with The Clerks from Cologne as his backing band. Now they have an album out and started touring together. Your engagement doesn't stop at booking bands for a festival, does it?
No, it doesn't. The strongest motivation to start the festival was to do something to help our music survive. To be able to contribute a small part is a great reward. When I listened to the first recordings of Arthur with the Clerks, I had tears in my eyes. To think that we helped making this possible, drives us on.
What tips can you give potential festival visitors to make the most of Freedom Sounds 2017?
Be early, stay late, drink reasonably.
Tickets for Freedom Sounds Festival 2017 are available now at their website.