If you've been to Greece, you've got a thousand reasons why you want to go back. Let me add one more to your list—the nine-piece ska band out of the picturesque resort town of Egio (aka, Aigio).
I first heard Les Skartoi! back in 2009 when Ska Radio came out. I fell hard for their sound; part traditional, part soul, part jazz, part pop. I'm sucker for any ska band with a female singer and Les Skartoi!'s lead Anastasia) is a perfect example why. When I read in Do The Dog Skazine that they had a new EP out, I knew it was time to reach out for an interview. I would have preferred to interview the band at a nice cafe on Akoli Beach, but instead stuck to email. So crack open a bottle of Volkan Grey and soak up some modern Greek culture.
RSS: The greatest stories in western civilization had their origins in Greece. What's the origin story of Les SkartOi!?
Les SkartOi!: Les SkartOi! was born in the second half of 2004. Same old story … Three or four friends gathered in a basement using an old ladder as a microphone base (for real), trying to play their favorite ska covers and create their own music. Little by little this basement became a nice rehearsal studio and those three or four friends a nine-piece ska band! We will never forget our first gig in our hometown of Egio, Greece. We were expecting as an audience just some of our friends and surprisingly, there were more than 450 people waiting for us in front of the stage!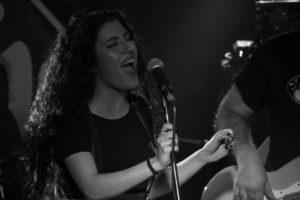 Ska is rooted in Jamaica's folk music traditions. Is it just my untrained ears or is there a similarity between ska and the traditional music of Greece? And if so, how does that influence your sound?
Your ears are very well trained, Charles. Yes, there are many similarities between traditional music from Jamaica and Greece. That's why Jamaican traditional music always sound familiar to Greeks. And we are lucky about that, because this helped us a lot to understand very soon all about Jamaican folk tradition. Through music, we realized that Jamaicans and Greeks have a lot of things in common!
At the same time, there's clearly some jazz influence, especially evident in the solos. Is that by design or just something that came out naturally?
All the band members have their own influences from many different kinds of music. Ska, reggae and rocksteady is the common passion we share and definitely the reason for this nine-membered gathering. Jazz music is one of our influences and most of the times came out naturally in some of our songs. Obviously we are not a jazz band, we respect this great music and like giving some jazzy touches in some of our tracks.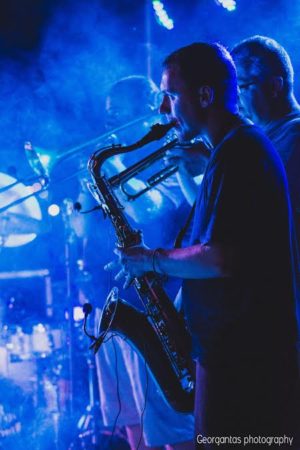 The EP starts with a powerful one-two punch; the title track, Fighting On The Dancefloor, and Smash It All.
The inspiration was taken from The Specials and their mighty song, Ghost Town. Fighting on the Dancefloor is the verse from Ghost Town that twisted in our minds and we used it as an image to convey our everyday struggle that we have to deal by "dancing the scums away." Smash it All is an anthem for all the people that they are fed up with hypocrisy, conformity and all those things that make our life miserable and meaningless. Both songs musically are based on 60s reggae beat of Maytals, Upsetters etc., and powered by the dynamic energy of raw soul music.
Love Is What You Give shows the band at its best in terms of music, vocals and message. The production is also outstanding. Tell us how this song came together.
The song's message came out of thoughts about giving without expecting reward. This is pure love. Giving a sweet word to someone who needs it, food to a hungry person and so many other everyday little things, is love. Just do good, without worrying about any consequences. Do your thing no matter what the people say. Some people maybe take you for a fool when you do something good without expecting return, but that's what true love is all about.
You close the EP out with a sweet cover of the Etta James classic, Something's Gotta Hold On Me. Talk about how you blended the R&B original with your rocksteady sound, and how you added just a dash of dub at the end.
This is one of our favorite classic R&B songs! During a rehearsal, one of us started playing the song's chords in a classic reggae style. The response of the other members was fabulous. We couldn't stop jamming this tune! At this time we realized that it could be a great reggae cover. After some months of rehearsals we got into the recording studio, where our sound engineer and producer Akis Golfidis* had the idea of adding this dash of dub at the end of the track. We really hope you enjoy it as much as we do!
Over the years you've shared the stage with some great bands—Bad Manners, The Toasters, Aggrolites, Spanish singer-songwriter Tonino Carotone, Mr. Symarip, The English Beat, Mark Foggo and Manu Chao among others. What was that experience like? And who would you like to share the stage with next?
We are very happy for these kind of collaborations! We enjoyed sharing the stage with all these great artists and somehow these moments were such a great school for us. Furthermore, having a cool backstage chat with your reggae and ska heroes is always a great experience! An artist we would definitely like to share the stage with, (among others) is Toots Hibbert and the legendary Toots and the Maytals band. We hope we will manage to do it someday in the future.
What's next for Les SkartOi!?
At this moment we are planning to get into the studio to record our new album and we are looking forward to this extremely creative process. Gigs all around Greece and Europe are always on the list, especially during summer. And finally, some more great collaborations. On 17 June we will share the stage with Thievery Corporation and we are looking forward to it.
Les Skartoi! is:
Drums: Drumystick Rust-aman [I was sad to learn it was just nickname. CB]
Bass/vocals: Alexis Machairas
Guitar/vocals: Kostas Panagiotopoulos
Guitar/vocals: Nikos Xristodoulopoulos
Hammond/Piano: Giannis Jovolos
Trumpet: George Babarakos
Trombone: Panagiotis Zafeiropoulos
Sax: Timos Spanopoulos
Vocals: Anastasia Velissariou
*Akis Golfidis has posted numerous free tutorials on YouTube about recording, mixing and sound engineering. The only catch is that they're all in Greek.
Further listening/Watching:
Get the EP "Fighting On The Dancefloor" on amazon.
To listen to Les Skartoi! on soundcloud, click here.