A few quick questions on the reissue of a classic
If you were earning a university degree in the history of the late 70s ska- and mod-revival, Garry Bushell's books would be required reading. Red Planet Books has just reissued Garry's 2011 Dance Craze as '79 Dance Craze: The Ska Revival featuring a much-improved layout with larger, sharper photos, many new to this edition. Red Planet also published Garry's '79 Time For Action: The Mod Revival which I haven't (but probably should've) read. I checked in with the prolific writer to get his take on his own book.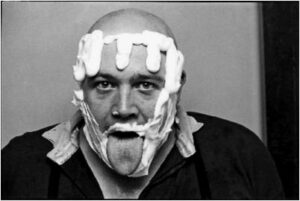 RSS: What was it like revisiting these stories – what surprised you the most, what was no surprise at all, and what do you think of that young Garry Bushell's writing style?
It was tremendous fun to revisit them. It really doesn't feel like 40 years ago – 42 now. I think it helped that I had no idea how much an impact 2-Tone would have long term. The idea that there would be a 2-Tone Village in Coventry or fancy museum exhibitions never entered any of our heads. We really were living in the moment. I'm surprised how unfazed we were to have people like Andy Warhol and Debbie Harry at the New York Specials shows. I'm surprised in retrospect how much of an influence the 2-Tone tours had on US musicians who went on to create the third wave ska bands. And around the world too. At the time I was surprised how hostile some people were to The Selecter – the Southfork Ranch incident in Dallas, Texas, was pretty heavy. And even middle class elements of the music press got snooty, accusing Jerry Dammers of ripping off Jamaican musicians when he was the most on-the-level and sincere person in the business. A saint compared to many.
Young Garry's writing style was…raw but I like the humour. Sometimes it can feel flippant but, to put it in context, the deadlines on Sounds meant sometimes I only had a few hours to turn around a 2-or-3000 word feature. The bands were living and making pop and Ska and youth cult history as they were going along and I was right there in the eye of the hurricane.
The book has photos from three great photographers – David Arnoff, Toni Tye and Virgina Tubett. Pick one shot by each and tell us why you love it.
David Arnoff – the head and shoulders close-up shot of Pauline Black near the back of the book, this is exactly how I remember her, strong, beautiful, intelligent and open.
Toni Tye – Buster Bloodvessel covered with shaving cream, Bad Manners were the court jesters of 2-Tone and Doug was always unpredictable; a loose cannon and fun to be around.
Virgina Turbett – the shot of the rude girls at the Electric Ballroom in 1979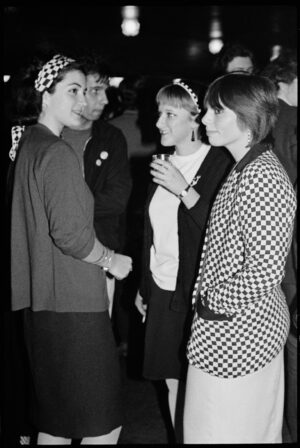 The book's available in five different covers – which is your favorite?
Tough question. I quite like the rude girls, but probably the Pauline Black cover – it's her on stage at her most aggressive. She had the best female voice in 2-Tone too. The Madness cover sold the best but only because UK shops like HMV only stocked that Suggsy cover (they only stocked the Paul Weller version of the Mod book too).
You've written a lot of music and pop culture books, but you've also written several novels – which of your novels should people start with?
If you like pulp fiction crime, then All Or Nothing with a background of sixties mod might be a good bet. My own favourite is Hell Bent which is a comic fantasy (despite the horror novel cover). The latest book in the Harry Tyler/The Face series comes out in May pitting my undercover cop against a rock band who are a front for an East End crime gang; it's number four in the series but they're all stand-alone pulp fiction stories.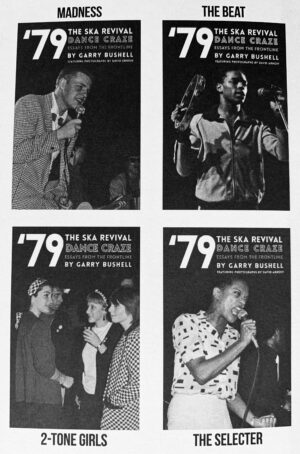 Any question I should have asked but didn't?
There are questions you could have asked but I'm glad you didn't. Never mention the Buster's white boiler suit story in polite company.
Garry Bushell's '79 Ska Revival Playlist – one song each from:
The Specials – Gangsters. (But with Ghost Town a close second).

Madness – My Girl. Pure pop.

The Selecter – On My Radio, their biggest and best hit

Judge Dread – Big Seven although I love Bring Back The Skins

Bad Manners – Skinhead Love Affair, written by the great Nick Welsh AKA King Hammond

The Bodysnatchers – Ruder Than You (they were)

The Beat – Hands Off She's Mine, one of many contenders
The book is available worldwide now at Amazon: Just click onthe following link: Gary Bushell, '79 Dance Craze (affiliate link, we receive a small commission, if you purchase the book)