You never forget your first time. And for thousands of ska fans, that first time was back in 1998 at a Save Ferris show. It was there that they fell madly in love with a style of music and a high-energy, fuck-art-let's-dance way of playing it. And there's more than a couple ska fans out there who will tell you they also fell in love with lead singer Monique Powell.
After the heyday years, the band went through a long, nasty and well-publicized breakup, and when the dust settled, Monique was the last one standing. She assembled a new band, launched a highly successful PledgeMusic campaign, and in February, released the 5-song EP, Checkered Past. The band's on the road now, but we tracked down Monique for a quick email interview.
RSS: It's been a long and interesting road since the last Save Ferris album. Tell us about your new band.
Monique: Brandon (Brad) "Boom Boom" Dickert – Drums – aka "The Fixer" seems to know how to, and be happy to, fix just about anything, from a musical kerfuffle on stage, to a damaged bunk on the bus due to a vivid nightmare of another bandmate. He literally jumps into action while the rest of us are tooo stunned to sometimes make a move …
Gordon (Gogo) "The Monkey Man" Bash – Bass/Vox – Gogo can do anything. He'll learn a language on a whim, pick up a new instrument, it doesn't matter, Gogo can do it. One time he played, almost successfully, a ukulele with his feet while accompanying himself on trumpet. Picture that.
Patrick (Pat) Ferguson – Guitar – Terrible before he's had his coffee, guitar junkie. Obsessed with his tone. My oldest friend in the band.
Connor "Coco" McElwain – "The Vegan". He's also the one we're most protective over. When Mathias stubs his toe, our first response is "Is Connor OK?"
Alex "Potato" Mathias – Prone to vivid nightmares, "Potato" is the wanderer. Can't keep him in one place at any given time, and he usually has the most disgusting post-show stories to tell when he makes it back for bus call. One time, Brad and I recited a sexting session from Potato's phone in the style of Shakespearean sonnet, to his dismay.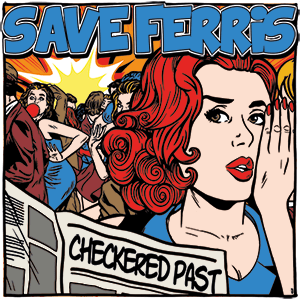 How did you all work together to capture the sound you heard in your head?
Well, I had a fairly well-formed idea of what I wanted. If I felt any particular bandmate was well-suited for a particular song I wanted help with, I would go to them with it.
You've packed a lot passion into this five-song release. There's the blistering heat of Golden Silence, the heartfelt sentiment of Goodbye Brother, the rom-com bounce on Anything and the brash honesty on Do I Even Like You. It seems like you could have called this EP, Checkered Past: This Time It's Personal.
Or "I'm, uncomfortably, an open book". 🙂
New Sound features the legendary Neville Staple. Did you write the song with Neville in mind or did you realize after you wrote it that he'd be a perfect addition?
I realized after Pat and I wrote the song that Nev DEFINITELY needed to be on it.
Give us the insider-scoop on the cool video for New Sound. Where was that party and can we come to the next one?
Concept was just the cheapest storyline I could come up with. Real booze, one day of filming, my house, our friends, my bestie Piper Ferguson directed, one giant camera and rig.
You've just started touring to support the release. What will we experience at the shows? And can we look forward to more dates being added?
Oh Europe would be so great. I'm dying to get back to our fans there. The shows are, and I'm quoting the old Save Ferris fans that talk to me intimately post-show, "the best Save Ferris shows Save Ferris has ever had."
Checkered Past is a great EP. But it's only an EP. When can we expect more new songs from Save Ferris?
SOON!!!! Promise!