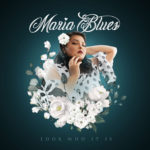 LA-based singer, songwriter, guitarist, drummer and percussionist Maria Blues is about to take over your playlists. Her new album, Look Who It Is, blends ska beats with Latin rhythms to create a hauntingly beautiful and unforgettable debut. Signing in both English and Spanish, Maria's soulful voice needs no translation.
Maria Blues – Your New Favorite Band #2
Listen to "Look Who It Is." It is available digitally at Amazon (affiliate link).