… "Fuss Nach Vorn" by Masons Arms.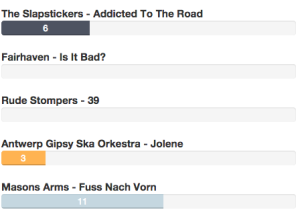 Thanks to everyone who took part in the voting. Congratulations to Masons Arms and their video production team. "Fuss Nach Vorn" is the Reggae Steady Ska Video Of The Month October 2014.

Masons Arms, "Fuss Nach Vorn", Germany, Released: 1 November 2014, label: Rocking Records, director: Robin Odasso.
You can watch all the nominated videos in our original article. The others were: The Slapstickers, Addicted To The Road", Fairhaven, Is It Bad?, Rude Stompers, "39", Antwerp Gipsy Ska Orkestra, "Jolene".
Also check the Reggae Steady Ska "Video Of The Year 2014" playlist for an overview on all the recent video releases.
Peace.