Ah, mid-winter, the time of the year rude boys and rude girls in the Northern climes dream about the summer ska fests they've attended and the ones yet to come. And the biggest dreamers among us fantasize about organizing their own fests, imagining the line-up, the stage, the ska-mad crowd. But only the bold (or the foolish, depending on who you ask) do anything with that dream.
Tim Receveur is one of those bold/foolish types. Instead of just dreaming about it, he made the 2015 Virginia Ska Fest a reality. I met up with Tim at the Ska Fest Sunday brunch the day after the show to see how he did it. It was a hot Sunday morning, members of The Snails were spinning tunes from their impressive vinyl collection, and with the dust all settled and most of the drunks safe at home, Tim, beer in hand, was ready to chat.
RSS: You look surprisingly relaxed for a guy who just hosted ten bands and several hundred ska fans.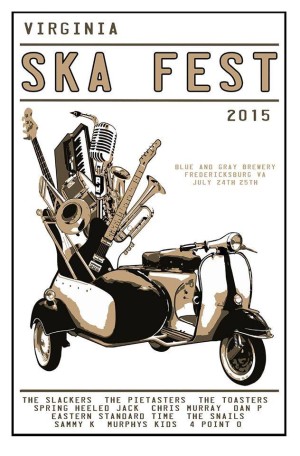 Tim: I've been pretty relaxed overall. We have a lot of security and they can do anything that we need them to do, and they're professional, but they're totally hands-off, and they understand the expectations of the crowd. There's people stage diving a little bit and they're moshing and everything, and it's like totally normal. One thing that was really cool is that all these guys normally do security for other shows in the area, mostly country stuff, and they were saying how [the ska crowd]is so respectful and they're having a really good time, a ton of energy, but they're not fighting. Everybody's drunk, but they [the security guards] had never seen a crowd this size with no issues or having to throw people out for underage drinking or whatever it is. They went on and on about it last night.
How did you get hooked on ska?
I was living in Japan in the early '90s, in Tokyo, and they were into it way before. They were into all the first wave and second wave stuff. Third wave was just getting ready to get started. They used to have all these little record shops in downtown Tokyo. Here's a blues shop, and here's a reggae shop, and here's a ska shop, and here's a punk shop. I went to the ska place and the guy was so excited. He's like, "I'm not even going to charge you for this." He's like, "I have this 7-inch Voodoo Glow Skulls, take this home with you and come back and see me next week." It was like the best thing I'd ever heard, at the time. That's '88 or '89. I always liked that kind of music, but didn't know really that there was as community around. I grew up in Indiana in a really small town, so it was like, "This is so cool." Just finding a label from Jamaica and going with other things on that label and branching out like that. The scene there was so great that we just started hanging out with the people there. By the time we left three years later, I had a huge record collection, knew all the bands, and even old punk rock bands coming through, the older ones, getting into all that in those three years.
That's a strange road—small town in Indiana to Tokyo to ska.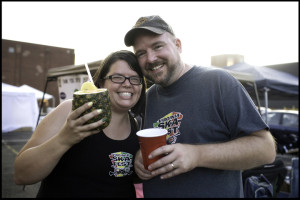 I'm former military. I was in the Air Force as a meteorologist for 10 years, then went to the U.S. Department of State where I worked on a lot of things technology related for about 13 years, kind of all over the world. I went over to the U.S. Institute of Peace in D.C. They do conflict-zone work around the world, in a lot of different areas. That spun off to something we're doing now called a Peace Tech Lab, which is like a working at the intersection of technology and peacebuilding. We're working with governments around the world in how to engage their citizens better. We're working with the Somali government next week in Uganda on getting citizen feedback on their Constitution. They're building their Constitution—working on the final one—so we're helping them figure out how to engage people with the technologies that they have, and what works in neighboring countries. Should be pretty cool.
We've got about 50 government officials and another 10 or 15 technologists coming in from all over Africa.
How did you go from being a Peace Tech Exchange director to a ska festival promoter?
I've always had this thing in my head—I want to do a big concert, a big ska show, but it's always like, "How do we pull this stuff together?" With Peace Tech, we go around the world and we run these huge workshops, mostly in conflict countries like Iraq. We're doing them in Afghanistan coming up, so we're organizing in really hard areas to organize. Well, if I can do that in Iraq …
Chris Murray was coming through on house tours and was like, "If anybody wants to host a house tour, let us know." I've loved Chris forever, all the way back to King Apparatus and all that, and all the raw stuff. He was going to do a house party at our house and it got to like 70 people and we don't have a huge house. I was looking for a place and calling bars, and they're like, "Well, we close at midnight, you have to be quiet after that, you've got to do this or this …" It was all these stipulations and, oh, you'll have to pay us, too. A friend of mine recommended this place [Blue & Gray Brewing Company]. Turned out great. They did a ton of business that night. They're like, "Do you want to do something else? We're open to anything you want to do." So we did a small, one-day thing last year, and now this.
I'd think you'd need a huge bank account if you're going to get started with this, but it looks like you did it grassroots by pulling in people who shared your interest.
Actually, yeah, that's it. [For example] we have a really good family friend, he's been in the ska scene forever. He's a professional tech, what we call protech in D.C., and he loves these bands. He wanted to come set it up and run the sound, so it's great.
How did you decide on which bands to book?
I think the two bands I've seen the most are The Pietasters and The Slackers. The Pietasters are probably my favorite band of all time, or the top one or two, and they're really good guys. We've known them for 20 years. They played last year, they always want to do stuff with us, so they're like a cornerstone. The Slackers is probably second. I've seen them so many times with the Pietasters. I don't know them as well, but really love those guys and love what they do. Vick [Ruggiero] came and did a solo show here in the winter. We put all that together.
Then when we broke it out to two days, we're like, "We'll put Pietasters one day, we'll put Slackers one day," then the bands started coming in, like Murphy's Kids and Eastern Standard Time, The Snails … we could do kind of a roots night, we could do a punk rock night. I think the flow was pretty good between bands. They all kind of fit well together. Dan [Potthast] and Chris [Murray] on the bill, they kind of break it up in the middle, then it chills for a little while, then back into the wild stuff.
People are going to read this article and they're going to think, "I'm going to put one on in my town." What kind of cash reserves would you say they should have on hand?
I'd say last year we were at maybe $ 10,000 [€ 9.100] from everything for expenses. The first year we pretty much broke even. We had to get some tents and there's a lot of things you have to buy ahead of time. You can borrow all that stuff from people too, but we bought some of our own tents that were fairly cheap, as opposed to renting them. We paid everybody in advance, paid half up-front and half after everything. I'd say enough planning ahead of time. If you had a solid lineup, just get it online and pre-sell as much as you can. Volunteers are the big thing. We had a lot of parking and ticket sales and t-shirt sales and hospitality and things like that. We couldn't do this if we actually had to pay people to do all those jobs, so you get a ton of friends to do it, plus they're really dependable.
I'm sure you've learned a lot through this process. What would you do differently if you were to do it again?

We're thinking about doing it again—and if we do, we're going to do it later in the year, like September. The weather will be more cooperative. We've got a lot of ideas. There's not a lot of first-wave guys left, but bringing in some first-wave guys. Derrick Morgan wanted to play this year and we'd love to have him. We'd love to have those guys in here and get backing bands for some of the other guys. Roy Ellis is wanting to play and he's a little bit later in this, but it'd be a really cool thing to see those guys.
Who are some of the big names, any era, you'd like to have give you call and say, "Put me on the list."
I've always loved Less Than Jake. It's one of my favorite bands. I'd love to see them on a big stage and playing to thousands of people out here. I would definitely put them on my number one to call list. Hepcat, too. Any of those, if we could afford to get them out from California. The Aggrolites, [RSS-Interview] I'd love to have those guys on. Love them all to death. Anything coming through. The thing is, the hardest part is, we've got enough good bands on the east coast, so we could make an amazing show. I'd love to incorporate more. We brought in Dan [Potthast], we brought in Chris [Murray], and they got a backing band. They're both from California, but it's fairly cheap. We'd love to get some of those West Coast bands out here, too.
You're helping make the world a more peaceful place, you're bringing great bands to a fantastic brewery—what's next?
We're figuring out a way of possibly doing a tour of Asia next year with four or five bands, do like a festival in Indonesia, the Philippines, and maybe Thailand. Right now, just with State Department connections, I have some really good friends in the cultural section that do all this stuff overseas, and they're really interested. Our sound guy has a lot of connections in the [sound engineering] industry so we're looking into potential big-name corporate sponsors.
UPDATE
RSS: There are dreamers and there are doers. And every now and then, a dreamer who gets things done. I reached out to Tim to see what he'd be doing in 2016.
Tim: We are in the middle of planning a three-band tour of Indonesia. Unfortunately, ISIS decided to attack foreigners and businesses in downtown Jakarta this morning [14 January] so I'm second guessing whether to do it or not. So far we have Red Bull, Uber, and several Indonesian companies as sponsors, and ska is absolutely huge there.
We probably won't do a [Virginia Ska Fest] show in 2016. I'm overseas for a big part of the year with work, but I'm still looking into it, so it's not dead yet. However, I'm trying to work on a much bigger show for 2017 and hopefully we can get some significant sponsors. Virginia International Ska Fest? I'd love to bring in one or two European bands like The Skints, Aggressors BC, Dr. Ring Ding. Aggrolites would be a top priority for stateside bands too.
Some videos from the 2015 Virginia Ska Fest
Saturday sampler – 14 videos from the show
Dan Potthast and Murphy's Kids
Spring Heel Jack
Murphy's Kids
The Pietasters
4-Point-0
Sammy K
Images © & by James Walker Photography.