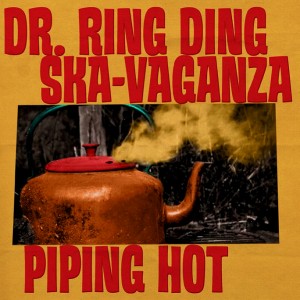 It's time to say hello to Reggae Steady Ska TV. Moving on from the well-received video reports that were done at joescholes.com last year, it was clear from the beginning of reggae-steady-ska.com that video should be part of the mix. Finally, episode 01 is here.
A personal introduction
The first time I met Dr. Ring Ding (a.k.a. Richie) was about 25 years ago, when his former band El Bosso & Die Ping Pongs and my former band The Braces played together at a Ska festival.
Although he and I  have been involved in Ska  matters for the most part ever since, we haven't really come around to talk more than one or two sentences. So when we met for an interview about his new album "Piping Hot", there were a lot of topics to run through. It felt good to share some views on the scene and the music that we both care so much about. Plus to chat about a good amount of things that have nothing to do with Ska.
The interview with Richie at my flat in Cologne lasted more than one hour. Only a small part is now being published. There might be more to come about his past projects and future plans. But for the time being it seemed a good idea to focus on the new work "Piping Hot."
There was one thing I was looking forward to especially: playing some music. From the many great songs on his new album "Piping Hot" I picked "All The Way To The Moon" as my favourite. That's why I asked Dr. Ring Ding to do a guitar and vocals version with me. You find it at the end of the video. And in the middle of the video is our version of the German folk song "Die Gedanken sind frei."
I hope you enjoy all of it. Leave a comment if you wish. And spread the word.
Thanks a ton to Gregor Pottmeier for his camera work, the editing and all the difficult technical stuff.
And thank you for watching.
Dr. Ring Ding Ska-Vaganza, "Piping Hot" at amazon.
And for those you'd rather read the thing, here is a transcript of the interview with Dr. Ring Ding.