Thanks a ton to all labels and bands that keep sending us their new music throughout every year. We couldn't stay informed on what's going on in the United Nations of Ska without you.
Yet, we don't want to keep the album releases to ourselves. Like in 2012, we like to clear our shelves and give away what we received – wrapped up in one fine package –  to one lucky subscriber to our email list. That's our way of saying thanks to our most devoted readers.
To make matters even better: Some of the albums we give away were signed by the artists. 
1. Dave Hillyard for example signed a copy of his album "California", when we met him at the Slackers show in Cologne in November 2013 (see the foto above).
2. Red Soul Community signed a copy of their album "I Never Learn" after their show in Essen at the Soul Hell Cafe.
3. Oliver Stephan (German Ska legend, Ex-The Nighthawks) sent us a copy of the album "Rhythm Fever" by his current band The Stimulators.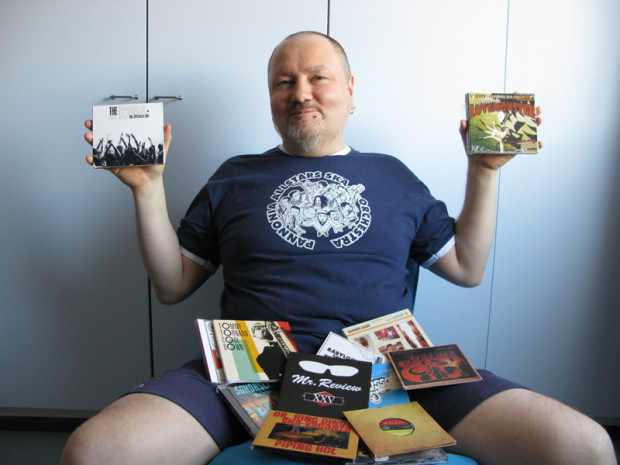 And here's a pic of the guy who won the package last year. Maybe it's you next time.
The package for 2013 includes the following:
David Hillyard, "California" (signed by the artist)
Red Soul Community, "I Never Learn" (signed by the band)
The Stimulators, "Rhythm Fever" (signed by Oliver Stephan)
Boss Capone, "Another 15 Dancefloor Crashers"
Lee Than Jake, "See The Light"
Distemper, "Pride, Belief, Love"
Sally Brown, "El sorido del manana … hoy!!!"
[one_half]
And there is more to come. Thanks again to Pork Pie Records, Liquidator Records, Redstar 73 Records, Grover Records, Rocking Records, Starkult and all other labels that provide us with their fantastic music. Keep the future classics coming.
One love.
[/one_half]
[one_half_last]
For a chance to win the package, sign up for our useful newsletter now.


[/one_half_last]