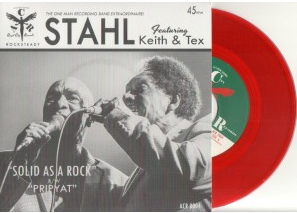 Who doesn't like a decent top 10 list? This one shows which records are most wanted at the very fine mailorder store Copasetic.  We asked Alex of Copasetic to let us know their Top 10 bestsellers of September 2014. The result shows that their customers come with a lot of style: Angel City Records, Record Kicks, Jandisc Records will like to see that.
Copasetic is based in Hamburg/Germany. Selling original 60s/70s Ska, Rocksteady, Reggae, Soul, Garage, Mod vinyl. They sell cds, books, merchandise, DJ equipment etc. as well!  Go to  www.copasetic.de to learn more.
1. Stahl feat. Keith & Tex – Solid As A Rock // Pripyat – 7″ (Angel City Records)
2. Sister Cookie – Where's My Money // instr. – 7″ (Soulful Torino)
3. Spartan Allstars – From Sparta With Love – 3×7″set (self-released)
4. Derrick Morgan – Forward March – LP (Dynamite)
5. Various – Higher Ground Vol.1 – 10″(Stag-o-Lee)
6. Family Man – Eastern Memphis // The Wailers – Version – 7″(Dub Store)
7. Black Emeralds – Bed Bug // The Keeper – 7″ (Jan-Disc)
8. Max Edwards – Gideons High // Gideon All Stars – Ixes – 7″ (Dub Store)
9. Bluebeaters – Toxic // Catch That Teardrop – 7″ (Record Kicks)
10. Family Man – Distant Drums // Version – 7″ (Dub Store)
source: www.copasetic.de
Thanks go out to Alex for the list. Keep them coming.
Any record stores, mail order services, djs or podcasters up to post a top 10 list? Your all-time favorite albums/singles/videos? Just write an email to joachim@reggae-steady-ska.com.