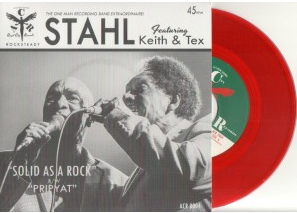 The mighty Keith & Tex were able to stay on top of the bestsellers list at Copasetic mailorder. More movement further down: Alpheus and The Prizefighters are among the winners this month. Angel City Records, Jandisc Records, Liquidator Music delivering the goods.
Copasetic is based in Hamburg/Germany. Selling original 60s/70s Ska, Rocksteady, Reggae, Soul, Garage, Mod vinyl. They sell cds, books, merchandise, DJ equipment etc. as well!  Go to  www.copasetic.de to learn more.
Stahl feat. Keith & Tex – Solid As A Rock // Pripyat – 7″ (Angel City Records)
French Boutik – Mieux Comme Ca – 2×7″ (copaseDisques) pre-order
Mule Train – Heart And Soul // Almost Like Being In Love – 7″(Lambstar Records)
Black Emeralds – Bed Bug // The Keeper – 7″ (Jan-Disc)
Sister Cookie – Where's My Money // Instrumental- 7″(Soulful Torino)
Various – It's Kewl For Cats! – LP(Hip-Ton)
Billie and the Kids – Scorched // Your First Kiss – 7″(Rhythm Bomb)
Prizefighters – Follow My Sound – LP (Jump Up)
Alpheus – Good Prevails – LP (Liquidator)
The X-Ray Harpoons – Get Attuned To Our Tyme – LP (copaseDisques)
source: www.copasetic.de
Thanks go out to Alex for the list. Keep them coming.
Any record stores, mail order services, djs or podcasters up to post a top 10 list? Your all-time favorite albums/singles/videos? Just write an email to joachim@reggae-steady-ska.com.