If you come to This Is Ska Festival 2019, you might want to check in on some of the bands playing. Here is a selection with some links. See yo there.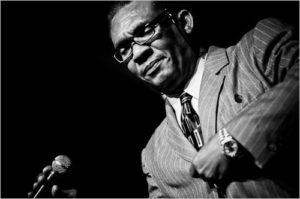 Ken Boothe is currently also part of the laid-back reggae super group "Inna De Yard", with Cedric Myton and Winston McAnuff. Their album has just been released. Get "Inna De Yard" (LP). His autobiography is due out later this year.
The Clarendonians, a former Studio One act, are in their 56 year of performing and still going strong. If you want to get to know them, start here: The Clarendonians are part of this compilation Studio One Groups (Soul Jazz Records) with their tune "You Can't Be Happy"
Find "Studio One Groups (Soul Jazz Records)" (LP)
Roy Ellis, one half of the Skinhead Reggae legends Symaryp, is one of the best performers remaining from the Jamaica ska generation. And he has a brilliant new album out: "Allmighty Ska" (Liquidator Music).
Find Allmighty Ska by Roy Ellis and Transilvanians.
Susan Cadogan is best-known for here mid-1970s reggae world hit "Hurt So Good". After some years of taken it slow, she has been embracing the worldwide ska scene again, and continues to release cool music. Check this interview with her producer Mitch Girio on Reggae Steady Ska.
The Hotknives are regular guests at This Is Ska festival and one act to guarantee a great night of hits drenched in sweat. Their current album from the Brighton 4 is: About Time.
Find The Hotknives – About Time (LP).
Jaya The Cat are another crowd pleaser, a festival band that has sounds, emotions and poses big enough for stadiums.
Current album deal: Jaya The Cat – A Good Day For The Damned (LP)
Babylove & The Van Dangos from Copenhagen are still one of the RSS favourites. From voice, to riddims to songs – pure brilliance. A new album is set to be released later this year.
Current album deal: Babylove & The Van Dangos – On My Life (LP)
Also watch the RSS interview with Babylove's Daniel and Mikkel.
The Movement mix mod sounds with punk rock and always go down very well at This Is Ska, from Copenhagen, too.
Classic Album Deal: The Movement – Move! (LP)
The Spymaker are a ska institution from Nagoya in Japan with big heart for german ska and beer. Legendary act. Already playing on Thursday. Don't miss them. Watch their song "Love Beer" live here.
Napoleon Solo, the third band from Denmark, are on their comeback tour celebrating the release of their this album …
Get Napoleon Solo – Open Channel D (LP) (Pork Pie Records, Jump Up Records)
The Downsetters from Ipswich (UK) have just released the dark, energetic "Chainsaw Lullabies" for Grover Records and thereby shown their fine form and dedication to accept the 2tone baton.. Watch The Downsetters video – Regeneration
Johnny Reggae Rub Foundation from Cologne have made many friends with their album "No Bam Bam", mixed by Victor Rice.
Get: Johnny Reggae Rub Foundation – "No Bam Bam. (LP)" (Pork Pie Records)
Masons Arms, also from Cologne, also with Berlin label Pork Pie Records, have been called The German Aggrolites.
Get Masons Arms –  Von Vorn (LP.
The Originators feat. Ms Wallace bring Northern Soul to This Is Ska, The band from Amsterdam team up with the singer Ms Wallace who could also pass as an Amy Winehouse impersonator.  
The Domingoes from Helsinki are the new project of Angster, well-known in the ska scene as the singer of The Valkyrians. They say hello to This Is Ska in this video: https://www.youtube.com/watch?v=ULp_VhmAnlQ