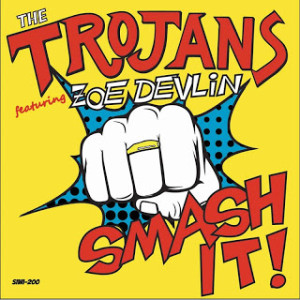 More than 15 years after their last studio release, UK Traditional Ska pioneers The Trojans are back in 2013 with the superb album "Smash It!"
Soon to come here on REGGAE STEADY SKA is an interview with the band's singer and musical farmer Gaz Mayall, done by our own Pete in London.  A UK release of the CD is scheduled before Christmas 2013. Japanese fans get the album directly from Disk Union. CD Baby also has it. Downloads of "Smash It" by The Trojans are available now at amazon.
Of course, "Smash It!" will be shortlisted for "Album Of The Year 2013" at REGGAE STEADY SKA. To stay informed on REGGAE STEADY SKA's Album Of The Year competition and more, we recommend you to sign up for our monthly newsletter.
The Trojans discography: 
Ala-Ska (Gaz's Rockin' Records) (1987)
The Spirit Of Adventure (Gaz's Rockin' Records) (1988)
Save The World (Gaz's Rockin' Records) (1990)
Wild & Free (Gaz's Rockin' Records) 1993)
The Rebel Blues (Compilation) (Gaz's Rockin' Records) (1993)
Wicked & Wild (Compilation) (Skydog) (1993)
Celtic Ska (Gaz's Rockin' Records) 1994)
Trojan Warriors (Compilation) (Moon Records) (1996)
Smash It (Gaz's Rockin' Records (2013)

Loading
What's your favorite album by The Aggrolites
Thank you for voting
You have already voted on this poll!
Please select an option!