In their more than 20 years together, The Slackers have recorded an impressive number of great albums. And even though Vic Ruggiero once played keyboards on a couple of Pink tracks, they themselves have not had commercial success on a wider level yet. One day, this will change and The Slackers will be superstars, play at the Super Bowl and be inducted into the Rock'n'Roll Hall Of Fame.
In 2012, on the occasion of The Slackers releasing The Radio, an album of highly eclectic cover versions, we took the opportunity to fast-forward a little into the future. This will be the time when other musicians will battle over who gets to cover songs by them. Ladies and gentlemen, exclusively compiled for you by the band themselves, we proudly present…. the ultimate Fantasy Slackers Tribute Album.
Al Green – Redlight
Vic: Great, this way we can show the artists we actually wrote the songs for. I think Al Green should sing Redlight.
The Strokes – And I Wonder
Vic: I'd like The Strokes to cover "And I Wonder". It's an EMO kind of song. That way we could get some royalties. [laughs]
Dave: And they are a New York band. It would make sense.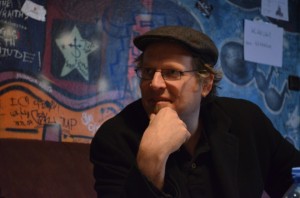 Dave: I'd like to hear somebody who can really play the saxophone, so Sonny Rollins could do Cookin' For Tommy. (Vic starts imitating the sax line…)
Vic: Who would play the trombone on it?
Dave: There wouldn't be a trombone! Piano, bass, drums and sax. That's it.
Thelonius Monk – Sauron
Dave: And Thelonius Monk should do Sauron.
Vic: Or Harry Connick Jr.. He's a cheeseball, but he does quite a good impression of Thelonius Monk.
Dave: Oh no.
Henderson Swamp
Vic: We need some piano on the record.
Dave: Dr. John's influence on Henderson Swamp is obvious.
Vic: Yeah!
Everyday Is Sunday
Vic: Motörhead could be covering a song by Marcus.
Dave: I always thought the Kinks should do Everyday is Sunday.
Vic: That's even better. Ray Davies would know how to phrase it. He is the kind of guy you might actually approach and ask him.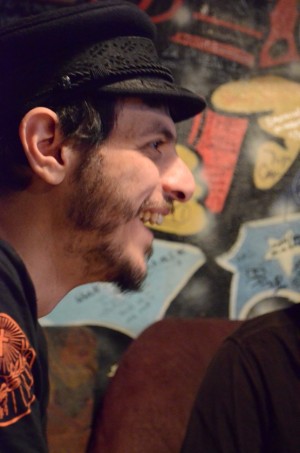 Vic: We'll ask Motörhead to do Wasted Days instead.
Marcus: Yeah, that would be my first choice.
Dave: Done!
 86 The Mayo/Treat Me Good
Ara: Which song would Bob Dylan cover?
Vic: 86 The Mayo!
Marcus: Only one Dylan song on here?
Vic: He could do a mix with "Treat me Goooood and I treat you better than you ever haaaad before!" And then he could discover his own lyrics in there.
Dave: And sue you!
Anastasia
Vic: Paul McCartney should definitely do "Anastasia".
Agent Jay: Or Billy Joel, definitely Billy Joel.
Dave: Billy Joel could do What Went Wrong.
Vic: Anastasia is the perfect Billy Joel song. That might be his next hit. Could be the only good song he has sung in 20 years.
Ara: They could do it as a duet!
Vic: Yeah, good one.
Tool Shed
Vic: Elton John, doing it Crocodile Rock style! [starts singing it] Or we could even have a rapper?
Dave: Yeah???
Marcus: Maybe Elvis could do Tool Shed.
Vic: Bad Elvis! [sings it in his mock-Elvis voice]
Bin Waitin
Dave: Put The Spin Doctors down for that one. That will make everybody hysterical.
Run Away
Marcus: That's got to be Drive-By Truckers!
What Went Wrong
Jay: Maybe Rihanna?
Vic: I think Alicia Keys should do a Glen Pine song.
Marcus: Wow, that's a good choice.
The Fool
Dave: What would Prince do?
Vic: The Fool.
Dave: No… What's the name of the guy who did "Here I am. Stuck in the middle with you"?, the guy where they cut the ear off in Pulp Fiction?
Vic: That's Stealers Wheel.
Dave: Yeah, they could do The Fool.
Vic: You know who'd be really cool doing The Fool? It's fucking John Fogerty, complaining about how his old band stole all his royalties.
Daddy
Vic: Oh I know! That's Prince [sings in a high voice]: Don't be mad/Be nice to your Daddy…
Dave: But that's Hall And Oates!
Vic [bursts out laughing]: You're right. That is an obvious link.
Mr. Tragedy
Vic: Mr. Tragedy is for Prince. That's the bonus track.
RSS: That should see you off with royalties for the rest of your lives.
Vic: But wouldn't it be great? Sometimes you say something like that. What if Prince reads the article and says "Yeah, I'll check out that song." [starts singing again] Mr Tragedy /Plain to see and he'd be like "Holy shit!".
Dave: Yeah, just print it in your magazine [puts on a bored voice]: If you guys are interested, let us know.
Vic: Man, I told you to want Bruce!
Well, there you have it. If there is any record company or A&R manager reading this, you know what to do now. If you don't want to hold your breath, you could compile the record with the original versions for the moment and imagine how it would sound like! 
A table of the songs:
| | |
| --- | --- |
| Cookin' For Tommy | Sonny Rollins |
| Tool Shed | Elvis Presley (with Elton John on piano) |
| Anastasia | Billy Joel & Paul McCartney (duet) |
| Henderson Swamp | Dr. John |
| Run Away | Drive-By Truckers |
| 86 The Mayo/Treat Me Good | Bob Dylan |
| Wasted Days | Motörhead |
| And I Wonder | The Strokes |
| Everyday Is Sunday | The Kinks |
| What Went Wrong | Alicia Keys |
| Daddy | Hall and Oates |
| Mr Tragedy | Prince |
| Bin Waitin | Spin Doctors |
| The Fool | John Fogerty (or Stealers Wheel) |
| Sauron | Thelonius Monk |
 The Slackers Talk
… on new releases and their upcoming tour of Europe
RSS: How are things in the Slackers camp?
Agent Jay: We're about to play Montreal Ska Fest, which is always a party. Also, there's some Northeast Gigs in Long Island and Delaware before we head off to Europe in late October. And we have a new EP out, "My Bed Is A Boat".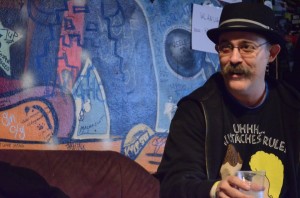 Jay: Vic came in with the title track, "My Bed Is A Boat". He has been writing a lot of Rock'n'Roll style Ska tunes recently. We went into Victor Axelrod's studio in Brooklyn and recorded the 6 or 7 tunes we had to an 8-track reel-to-reel. Vic (Ruggiero) and Victor Axelrod mixed a couple of them down to a 2-track tape machine for a real analogue sound.
RSS: Will this lead up to a new Slackers album?
Jay: We have a bunch of other tunes, but I'm not sure if we're going to do another EP or a full length album. And we haven't started tracking the new stuff, so I would think the next release will be a year or so off. We'll have to feel out the material and lay it down before a certain tune or title jumps out at us. Right now everyone's writing. Vic's got a new Rocker, Dave's got some Rhythm'n'Blues Ska, Marcus has a cool Garage tune, Glena Skinhead Reggae banger and I've been experimenting with an "English Beat/Early Reggae Sound". We'll see…
Dave: The tricky part these days is how you put it out, all these different formats.
Ara: Yeah, we'll probably do it ourselves.
Vic: According to the hipsters, the next new craze is answering machines. You call up and they send the record onto your machine. We'll do an exclusive answering machine only release.
RSS: If you look at the far future, say in 20 years time, do you still see yourself touring?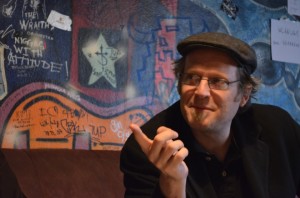 Ara: I hope so, but it's hard to predict.
Vic: Unless I get a professional job as …. [sorry guys, this had to be censored]
Jay: Vic, come on, there may be kids reading this. Let's keep the interview classy!
… on their side projects
RSS: How is the new Crazy Baldhead album coming along?
Jay: The album's called "Boots Embraces", which is a bit of a piss-take on the phoniness, commercialism and superficiality of much of the Punk and Skinhead scene these days. It's also about reminiscing about youth, like you do when you hit 40. There's also some political tunes, of course. We're down to the last couple of mixes, which are coming in as we are speaking. The artwork and the layout are about done also. The 'Bigtunes' fundraiser/preorder should be up any day now. We should have vinyl in-hand in December or early January. Stay tuned at the Crazy Baldhead Facebook page.
Vic: Jay is on a creative roll, recording and mixing stuff. He has produced the last two Slackers albums. That's cool about this band. If somebody has the Mojo running, we tell him, okay, you've got the lead on this.
Also, me, Ara and Jay put out a 45 with Punk versions of Slackers songs as V.A.J. We sometimes play shows in New York
RSS: But not over here?
Vic: No, but we could, maybe as an encore. If we really wanted an encore to shut down the place… Dave's just released a new record.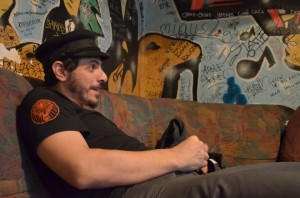 Dave: I've got several, actually. The new Rocksteady 7 album is called Friends and Enemies. It's almost a Blues album, but still very Reggae. And then I am about to release my 'California' album through Rocking Records. I called in a lot of favours from people to record this, I got guys from Hepcat on it, for example. Now nobody in California owes me any favours anymore.
RSS: How is this stuff different from Rocksteady 7?
Dave: It's more 3 or 4-minute Pop, Reggae and Soul songs as opposed to the 10-minute sax and conga duet that most Rocksteady 7 tracks are.
Vic: You're definitely flexing your vocabulary with these new songs.
Dave: Flexing my vocabulary? What do you mean?
Vic: You're doing it to show how much better other people, like Alex Desért, can sing.
Dave: You know, that's your own inferiority complex, Victor. [everybody laughs]
Anyway, when I get back, I'm going to record with the trio. Saxophone, bass and conga with Larry McDonald. It's an instrumental album about how much better I could be if Vic wasn't holding me back. [Vic giggles]
Ara: That's an honest interview, you guys are getting here.
Dave: I'm trying to record lots of stuff with Larry right now, because he is getting older and I know he can't do it forever. It's something we've been doing at little bar gigs and I want to record that. Also, I'm supposed to go into the studio and record an album with these Brazilian guys.
Ara: We've also worked on some dubs for a potential dub record of The Slackers.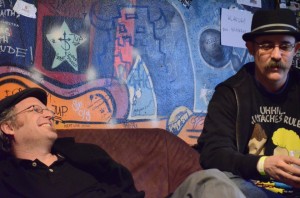 Marcus: There's also an upcoming book. We'll basically include all the Slackers lyrics, unseen photos, copies of the original notes, stuff like that. It allows an inside look on how songs come together.
… on last year's covers album
RSS: Why did you decide to make a covers album?
Dave: Someone came and offered us some money.
Vic: Play these songs and I'll pay for the studio.
Dave: And we said, Yes, Sir! No really, he had some songs and we came up with ideas. It was really half and half.
Vic: "So what kind of song do you like to sing?"
Dave: "What's gonna get me the job?" – It's a joke from that film, Music and Lyrics.
Vic: Drew Barrymore is writing songs for Hugh Grant and she asks him that. There is a lot of truth in that film.
Dave: Dave Wakeling (of The Beat) is that Hugh Grant character.
Vic: You should see the girls in New Jersey, they go mad for him. Women love his voice and his songs. The Jersey girls scream for a lot of different things, but they were screaming for Dave Wakeling like I've never seen them before.
Dave: But that's totally like in that movie.
Vic: Yeah, and when he sings I Confess, he might as well be Elvis.
… on competition and musical ignorance
RSS: Do you know that there is an important football match on TV tonight at exactly the time when you will be playing the show? [When we did the interview it was the night of the Champions League semi final, Real Madrid vs. Bayern Munich]
Ara: There's always a football match, another gig, something going on. We don't care.
Vic: We actually like the competition. We like to pair up our gigs. We always had this idea to do a tour with a band whose crowd we don't like, so all the kids that wanna mosh go to one side of town and all the girls come to us. We could tour together with Agnostic Front.
If there's people wanting to jump on other people's heads, they would know where to go and wouldn't have to do it at our gig. And if you want to keep it mellow and dance, come to the Slackers. We could bill it on the same poster.
RSS: Some people say that, at least in Germany, you can't put Ska acts onto the same bill as other music like Punk.
Dave and Vic: That's completely untrue!
Vic: We have more in common with bands that don't play Ska. Dare I say that Ska bands in Germany have more in common with Pop bands, while we have more in common with Blues bands. In Germany, there is some really good Rock'n'Roll bands. We loved to play with The Peacocks from Switzerland.
RSS: Some promoters don't seem to like it though.
Jay: Well, some promoters want to put people in uniforms. They want this uniform this year and another the next year.
Vic: Exactly. Slackers fans are not uniform. I went to a show in Portland by a band called Murder By Death and thought, hey that looks like the kind of crowd we have. There were hippies, some punks, some guys in leather jackets, a lot of girls, different age groups – the same kind of weird thing we get!
Dave: People tend to have a lot of circular thinking in their head. You have to test bringing together different music styles.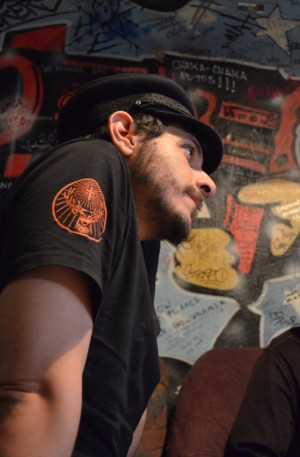 Vic: If you only ask for one kind of audience then it's one kind of people you get. Why don't you bring on a Rockabilly band and a Ska band and see what happens? I remember talking to a guy in Munich complaining "We can't dance to the Aggrolites. It's strange funky music. Why are they playing Funk and yet dress like Skinheads?" I said, but that's Skinhead Reggae. They took Funk and Soul and put some kind of Reggae beat to it. "But we can't run in place to this at all. No jogging, I cannot jog to this."
RSS: So you obviously prefer bands that stretch musical boundaries?
Vic: Yeah, I always saw potential in this band doing "I saw the sign".
RSS: You don't mean Ace of Base, do you?
Vic: Yeah, exactly. With a little difference in the drum sound, it would have been an awesome mix of Pop and Reggae 'cause they really had it going. If it had only been produced like an Elvis Costello record…
It's when your musical heroes tell you that Ace Of Base were nearly a great band, you realise that you really need to work on your musical tolerance. Alright, where's this old Laid Back single that I could never get rid off at the flea market….
Peter Clemm, Sven Trapp, [compiled from a band interview done in April 2012 and a new online interview with Agent Jay in October 2013]
To find the current tour dates of The Slackers go here.
You can win tickets for the Slackers show in Cologne (thanks to Phonocaster) on November 22nd 2013 by signing up to the Freedom Sounds newsletter.
The Slackers discography (selection)
Better Late Than Never (Moon Records) (1996)
The Question (Hellcat Records/Epitaph) (1998)
Wasted Days (Hellcat Records/Epitaph) (2001)
Close My Eyes (Hellcat Records) (2003)
Peculiar (Hellcat Records) (2006)
Self Medication (Indications Records) (2008)
The Great Rocksteady Swindle (Hellcat Records) (2010)