You can hear hints of mento, jazz, blues, and/or R&B in just about any ska song, and if that song is by The Skamanians, those roots will be hard to miss. We first profiled this Perpignan, France-based band soon after they released Ride Again, one of my top three ska releases of 2014. I was impressed by the quality of the recording—a masterful mix of raw, live sound and (light) studio polish. When vocalist/tenor sax man Gavin Hackett told me the band was recording again, I saw a chance to learn more about their proven, do-it-yourself recording process.  
RSS: There was a strong jazz/swing feel to your first two albums, with your new releases, you're getting your R&B groove on. What inspired the move?
Skamanians: We still love ska-jazz and it will always be a part of our live sets. We wanted to incorporate more songs into the repertoire and rather than just do more covers of original ska tunes or write our own, we thought it would be fun to go back to the roots of ska. Back in the day, the founders of the genre were hearing tunes that drifted over the airways from the US to Jamaica, then interpreting and playing them in their own style, adding their influences to the mix. Christine Keeler is a great example. It's a cover of of Comin' Home Baby by the Dave Bailey Quintet. So we thought why not seek out some tunes from the period we can give our own ska treatment to and have some fun with.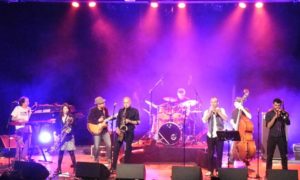 Your recordings are proudly 100% homegrown, which makes them even more impressive. Tell us about the hows and wheres of your recording process.
The Skamanians are at their best when performing live and playing off each other's energy and ideas. Listening back to One For the Founders, you can really hear that and we wanted to recapture that freshness again. For these new tunes, we managed to find two days where we were all free (no mean feat with many of the band having children and other bands, etc.) and the Casa Musical in Perpignan kindly let us use their studio space to lay down the tracks rather than squatting in the living room again. Guillaume and Gavin love tinkering in sound and Guillaume in particular has a lot of experience recording bands. So we turned up with a PC, soundcard and collection of microphones, set everything up in a circle with the four brass facing the groove section, plugged in the mics, put the vocal through a monitor and set the levels. We were limited to 12 tracks with the sound card we had and so used four on the drums and one track for everything else: four brass, vocals, double bass, keyboard and guitar.
In the afternoon, we played through the selection of tunes we had decided to record. Before that, we hadn't been able to rehearse these tunes at all, we are all very busy at the moment so it was a case of Gavin sending out suggestions of songs he'd been listening to on MP3 and everyone having a listen at home. We ran the tunes, threw a couple out because they weren't suitable for our purposes, for whatever reason decided on the arrangements and then went home at 5.30. That evening was spent with Mathias writing out the rough brass arrangement for Stupidity, and Caroline Landes the same for Think it Over.
The next day, we all turned up at 9:30 a.m. and just went for it. One run-through to check the arrangements and make any corrections needed and then three or four takes max. Vocals through a monitor (no headphones used) and all. Simple as that and home for tea again. That evening, we transferred the WAV files onto the mixing PC in the spare bedroom and Gavin went mad mixing and mastering. The mixing is pretty straight forward these days (especially 12 tracks) with the equipment you can put together fairly cheaply for a home studio.
You did not one but two covers of Charles "Mad Dog" Sheffield's It's Your Voodoo Working. Why that song and why two versions?   
It's just an amazing tune, I do a fair bit of listening to old R&B while out walking the dog. It's during these walks I try to dig out tunes to use with the Ska & B project. This one ended up in my play lists and the song and the Baritone sax line are just, well, great and I could immediately hear the ska potential. It wasn't until after recording it that I looked on YouTube and saw all the covers of this song. I'm really glad about that as I think we may have either not recorded it or been influenced by others' interpretations. There's even another really good ska version of it too by The Beat From Palookaville.  
Anyway, I wasn't convinced by the live vocal take of Voodoo Working, the song falls right in a spot in my voice that just doesn't cut the mustard in this style so I had to give it another go in the bedroom. I tried and tried but couldn't pull it off singing the melody where it sits originally. So not wanting to give up, I resorted to the opera training I had in a previous life and gave it some big R&B bass, kind of Screamin' Jay Hawkins style. It came out different and made me laugh so I decided to keep it and mix using that version. In the end it didn't please everyone in the band at first, but I persevered, I thought though that I'd better respect the requests to sing it up higher. Again, I just couldn't do it convincingly, so I transposed the melody a little to sit well in my voice and that is the "alternate" take or "popcorn" version. As the two versions were liked by some and not by others and vice versa but both had merits and were already mixed, we thought why not put them both out. In that way people have the choice and are bound to like one or the other.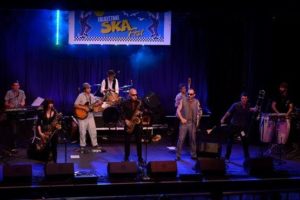 Ska has a long history of making fun of those in power and you take an on-target swing with Stupidity-R-U-M-P.
The vocal on this one came out really nicely recorded live, but while we were recording it I started messing about in the playout section and found the line Stupidity-R-U-M-P. Well, it made us laugh and wonder if there wasn't potential to rewrite the whole song around the subject. So I sat down and ended up with the version you hear. Again, the vocal was rerecorded in the bedroom and using the same mics, I managed to get the same sound we got on the first recording.
I'm always writing songs that are politically motivated but all are my own compositions and none have so far been ska. The closest is the track Play It Cool on Ride Again, which takes a stance against the way the 1% and corporations are taking over the planet. If the chance arises to express discontent or have a bit of fun with a world leader or two, then we'll jump at it.
What other classic R&B songs are you looking to cover?
These four tracks were an experiment. If they turned out well, the idea was to do another few sessions in the same vein and pull all the tracks into an album. We call this little lot Ska & B "Part One" and are very happy with the way the tracks turned out, so there will be three or four more EPs to follow or perhaps we'll do it all at once. We'll have to see. It's not easy finding tracks that translate well from R&B into Ska and work with my voice. At least, it takes time and a lot of listening. So far I have two I'm certain that I want to do, No More Doggin' by Roscoe Gordon and Do the Dog by Georgie Fame and the Blue Flames. If anyone out there has any suggestions, then we'll happily consider them and who knows.
Skamanians are:
Gavin Hackett – Tenor Sax & Vocals
Mathias Coste – Trombone
Benjamin Faconnier – Trumpet
Caroline Landes – Baritone Sax
Guillhaume Bouthié – Double Bass
David Vilayleck – Guitar
Alex Conventi – Keys
Eric Flandrin – Drums