The lineup is impressive again, beginning with a sold-out show of Rico Rodriguez performing his classic album "Man From Wareika" and including sets from Ken Boothe to B.B. Seaton to loads of other renowned musicians of the genre we love. You can get info on all the acts plus more details at the Festival's Facebook page.
If you are near London, don't hesitate and make sure you don't miss this opportunity to witness top-class shows in legendary places like the Jazz Café, the 100 Club, the Dublin Castle or at Dingwalls. Our own Pete will be there and report how things went down this time. While staying at home this Easter, I was looking back today at the posts that we already did here at REGGAE STEADY SKA and on other sites starring the London International Ska Festival. Let's see what we have: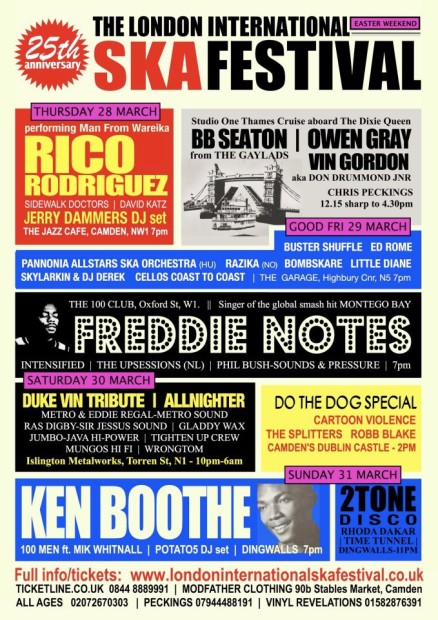 1. At the personal blog I started to publish a series with memories from the early London International Ska Festivals beginning 1988. With my band The Braces I was happy enough to play the first two. Actually, it was a lot of fun to write them, so I don't know now, why I quit after just two posts. Anyway, the first one features a tale about an interview with the BBC. The second one has Chris Hunt, now a well-known British journalist.
2. In September 2010, when news spread that it was going to come back, I published 6 Reasons To Be Excited About The London International Ska Festival. If you have a look, you will see that at least two of these reasons are still valid.
3. After I had attended the full four-day festival, the Ska blogger Marcoonthebass was kind enough to publish my eyewitness report that stated among a lot of other things that the show of the original Hotknives was the em,otional highlight of the weekend.
4. In 2012 Dandy Livingstone was going to play. I used this announcement for a tale about my difficult relation to writer of "Rudy A Message To You." Well it was published only in German, but I hear that that translation programs produce very interesting texts. Anyway, as it turned out, Dandy Livingstone did not turn up at his show, which was a bit of a downer for everyone who went to the fest in 2012.
5. But there were again a lot of great performances, as we could read in Pete's account from 2o12, which was published already at REGGAE STEADY SKA.
6. In 2013, we also published an interview with organiser Sean Flowerdew combined with a giveaway of two tickets for this year's festival. We are positive that our winner will receive her tickets or at least the promised free entrance to the London International Ska Festival 2013. Sean, all the best. As we pointed out before, the importance of the London International Ska Festival for the global Ska scene can't be overrated. Let's do what we can to see it flourish.