[dropcap]T[/dropcap]he Lions from LA are a supergroup. You want proof? Their 12 (!) members have played with everyone from HEPCAT (vocalists Alex Désert & Deston Berry), MOBTOWN, THE BULLETS and OCEAN 11 (singer Malik Moore), THE EXPANDERS (Devin Morrison), JUMP WITH JOY (David Ralicke), BIG DADDY KANE (Steve Kaye), MACY GRAY, NORAH JONES, EVERLAST (Dave Wilder) to BLACK EYED PEAS and DE LA SOUL (David Chegwidden). Their MC Black Shakespeare is cousin to Robbie Shakespeare (of SLY & ROBBIE).
Five years ago the Lions released their debut "Jungle Struttin'", one of the best and most original Reggae albums in years. Now they are back with a bang and a second album, "This Generation". Already some of the new songs have made it onto the soundtracks of new Hollywood movies "Seeking A Friend (For The End Of The World)" with Keira Knightley and Steve Carell and "Ruby Sparks" with Paul Dano and Anette Benning. Besides, the Lions can be heard on "Young Adult" with Charlize Theron, "This Means War" with Reese Witherspoon, as well as the TV series "Breaking Bad" and "Burn Notice".
We have already heard some brilliant tracks from "This Generation", which will be released in early 2013, so we got in touch with guitar player, and one of the main men, Dan "Connie Price" Ubick (formerly of The Keystones, Big Daddy Kane, De La Soul, Breakestra).
RSS: How did the band form?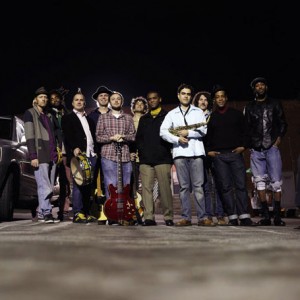 Dan Ubick: The Lions really got together first in 2006, just to see what would happen if we recorded some Reggae influenced songs in a way that sounded like the LPs we all grew up listening to, LPs with two guitars, real horns, organ, piano, and heavy bass and drums.
As we didn't officially have the singers we have now full time, most of the tracks on our first LP "Jungle Struttin'" are instrumental. We did our take on what we loved about The Upsetters, Soul Syndicate, Rockers, etc., but added overtones of other influences like Cumbia, Afrobeat, Ethiopiques and film scores as we had no vocalists. So what was basically an instrumental group having fun at Orgone's Killion Sound Studios quickly became something we had to do more of because it ended up sounding so good to us. We did get lucky and added our friend Noelle Scaggs (then of Rebirth, now of Fitz and The Tantrums) on a tune and had Alex, Deston and Shakespeare on a couple.
The guys in the band at the beginning were our drummer Blake Colie, Dave Wilder on bass, myself and Sergio Rios on guitar, Dan Hastie on organ and piano, Davey Chegwidden on hand percussion, James King on saxophones and Todd Simon on trumpet.
RSS: Who are the driving forces?
Dan Ubick: Well, the Lions now is really a collective that suffers when any of the current line-up has to miss a show but Blake, Wilder and I are really the three who get stuff handled just in terms of the behind the scenes stuff. But everyone definitely does their thing to propel this band forward. In that respect I can honestly say that the band wouldn't be as good as it is now without each dude.
RSS: Since your first record, the line-up seems to have expanded. Have the vocalists become steady members now?
Dan Ubick: Yeah Malik, Alex, Deston and Shakespeare are all our full time vocalists now, which makes the live shows just incredible. It's like a dusty Reggae Soul revue and we always have a good time. With twelve guys on stage it's hard not to. We are also blessed to now have Eddie Felix on saxophone, David Ralicke on trombone, and Devin Morrison from The Expanders on guitar.
RSS: Some of the musicians in The Lions come from really influential and well-known West Coast Ska bands like Hepcat and Ocean 11. Why did you decide to play Reggae (and not Ska)?
Dan Ubick: While everyone in the group loves Ska, everyone listens to everything, which I believe is what gives us an edge. We never have wanted to just copy what came before. We record whatever inspires us at that time.
RSS: By the way, do Ocean 11 still exist?
Dan Ubick: Not that I know of. I loved their recordings too. Oliver Charles, their drummer (and occasional Lions drummer when Blake can't do a gig) went on to drum for Ben Harper for years and now plays with Gogol Bordello. Persephone, Ocean 11 singer, we see all the time as she and Malik are tight. She sang with Joey Altruda's group when that was happening. Ray, their guitar player is around too, super cool and talented group of people.
RSS: Do you see The Lions as a band or is it a side-project next to all the other musical projects you are involved in?
Dan Ubick: The Lions is most definitely a band, not a side project. All of us are lucky enough to get to express ourselves in a few ways through the different groups we each play with, in addition to The Lions. If you only do one thing you can get stagnant and all of us want to constantly be inspired and bring new ideas into The Lions.
RSS: Why did it take so long to finish the second album?
Dan Ubick: We actually finished it quite a while ago and are onto tunes for a third LP already! It just always takes longer than you think… Finding the right label, the right artwork, legal stuff, etc., etc. PB Wolf and the Stones Throw [ed.: influential Hip Hop/Soul label that released Aloe Blacc] crew I have know since Breakestra's first LP, so it felt good to know Chris was into what we were doing and that he wanted to put out this second LP because ST really has vision and believes in their artists because they are all artists.
RSS: Does that mean we can expect more vocal tracks on the new album? What (direction/sound/changes) can we expect from the new record?
Dan Ubick: Yeah, "This Generation" is all vocal tunes. There is only one instrumental called "New Girl".
RSS: Is "This Generation" something like a call to arms for young people to check out the roots of music or is "this generation going back to the roots" a trend that you actually see happening?
Dan Ubick: "This Generation" is absolutely a call to action. Music is the weapon as Fela said. "This Generation" is people who want something better than what corporate America has told us is "the American Dream". It's people regardless of age, race of religion who spread the message of peace, love and unity through music and togetherness. We are blessed to see such a wide spectrum of fans at our shows. I literally could not describe a Lions fan to you.
When I wrote "this generation is going back to roots" I meant that on so many levels…. Musically, it's music played by guys who love to play and sing music that is timeless and has a link to our great past, live to tape… and by guys who know where this style of music came from. We are all music collectors/historians and have massive respect for what has come before us in every genre.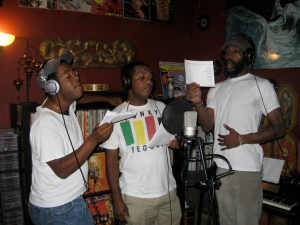 I definitely see a trend here, and not just musically. Because Reggae is a lifestyle as well as a beat that makes you want to move your feet, I see more and more people growing their own food, standing up for what they believe is righteous and making their voices heard in addition to coming together at festivals like Reggae on The River and Sierra Nevada World Music to meet like minded people and build for the future.
Many of The Lions have children and spreading our message is not a gimmick to sell records, it's a way to try and get ourselves and our fans to focus on things that will sustain us and bring us together to make our reality a beautiful one we can pass on to the generations to come.