A Madman and his Sax
In the wake of the Lee Thompson Ska Orchestra's album release  "The Benevolence Of Sister Mary Ignatius", we were happy to catch Lee Thompson (of Madness) for an interview. Our own Peter Clemm wasted no time and was rewarded with some surprise statements about the Orchestra, Madness and the reason why Lee would like to visit Buckingham Palace again. 
RSS: First of all, we were glad reading that your sax has been returned. Can you describe what it means to you?
Lee Thompson: Thank you. Losing that was like losing a close friend.
RSS: In interviews, some of your fellow band members from Madness keep joking that playing in Madness has saved you from a career of petty crime. The movie "Take it or Leave it" also indicates that. Do you think there is some truth in it?
Lee: It's a fair assumption to say that – had I not 'acquired' the saxophone when I did – I would have most likely got up to 'No Good'. You could say I was 'nipped in the bud' and that. Having my sax stolen was a long-awaited lesson from the big bloke above telling me: It's nice to be important, but more important to be nice.
RSS: What are your reasons for forming another band? Are you not busy enough or is there something you miss when playing with Madness?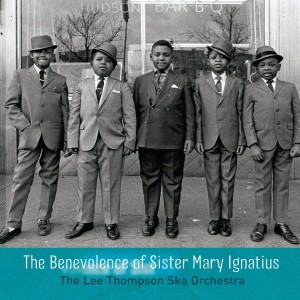 Lee: In the 35 or so years of being in Madness, I have had many side projects and formed as well as folded several bands. It's just that with my Ska Orchestra, I have taken it a little further. I am at my happiest when I'm in their company, playing music that we all enjoy – nothing more, nothing less. It's a heap of fun at present and we may carry on the do more projects – or I might get bored again and split.
Madness are still fun to work with, but I have reached a point where it has to be on my terms, know what I mean?
RSS: The title of the forthcoming record indicates that the Orchestra is a tribute to Alpha Boys. Is that right?
Lee: TBOSMI album is a tribute to Sister Mary and the would-be rude boy musicians that came out of the Alpha School and who went on to write, play and entertain. And hopefully they'll get some publishing from this disc.
RSS: As a sax player, is there any musician from Alpha Boys School who you consider a major influence or even a personal hero of yours?
Lee: Alpha School heroes would have to be Rico and Tommy McCook, God rest his soul.
RSS: The album was recorded with Mike Pelanconi at Ironworks. Did you want the "Prince Fatty sound" for it?
Lee: The Benevolence was recorded at Pelanconi's Ironworks, a studio that was brought to my attention by my piano player, Louis Vause, who had previously recorded there with Blur's Graham Coxon. I met up with Mike P and immediately got on with him. And his studio was perfect for what I wanted to achieve. Basically we were on the same page, paragraph and story line.
RSS: What are the chances of the LTSO to tour anywhere outside Britain?
Lee: The band plan to play in Europe for October hopefully. The only dates at present are Brussels on the 16th August and 12th August in Sheffield.
RSS: After the masterpiece (as Suggs likes to call it) that Liberty of Norton Folgate was, did you feel any pressure when trying to write and record the follow-up album?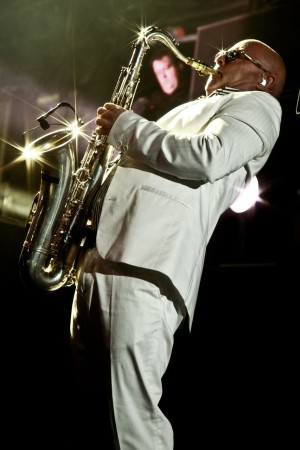 Lee: I personally did not feel any pressure to write after the surprise success of TLONF but with Oui, Oui, I did notice the momentum being lost, after working at the premises with Charlie, our engineer/producer. With Oui Oui there was definitely a different feel to the process compared to the Liberty. There had to be. Otherwise it would have got tedious.
RSS: From your point of view as a member of Madness, how does the new album compare to your previous albums?
Lee: Overall, the album is up there with Absolutely, just in a more adult way.
RSS: Looking at the writing credits for "Oui Oui…", your name only pops up once, for "Circus Freaks". Did you not write more songs or did they not make the cut?
Lee: Check out Powder Blue and 'Doolally' on the deluxe version [which has just been released]. However, I'm in no hurry to get back in the studio to write and record.
RSS: Who came up with that album title? There must be a story behind it!
Lee: The title for the album was as exciting as the choices of songs for it. We had so many, it was like being a kid in a sweet shop. My personal favourite was Circus Freaks, but I was bound to choose that as it's one I wrote with Woody. Oui, Oui was suggested by our manager, I think. Anyway, it was a promotional dream and it looked, or rather read well.
RSS: Having played on top of Buckingham Palace and at the closing ceremony of the Olympics, what do these two "gigs" mean to you?
Lee: That I need to return to the scene of the crime for the lead… What it means to me? I don't know for sure. The Palace was so surreal, but you bringing it up again reaffirms that it was real and we are 'part of the furniture' – established chancers, who have given our all and now it's pay back time.
We have entertained and given the music business a run for their money and lapped them. EMI took some beating though…
To perform in front of billions, in mid-air, with a kilt and crown jewels dangling high above and a sax blasting (miming, really) out a tune. Tell me, what did it mean to you?
RSS: For me? As a long-time fan, it was also a bit like pay back day. It made me think of my school days in the early 80s, when I was the only Madness fan around and everybody else was listening to bland synth pop. I was thinking, take this all you Kajagoogoo, Duran Duran and Simple Minds fans.
Anyway, do you feel that these appearances have changed anything for you, personally, or for Madness, as a band?
Lee: Well, I don't have to carry cash on me anymore. But then, I never have!
RSS: Looking back over almost 35 years of Madness, at what point did it feel best to be part of the band?
Lee: We were offered a support at Camden Town's 'Music Machine' – a place where the BBC had recorded radios comedies in the 50s and where Charlie Chaplin had performed before. My granddad was a fan of the Bedford Music Hall opposite. We were billed as 'Morris & The Minors', a name that Mike had come up with. It stayed with us for one gig!
'Sore Throat', a band I had seen on many occasions, headlined. They were good but we played and performed better. The amphetamines may have played a part but, as a band, together as a team, before realising what business we were getting ourselves into… I wouldn't change it for the world!
RSS: Thanks very much for sharing this with us.
Peter Clemm
We recommend you to help great Ska get into the charts and pre-order the brilliant album "The Benevolence Of Sister Mary Ignatius" (Release Date: June 11th 2013), for example at Amazon. It can also be pre-ordered at Itunes, Sainsbury, Virgin Media and CD Universe.
Lee Thompson is giving away a free download (a live version of "Soon You'll Be Gone") to you if you like and share this post, or the album news report, or the interview with Lee's brother in-law and band member Darren Fordham via your social media channels. Just drop us a line at leethompson@reggae-steady-ska.com with "Liked And Shared" in the subject and we'll send you the download link.
The Lee Thompson Ska Orchestra features:
Mark Bedford (Bass)
Kevin Burdett (Guitar)
Louis Vause (Piano)
Seamus Beaghen (Organ)
Darren Fordham aka Daz Smash (Backing Vocals, Percussion)
Lee Thompson (Tenor Sax, Lead Vocals)
Mr Steven Rooney aka 'Black' (Drums)
Mr Terry Edwards (Alto sax, flute, eggs)
Mr Jack Mitchell (Trombone)
Mr Robert Dowell (Trombone)
Jo Auckland (Trumpet)
Steven Hamilton aka 'Blue' (sax)
Mr Steven Turner aka 'Pink' (Baritone Sax)
Mr Steven White aka 'Green' (Trumpet)
"The Benevolence of Sister Mary Ignatius" is on the shortlist for our "Album Of The Year 2013" competition. If you like to stay informed, you might want to sign up for our newsletter. You find a German translation of this interview in issue 16 of Rocking Steady magazine.
Follow Lee Thompson on Twitter @leethompsonska, Darren Fordham at @officialfordie.