Jamaica meets Motown. That's the spot-on way The Big Takeover describe their soulful ska sound. Jamaican-born lead singer Nee Nee Rushie brings a little Marcia Griffiths, a little Sister Nancy, a bit of Mable John, Martha Reeves and Helen James to the stage, while the talented band adds just the right mix of drums, strings and horns to pull it together.
The band's first album, Too Close, came out in 2008, followed by Tale of My Life in 2011. Their third album, Children of Rhythm (2014), won them fans beyond their hometown of New Paltz, New York, and their latest, Silly Girl (2017) is getting them much-deserved attention worldwide. When they rolled into Rochester and played my new favorite bar, we found a semi-quiet space to chat about their milestone anniversary.
Think back ten years to when The Big Take Over first started. At that time, what were your goals for the band and where'd you think you'd be ten years later?
Chas Montrose (sax): I don't usually think about things that far in the future for anything in my life. That's an interesting question. But, I don't know. I figured probably we'd be somewhere touring the country and we just did that, so that's definitely something, I would say.
Nee Nee Rushie (vocals): When the band first started, I had no idea what was going to happen. I knew that I enjoyed what we were doing. I enjoyed singing, I enjoyed the people that I was in the band with, but I did not know what was going to happen. I had aspirations to bring the music to all kinds of different people, which we did. But I kind of just fell into it and now, ten years down the road, I am finding that it's almost kind of bigger than me, and I'm just like going along with this ride, and I'm fulfilling all these things I didn't even know that I needed to fulfill.
When we started, I was like twenty. And now I'm a woman and I am feeling all these different things and it's coming out in what we're doing. It's just really awesome to look back at how we started and where we're going and where we are now. I think we did a lot of cool things and we did a lot of things I didn't think we were going to do. We exceeded my expectations and I still have more aspirations that it's just a really cool ride.
Over the past decade, you've played roughly 700 shows. That averages out to more than one a week. Are there any gigs that really stand out for you?
Brad Kissner (bass): I think one of the first ones that really made me feel like, wow, we got something a little special here, was when we opened up for the Wailers in Poughkeepsie. It was a hard time, but it was pretty cool to play in front of 500 plus people. I mean back then, that's when we first started. If I would listen to [what we sounded like] back then, I would think we suck. It was special because the stage was in front of a big crowd. People enjoyed it. That was the first one when I was like, "this is pretty cool." The bar gigs, those are great, but being on a real stage with real monitors, and a serious sound system is where I feel Nee Nee actually shines the most. We all do, but she needs a stage. Like the Dirty Dancing movie, she can't be put in a corner.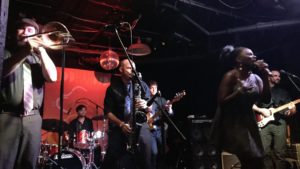 You've just wrapped up an extensive summer tour of the US. What were some of the cities you played along the way?
Chas: We went to New Orleans, Durango, Colorado, Santa Fe, New Mexico, San Francisco, California, Seattle, Portland, Oregon, and Seattle, Washington. That was fun. San Antonio, Texas, yup, we slept right outside of Las Vegas, that was cool. We all did the driving.
Nee Nee: We had a pretty wicked schedule. I was writing down driving schedules. Andy was all about it. And I didn't want to do it, so I made him do it, and it was a big deal. They were all about this shit.
Are you the unofficial organizer in the band?
Nee Nee: I try to be, but no. I mean, I'm [an elementary school] teacher, so I have ability, but there's something about this group that makes me want to not organize things.
As a teacher, that's got to limit your touring schedule to the summers and vacations.
Nee Nee: Yes. I try not to think about it too much because they both [teaching and performing] mean so much to me. So, it really stresses me out to think about one without the other. I don't want one without the other. That's a tough one. I'm going to walk away from that question!
You've covered a good part of the US. How about a tour of Europe?
Guthrie Lord (guitar): I think there is already buzz about a festival in Germany. If we get a couple of festivals lined up, I think that'll be the next step for the band.
Chas: It might be a lot like our US tour that we just did in the summer, except from going state to state in the US, we'd be like going country to country in Europe. That would be a much different exposure to different countries as opposed to different states in our own country.
You've already played with many different bands, but is there a band you still hope to share the stage with?
Rob Kissner (bass): Dead or alive? I mean up until last year, I really wanted to open up for Sharon Stone and the Dap-Kings. But, she just passed away. So, yeah, that would've been my dream.
Chas: I just recently saw one of my favorite bands live. Big Bad Voodoo Daddy. They're like a swing band, and I was floored because they were all so cool. I met all of them. It'd be so cool to share a stage with them, but on the other hand, it would send a lot of weird messages to my brain. I feel like I would want to play with them and say that I have, but I don't know if I'd want to go there, you know? But, I would say it would definitely be something cool if I was able to play with them.
Nee Nee: We have definitely played with a lot of people that I would say are, already, bucket list people. And, I feel so lucky to know a lot of these people, that I'm like, "How did this even happen?" and, "I don't even remember being there!"
The Big Takeover are:
Rob Kissner – Bass
Nee Nee Rushie – lead vocals
Andrew Vogt – trombone / backing vocals
Chas Montrose- Sax
Batu Attila – Drums
Guthrie Lord- Guitar
Manuel Quintana – percussion