Ten years after their first European tour, the famous inventors of Dirty Reggae are coming back once again for a whole month. A lot has changed in the meantime. The Aggrolites have pretty much changed the whole game, their influence on the global Ska scene can hardly be overstated.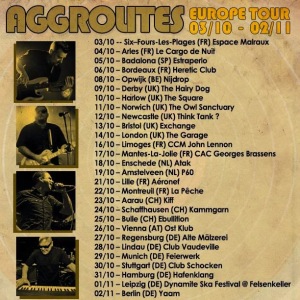 But what comes next for the wild bunch from L.A.? With an ever full tour calendar and lots of opportunities for cool side projects, it has become harder to get down together and produce new music. There's a lot to talk about with Roger Rivas and Jesse Wagner, which we already did at last year's Summerjam festival in Cologne.
RSS: When you played This Is Ska festival in 2004, people were quite confused, not only because of your sound (organ-driven and with no brass), but also the uniforms (all black jeans and shirts, coming about like skate punks doing Reggae). Today, many bands model their sound around your style. How do you think about that?
Roger Rivas: The bracket that we're associated with is the Ska Rocksteady Rude Boy Skinhead thing. And so within that scene I notice a change. I think over the years a lot more bands try to play what we started to play, which is what we call Skinhead Reggae, we call it Dirty Reggae. The Liquidator, Upsetter, Jackie Mittoo vibe.
Before us, everyone was playing Ska music and maybe one song a little slower. But now there are bands that are just that style and they have an organ player that plays like this, and they have a singer that tries to sound like Jessie. Which is flattering, it's really cool. I think it's a great thing.
Jesse Wagner: We never wanted to pigeonhole our band. Also with the tours we chose to go on. We would take any kind of tour that is outside of the Ska scene. It's been even eleven years that we have been a band and it is still taking time for people to catch on. But the people that do end up being true fans. The fans that we have are dedicated and die-hard fans.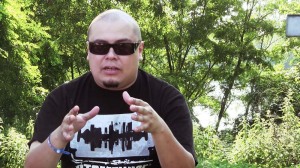 Which other new Early Reggae bands do you like to listen to?
RR: The Granadians. And I don't consider them a band that heard The Aggrolites and then decided to play, because they have been around for a long time. I think around the time that The Aggrolites started, there's a sprinkle of bands around the world that got the same thing:  Rocksteady, Skinhead Reggae, organ-based – who moved away from Ska and the horns, and now got a second guitar player.
The Granadians are a really good band, and really good friends of ours, too. Teddy, the keyboard player, moved to the East Coast, he lives in DC now. But they're a band that I admire. I mean if you look them up on youtube, some of the clips are: Vow!
And you can tell when a musician gets it. Because there are so many musicians that want to play Ska and Rocksteady, or Reggae music, or even Roots Reggae. It's okay, you can tell when a musician gets it. When they actually listen to it. There's a big difference of playing in a band and then – when you're going in your car by yourself –  what music do you listen to: Metallica? You can tell the people who really listen to Symarip, to The Upsetters, to all the Pama Records stuff, and The Granadians are one of those bands.
The same thing with us, that's how I met Jesse. We were like-minded people, listening to this awesome music.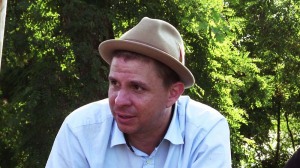 "Reggae hit LA" was the title of your 3rd album. And it really has. Why is there such a rich scene of excellent bands/artists in LA?
JW: The unique thing about L.A. is that there are many bands that like this old school sound.
RR: We are spoiled.
JW: Maybe it's because, we're close to the ocean. I don't know.
RR: Even before The Aggrolites were together, and he was in a band called The Rhythm Doctors, and I was in a band called The Vessels. Me and him, we were just fans, going to these amazing Ska shows in Los Angeles. We were just very lucky. Hepcat, Jump With Joey, Donkey Show, Let's Go Bowling, Ocean's 11. I'm talking about the late 80s, early 90s. It constantly progresses, sometimes in a bigger wave, sometimes not.
JW: Speaking for mine or Roger's generation: Those were the bands that got us into old-school Reggae. Hopefully we are doing that for young bands now. When they are listening to The Aggrolites, they hopefully start listening to what The Aggrolites are listening to.
It definitely worked like that for the European scene. There was a wave with The Slackers, Hepcat and Stubborn Allstars, that was when European bands started sounding original. It was basically you that brought the whole Boss Reggae movement along.
RR: It's very flattering. Like I said, I think it changes. What's the next thing. There's gonna be a next thing. For example all of a sudden a very awesome Calypso band … ?
What will be the next thing for The Aggrolites? The last album "Rugged Road" was a more mellow thing. It sounded like five singles with five b-sides …
RR: That's exactly what it was. In eleven years we only released one 45. And people who listen to our style of music, are definitely vinyl collectors. So we wanted to do that. We wanted to press 45s. We made five 45s, and each one was inspired by old school Reggae stuff. One would be inspired by The Pioneers "Complicated Girl", one sounds like Junior Murvin I think.  If you know you know. That's why it's mostly instrumentals. Boris Gardener had a lot to do with those, too.
Some of your music has been adapted in TV shows. Is that segment becoming more important for you?
RR: It happens naturally.
JW: It's not something that you focus on or are going for. Every now and then a band will get lucky and we got these chances or opportunities. That way we can put our music in big movies.
Or the "Banana" song.
JW: Like this "Banana" thing. We went on a tour with a band called Aquabats. And the creator of that show was the lead singer of the Aquabats. And the "Banana Song" is an old Skinhead Reggae song. We never thought of it as a children's song. Honestly.
RR: Actually the original song is very un-children. It's slackness. And then we switched it around to something else.
JW:  It's a calypso song, like the "Big Bamboo."
RR: We all know what the banana means in that song. And then we switched it up.
JW: He said: "I'm doing this kids show. I can't really talk much about it. But it has this "Banana Song". And I said: "I don't know. That's not really what we are into. He said: "No, it will work great. You just have to change a couple of lyrics." And it's a huge hit.
I feel like The Aggrolites are more known for the "Banana Song" than for anything. And I think that's cool, because it's a great television show. And it's family friendly and on top of that it's exposing great Skinhead Reggae music to the world.
RR: And Mr Roy Ellis is very happy with it (laughs).
JW: He's more happy than we are about it.
RR: The publishing and the royalties go to him.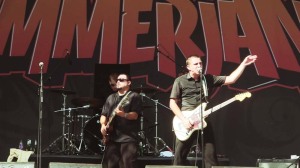 JW: And we just play it.
Are there any dates out when something new by The Aggrolites will be released.
JW: Like Roger said: We've been touring 200 days a year. As fun as it is, its also very, very exhausting. When you go home, you pretty much hibernate. You spend time with your family. Or you just hide in your room: "Oh peace, quiet."
RR: No more alcohol, no more Doner kebaps. On a serious note: It's really been since 2008 that we recorded a full length album. We definitely have a lot demo songs. Songs that we have been writing the last couple of years. Songs that we'll revisit. And songs that we will be writing at home. We'll get in the studio, record and get the album out as soon as we can, but there are no set dates.
As fans, we always find it better for bands to take their time than to rush.
RR: That's what we are trying to do. At the risk of sounding boastful and cocky. We can easily spend two or three days to write 15 songs …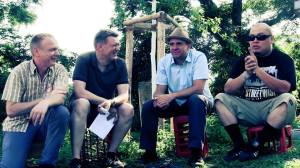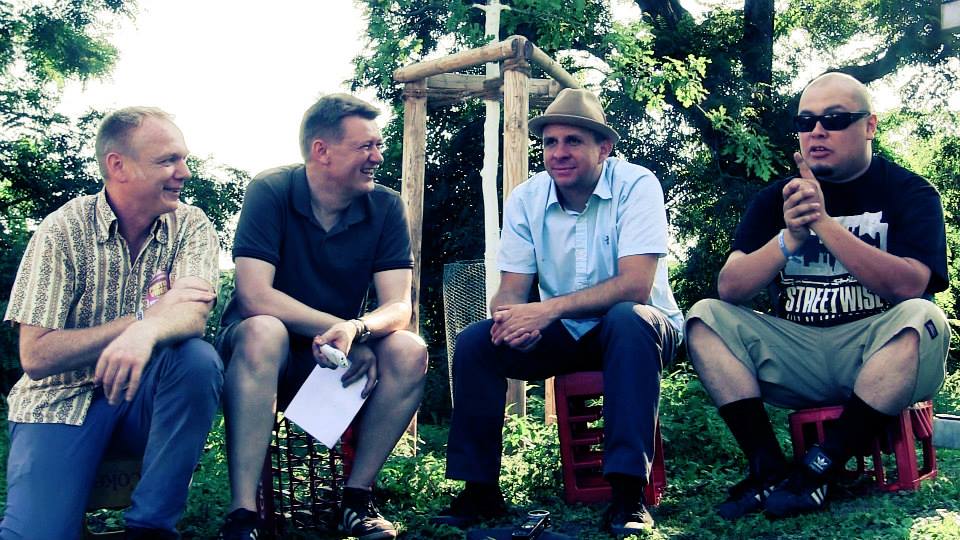 JW: we done that a lot of times …
RR: Me and him would write a bunch of songs and we'll record them and the fans will like it, because it sounds like The Aggrolites. But we want more than that. All of our past albums were good, but think we can reach a better bar. And that goes with nurturing, taking time for songwriting, and how the recording sounds. With The early Aggrolites everything wasn't professional. We were a bunch of kids: "Let's have fun with it." Now we're at a point when people actually like what we are doing. And we think: "Whatever we put out they're gonna listen to it. A little of pressure. We want to do the fans justice like Jesse said. And put out a great product.
(Interview: Peter Clemm & Joachim Uerschels)
The Aggrolites album discography
Dirty Reggae, Axe Records, 2003
The Aggrolites, Hellcat Records, 2006
Reggae Hit L.A., Hellcat Records, 2007
IV, Hellcat Records, 2009
Rugged Road, Young Cub Records, 2011
Unleashed Live Vol.1, Independently (US) / Brixton Records (Europe/Australia) / Ska in the World (Japan) 2012
Loading
What's your favorite album by The Aggrolites
Thank you for voting
You have already voted on this poll!
Please select an option!