At music festivals, it's all about sharing, and that often includes musicians. Sometimes it's to fill a spot caused by a missed flight or a broken wrist, sometimes it's just to add a little more oomph to the sound. At Supernova Ska Fest in Fredericksburg, Virginia, that oomph came courtesy of trumpet player extraordinaire, Adam Birch. He was there to play with Derrick Morgan—the first time in close to three decades—but he found himself called to the stage by The Toasters, Eastern Standard Time, The Pietasters, Murphy's Kids and just about everybody else at Supernova. With his bent-bell trumpet, he was ready to play backup or take a blistering solo, smiling an infectious smile the whole time. Adam calls himself, "an old ska-head from back in the day." Ska legends, like Toasters founder Bucket Hingley, calls him a friend. "Adam came up through the ranks playing in bands back in England," says Bucket. "He can come up and play on my stage any time he wants."
I caught up with Adam at the start of Supernova. It's a good thing I interviewed him when I did since there was no keeping up with him after that.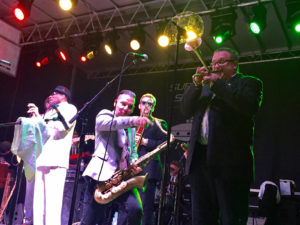 RSS: What's it like to be playing with Derrick Morgan again after all these years?
Adam Birch: It's a funny story. I actually was supposed to come down to play tomorrow night with The Toasters, but what happened was, I called Tim [Receveur], the promoter and he said, "You know Derrick's playing?" And I said, "I know. I haven't seen him in probably 27 years." So, he called Derrick, and Derrick found out that I was here and he was going crazy. He was like, "He's got to come and play." So, I'm going to play the show with Derrick tonight. It'll be the first time in, literally, 27 years I'd played this set with him.
So let's go back to the beginning. How did you first find yourself in a ska band?
You know, it started back in Leicester, back when I was probably 15 years old. I met Stan [Samuels, guitar] and Tony [Looby, alto sax], who were, at the time, in another band, and we became the backing band, The Pressure Tenants for the great, legendary Laurel Aitken. I was one of the original Pressure Tenants, the backing band from, I guess it was basically early '80s all the way through till Laurel died.
I was 16 when I joined that band. Had no idea really what reggae and ska was. He taught me everything I know about the music and so did Stan and Tony. They were great mentors of mine back in the day. I was always the youngest then. So, it went on and basically, we were lucky. I think what had happened is all the bands came through from Jamaica to London and we always ended up backing them. So that's Laurel Aitken, Alton Ellis, Derrick Morgan, Dr Alimantado.
From playing all those shows like that I met The Specials' manager at the time [1996], Roger Lomas. He was The Selecter's manager, but he was managing the reformed version of The Specials that are out. I think it was Special Beat in '92, and they asked me to come on tour with them. They were actually playing there [in the U.S.] for the first time as The Specials in '94, which I did the first tour with them.
We came over of the fall tour to play for the first time since The Specials started, basically in the '80s. I mean, I only played once or twice over here and then they got sent back home. Politics of course. You see Jerry was very political and I think you'll hear that story but it's a great story about how Jerry and the band got sent back home. But I won't go into that one, because it's more for him to say, but … It was an interesting story.
So, I was lucky to play with The Specials for, I guess, 10 years maybe more than that, '98, '99. I believe what happened was we were in Japan if I remember that was the last gig I did with them and I'd threw my hands up and said, "I'm getting a boat back to America. I'm leaving." I did. I moved to America.
Do you still keep in touch with any of The Specials?
Yeah. I talk with Lyvnal all the time. I mean, we're great friends still. I've got a great respect for the whole of the band, The Specials. They were great peers to me. They taught me a lot. Again, I'm going to go see them in June. And Horace? He's very talented. He just got a new painting, which is like electric pylons just like that one over there what you're looking at. You want to see the picture, dude it looks like a picture, doesn't look like a painting, but he painted it. I mean, I said to him, "Dude, it's shockingly good how good it is." He's like, "Ha-ha."
Most ska fans in North America are going to know you best for the time you spent with the Toasters. How did you land there?
[Brian Lord] Sledge had left the band [to focus on the Yalloppin' Hounds]. He'd decided he'd had enough of touring. So, Buck called me up and said, "Do you want to work with The Toasters?" I was like, "Yeah. I'll do The Toasters." So, I did that for another five or six years. Then I got into being a family man. Had kids. Thought I need to grow up and get a job. So I tried to do it. But it's funny how it works.  Music never leaves you. It's always a part. So all the time the bands came through, I would always jump back onstage and play with The Toasters. You know, it was an amazing experience.
For many ska fans, especially those of us who play in bar bands, you're living the dream.
A lot of it's not all happy stuff. When I was with The Specials I got into drink and I got into drugs and it overtook my life and that became more important for me to do that than to play music. For a long time I got very bitter and twisted. But I'm lucky today, because I got my life back. I'm clean and sober now for the two-and-a-half years. I started playing music again.
I've been so lucky. I've been so blessed. Not even two months ago I'm at the Ardmore Music Hall in Philadelphia, the Skatalites are playing, they recognize me and they said, "Do you want to come and play tomorrow in New York?" So, I'm playing with them at New York, playing on stage with the Skatalites the next night. I mean, so many things have happened. Just crazy things. I call people and they go, "What are you doing?" "Nothing." "Do you want to come and play?" I'm like, "Yeah." So, that's what's happening.
I'm very lucky and very, very privileged to even be here today. And get a chance to play. I mean, like today, I'm looking forward to it. It'll just be like going back home for me. Because those were the gigs that I really … I just had so much fun, it bought so many memories back to me. Then, playing tomorrow again. It will be good to see the crowd and enjoy this festival. [He points to his son, kicking a soccer ball with Unikue Peace, lead singer of Eastern Standard Time] That's the privileges of being a daddy and clean and sober. I get to bring my kids now. I got three boys. That's the youngest. He wanted to come with his dad and see dad play. Like I said, so lucky, so blessed.
You've been involved with ska the bulk of your life. What is it that keeps bringing you back?
You know what, it's this music. I'll be honest with you. It never, ever dies. I tried to run away from it. I really believe this—this music is spiritual and I know you might not believe it, but you cannot stop listening to it. You try, you go away from it, you listen to other stuff, you always come back to it. The music just keeps reforming and it multitudes and it multiplies and it comes back third-wave ska, fourth-wave ska, fifth wave. It's just this root of the music, but it changes and it progresses. That's the beautiful thing about ska.