Trying to replace the lead singer of a famous band is always tricky and rarely works. Giving the job to somebody who was eight years old when the front man died is quite unique. Yet the two surviving members of Sublime did just that a few years ago, asking upcoming teenage singer/songwriter kid Rome Ramirez to join them as their lead singer. Partly due to some legal issues with original singer Brad Nowell's family, they christened this revamped version of the band, Sublime With Rome.
When the band was over in Europe for a few club gigs recently, we took the opportunity to gatecrash their tour bus and ask them for an interview.
RSS: This is your penultimate show tonight, so how has the tour been going so far?

Rome: Awesome! It's been a lot of fun, travelling around with our family and crew. A lot of the shows have been sold out – like tonight.
RSS: It must be a great feeling to still have so many friends after all these years, right?
Eric: Yeah, for sure. We never got the chance to tour Europe with the original band. The tour was meant to start about two weeks after Brad died.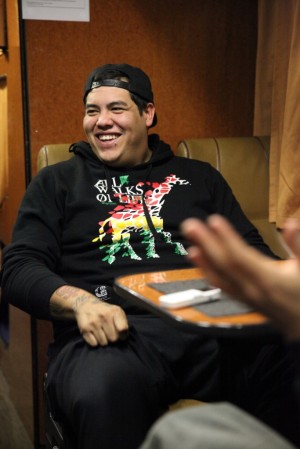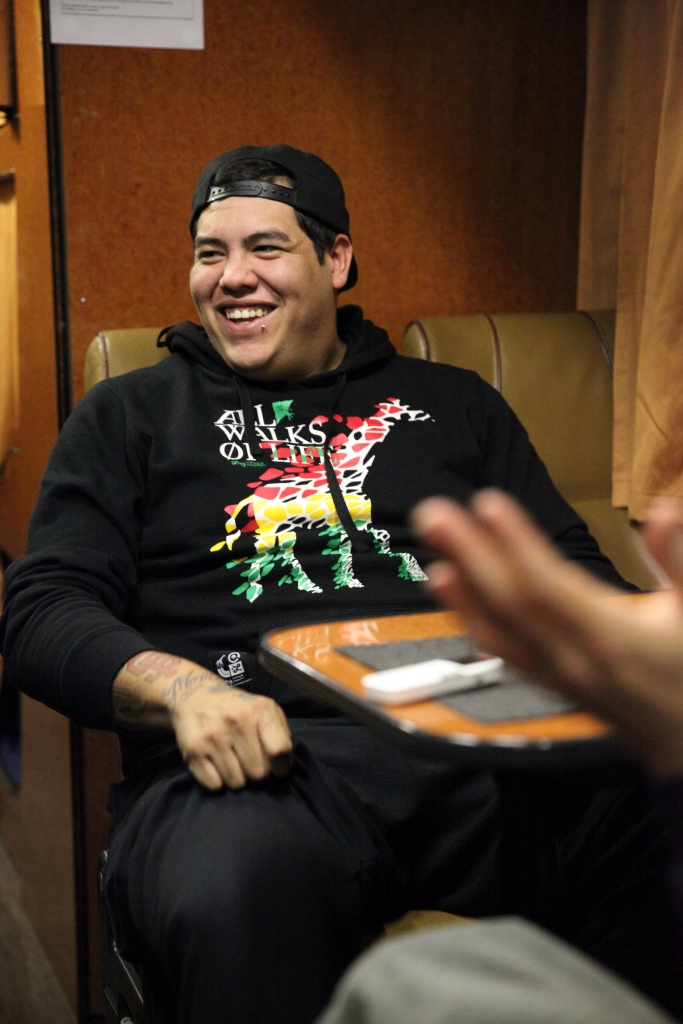 RSS: I read that Sublime started out as a punk band and then later Brad introduced you to Ska and Reggae. Is that right?

Eric: Pretty much, yeah. He went to college in Santa Cruz, California, and got in touch with a lot of music. And then he came back and showed me the stuff … it took me a while before I liked it [laughs].
RSS: Was it a conscious decision to fuse all these different styles then?
Eric: We just developed it from our different influences.
RSS: Were there any other bands that influenced you?
Eric: Probably the closest would be the Bad Brains. They combined Reggae and Punk, but they did it in separate songs. They did a Punk song and then they did a Reggae song. It wasn't so easy to put both in one song.
Rome: … or to get the radio to play it!
RSS: What about English bands?
Eric: The Clash and the Ruts, for sure.
RSS: When you started, many clubs didn't want to book you because they thought that nobody wanted to hear that mixture. Why do you think did your sound appeal to so many people in the end?
Eric: We had a lot of faith in what we were doing, so we just toured the country and slept on people's floors for a while. That way we gained a cult following. Even up to the point when Brad died we still pretty much had a cult following. It wasn't widespread or anything.
Current lineup: Rome Ramirez – lead vocals, guitar (2009–present), Eric Wilson – bass (2009–present Josh Freese – drums, percussion (2012–present)
RSS: So it was over before your commercial success had even really started?

Eric: Yeah.
RSS: How did Brad's death affect you?
Eric: It changed my life in many different ways, but I never stopped trying to keep the music on.
RSS: So was that a decision you made pretty quickly, to go on?

Eric: Yeah, I was playing in a number of bands, like The Long Beach Dub Allstars. About a year later, we started playing Sublime songs and toured over here.
RSS: A lot of music from the 1990s hasn't aged very well. How do you assess Sublime's legacy?

Eric: I just see it as it goes. I wasn't surprised when our self-titled album hit big, because it sounded really good, [laughs] and it stood the test of time. And still does.
RSS: The decision to ask somebody to fill in as a singer than the rest of you was quite a bold move. How did that happen?
Rome: It was quite random. They didn't have any trials, we just met through a studio. A guy I had started making music with was friends with Eric and we just started hanging out. We were at some party and there was this other band playing, so Eric says, "Do you want to play some Sublime songs?" And I said, "Sure!" We start jamming and it felt good.
RSS: How did it feel when you were on stage in front of an audience for the first time with these guys?
Rome: Man, probably the most nervous I have ever been to this day. I'm glad that's out of the way now. I had never even been to a concert that big.
RSS: When you read comments on the Internet, opinions are divided about whether or not it is a good idea to carry on and of course there was this legal case with Brad's family about the name of the band. How do you cope with that?
Rome: Honestly, man? You can find any comments on the Internet if you look hard enough. We are presented with what we dish out, which is a great show. And we're genuinely friends…
Eric: Brothers!
Rome: …and we just like to jam. The people who come to the show, they pick up on that. Luckily we've never been in position where a person has come up to us and shown us any form of disrespect. The worst I ever got said to my face was, "You know I miss the old band, but this was nice."
We are very grateful at the fact that whatever we're trying to do now is transcending to the listeners.
RSS: It helps that you have new material. I read that you are working on the second album now?
Rome: That's right. We're in the process.
RSS: How far in that process are you?
Rome: Probably about 5 per cent [laughs]. We've spent the last two years touring really hard, supporting the album. Then we lost Bud, and gained Josh and everything. It's been a crazy year… But now we're really into the groove and swing of it. Correct me, if I'm wrong but that this is more of a band now than it ever has been. We are at a critical point as Sublime With Rome. We've established ourselves, we've put out new music, we set a precedent for this band, so now we don't want to rush into the studio and just bash out an album. We can take our time, develop a new sound for this band and then record the new album. It will be out on Atlantic Records.
RSS: So, Josh, does that mean that you are a permanent member of the band now?
Josh: Yeah.
Select album discography: (Sublime:) 40Oz. To Freedom (1992), Robbin' The Hood  (1994), Sublime (1996); (Sublime With Rome:) Yours Truly (2011)
RSS: How did this come about? I've read up on your really impressive musical record. But none of the bands that came up seemed to have anything to do with Reggae.

Josh: That's cool. I like doing that. I work with so many different bands and artists, ranging from Suicidal Tendencies to Melissa Etheridge, Sting to Guns N' Roses to Nine Inch Nails, tons of bands really. I've known Eric for more than 20 years and I was around when Sublime played all along Long Beach. We hung out in the same kind of circles. Sublime would play shows with the Vandals, who I played with at the time, when I was about 16 years old. It's funny that Eric just said he didn't like the Reggae stuff at first, because I remember when I first heard Sublime, I asked myself: "Are they Punk Rock? Are they Reggae? Not sure if I like the Reggae stuff…"
And then the more I listened to it, I realised: This is really cool hybrid. Some bands that were trying similar things, sounded contrived and forced. Sublime just did it so naturally and so well.
They were getting this reputation around Long Beach of being nice guys, but kind of troublemakers, too. I liked that! There were all these stories of them missing shows, stealing the headlining bands' alcohol. There was always some kind of drama going on. And I knew all the guys in the band, watching their progress. They weren't on the radio yet, but they were gaining a reputation on the underground circuit, not just Long Beach, all along the West Coast, because they were touring their asses off, playing wherever they could play, be it a backyard party or somebody's living room, or at a club opening for somebody bigger. I was a fan because they kept it musically interesting for me.
The closest I ever came to playing Reggae was my time with Sting, playing old Police songs. Songs like "Roxanne" or "Message in a Bottle" had Reggae elements in them. But what I always liked about Sublime was the tempo changes and the way they would switch things up in the middle of songs.
I remember seeing Eric three or four years ago and asking him what was happening. And he said we found this young guy and he sings really well, we're going to play some gigs. I said, "Really? Wow, that's great." But I thought to myself, "Shit, how's that gonna work?"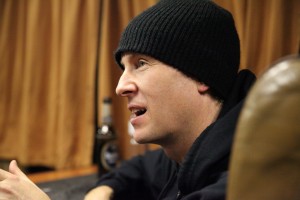 But then a friend of mine from the Vandals had heard Rome. This friend hates everything. He'd be the first one to say "it sucks" when something sucked. But he said, "Man, it's pretty cool. This kid is really great."
A little later they were playing a show at the Palladium in Hollywood, so we went to see them – and it was awesome! People were really happy to see them play again after all this time. Everybody was kind of ripped off because of Brad's untimely death, because they were just about to go full steam ahead and everything came to a screeching halt. So unless you were at a backyard party in Southern California at that time, you never got to see this band! And then the record came out and exploded. It was like giving somebody a lottery ticket, but then you didn't get to cash it in.
A couple of year's ago I was playing drums with Weezer and we did some radio festivals with Sublime With Rome. I thought, "Gosh, all these people are so happy to be seeing this!" The thing is: They can't do anything about Brad's death. He is not going to come back and sing these songs. If you want to hear them, this is your chance!
About two years ago they asked me, if I wanted to join them for a tour of South America, but I wasn't free. I think Bud couldn't go, it was some visa problem, arrest records or something like that. [laughter] So I was really sad I couldn't go, because it would have been fun to play these songs.
A few months later they asked me a second time. I had just left Nine Inch Nails, because I wanted to stay home more, spend some time with my young kids and not be on tour all the time. These guys don't go on tour for six months at a time, yet they consistently work. It all makes sense: I like the guys, I like the music, I feel like I have a history with them, I come from the same place, Long Beach. So I felt I was the best man for the job. It felt natural.
RSS: Saying that, does this huge age gap between Rome and you two not create a strange band chemistry?

Eric: Not really.
Josh: It's not a big deal.
Rome: We just hang out. I see them more than I see my own family. Rock 'n' Roll, man, does a great job just evening out: making the young wiser and the wise younger!
Josh: We never even matured beyond the age of 23 anyways. [laughter] Look at us: Slayer T-shirts and baseball caps!
RSS: Thanks very much, we're really looking forward to the show.

Eric: You're in for a treat, buddies!
(photos: Ulrich Grobusch)