A few days ago the shocking news reached us that Style Scott, drummer extraordinaire and leader of Dub Syndicate was murdered at his home in Jamaica. As a member of The Roots Radics band he shaped the sound of roots and dub music throughout the 1970s and early 1980s, playing on many important recordings by Dennis Brown, Augustus Pablo, Earl 16 or Gregory Isaacs. In the 1980s Scott became the backbone of producer Adrian Sherwood's ON-U Sound label. Just recently, Dub Syndicate have finished work on their new album, Hard Food. It will feature guest appearances by Bunny Wailer, Lee Scratch Perry and U-Roy.
Three years ago, after a lengthy break from touring, Dub Syndicate returned to Europe for a tour, where we met Style Scott for an interview before a rousing show at Cologne's Underground club. He turned out to be a very open and friendly interview partner as well as a observer of his own country. The interview was published in German in issue #7 of Rockingsteady magazine at the time.
Reading through it now and even though police are still investigating the details of his murder, some of Style Scott's answers reveal a bitter truth. Winston Riley had just been killed, so we talked a lot about violence and politics in Jamaica. These are the words of a Jamaican who truly loved his country and hoped for a change. Unfortunately he didn't live to see it and became a victim of the circumstances himself, as it appears. We have decided to publish the interview in English now. It is a haunting call to all Jamaicans to end this violence. Nuff respect, Style, rest in peace!
RSS: Your last album, Bed Of Roses, was released in 2004. There were two compilations in 2008 [The Rasta Far I] and in 2010 [The Royal Variety Show], so our first question has to be, where have you been for so long?

Style Scott: Well, you know, good tings come an' go. The last 4 years I have spent in Jamaica to re-arrange some things in my life. I have spent a lot of time with my family. My father died three weeks ago and there's a ton of problems in Jamaica. Some we've dealt with, others we haven't. Well, life goes on.
Does that also mean you will record again?
We've started work on a new album. But there's a lot of business issues we have to deal with first. The main reason why we didn't tour is that my distributor, EFA, went bankrupt. Not only for us, but for many others this was a blow. But I'm making a fresh start right now with my new agency, Paperclip. We are back from ertia, as I say. Yeah, man.
It must be annoying having to deal with all this business stuff as a musician.
It is more than annoying. Some people seem to believe that as a musician you're a little dim and that you don't realise when they try to rip you off. But I'm a businessman too, I have to be. This business today is full of sharks. As an artist you have to be very careful not to destroy your business connections or else you're out sooner than you think. I have a new manager now that takes care of a few things, so I can concentrate more on the music.
I read that you have recorded a new album with Jeb Loy Nichols [Long Time Traveller] which will be released on ON-U Sound soon.
Who? Jeb Loy Nichols? Oh, Adrian has probably passed on a few of the backing tracks we recorded two years ago. This often happens to me. I am asked about a track that I have supposedly played on and I don't know the first thing about it. As an artist, you're often between a rock and a hard place, the deep blue sea and the devil himself. [laughs]
In your long career with the Roots Radics, Creation Rebel or Dub Syndicate you have recorded so much. Is there one recording you are really proud of?
That's hard. I've done thousands, tens of thousands recordings. Commercially, the most successful were probably Gregory Isaacs' Night Nurse and Bunny Wailer's Rock and Groove. With Bunny Wailer we even played Madison Square Garden in 1986.
And today it's the Underground in Cologne.
Tonight it's the Underground – and I love it! [laughs] What I enjoy most is not to play behind a singer, but do my own thing. But the singers are all here with us, as samples! We mix them into the live sound. You'll hear Prince Far I, Lee Perry, Akabu, The Congos. They will all rise from our sound.
Do you have a favourite singer?
Gregory [Isaacs]! [without hesitating]: I often drummed for him, both live and in the studio.
Very sad that he had to die so young.
Let me put it this way: He lived the way he wanted to. What counts is that he was a hell of a singer and one of our greatest songwriters – next to Bob Andy.
In spring, Bob Andy was meant to play at the London International Ska Festival with Marcia Griffiths, but sadly he became ill shortly before.
He is very old now and unfortunately not in good health.
One of my favourite songs by him is I Don't Want To See You Cry. Many of his songs became hits for other people and he is often overlooked, isn't he?
His material was released on different labels and he didn't have any control over what happened with it. That's the reggae business. You have to be grateful to some of the young dancehall artists for changing this and producing and releasing their music on their own. For that I love and respect them.
And they made reggae very popular in Europe.
Yes, after Bob died, people didn't listen to much reggae in Europe. They're making it harder and harder for us Jamaicans to visit Europe. Before you get a visa, you have to fill in a mountain of papers.
Even if you're flying to the former mother country England?
Especially to England. I have a whole staple of passports from my trips to England. I am 55 now. I've lived and worked in England for many years. And nowadays I have to queue behind all the other people who want to go to England. That's quite pathetic, when you think about it. As artists we deserve a little more respect.
Particularly considering what you've done for the English reggae scene.
And who cares today? I have so many friends there. I met Don Cherry, his daughter Neneh was my girlfriend – so was Ari Up from the Slits, who died last year. I have lived in England for so long that people in Jamaica consider me an immigrant from England.
You should have married one of them, so you could travel back and forth without a problem.
That's exactly what I should have done, you said it. I should have tied that knot, built that house in England … [giggles] – That's the way we Jamaicans are. We always believe: Things will always be like that. Why care about the future?
You are touring all sorts of countries. Do you detect any differences in the audiences' response to you?
We have just come from Croatia. There, in Poland or in Slovenia we have many fans. In Rome and Bologna, there were not too many people though. We had just entered the country and Berlusconi stepped down.
You did the Italians a great favour there.
Exactly.[laughs] In France it was packed, those were wicked shows.
How do you assess your influence on the modern reggae scene?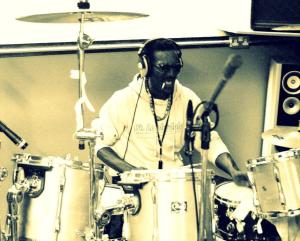 The riddims we cut with the Roots Radics for Junjo Lawes' Volcano label are still being used in dancehall and they keep running on the soundsystems.
Are you actually seeing any royalties for that?
Only when you step up to people and say, "Hey, I built this riddim." But otherwise nothing much happens.
How dangerous a place is Jamaica today? I heard that Winston Riley was shot a few days ago.
It has always been a dangerous place. Jamaica is a good country, most of the Jamaicans are good people, but some of the politicians infect the people with the bullshit that they say. They don't manage to improve the country. On the other hand, people are responsible themselves. They have to inform themselves more. They go to the ballot again and again and hope that this is enough to make things better.
Are you still optimistic concerning the future of the country?

The country can only change if the Jamaicans change. It's all nice and well that the fastest on the planet is a Jamaican, but most Jamaicans simply lack the opportunities to make something out of their lives. If I buy myself some ice cream on the street corner, I know that my neighbour cannot afford it. And at the end of the day that leads to a lot of annoyance and envy. On top of that, Jamaica has become an extremely expensive country. The prices are high even for tourists, but the natives can hardly afford anything anymore.
What's the reason behind that?
We come from a past of slavery and colonial suppression. This makes for a long way to emancipation. Many Jamaicans are entangled in a paradigm of the past. And the politicians don't really want to change anything about that – the more stupid they keep the people, the longer they stay in power.
Is there still a white elite running the country?
It's not only a white elite, but behind the curtain somebody pulls the strings. The independence we gained in 1962 was hijacked by some greedy politicians. The armchairs of our decision-makers are warm and comfortable. It's up to the Jamaican people. If they don't understand what happens with their country, nothing will ever change. I may not live to see this change, but I wish my fellow Jamaicans and my sons and daughters will.
Are people in Jamaica actually aware of the cultural achievements of their country? The music from this small island is listened to and played all over the planet.
Most people do have an idea. But If I return to Jamaica now and people read in the papers, "Oh, Style has just played 20 gigs in Europe", they will be on my doorstep and want some share of. That's simply not the way this works. People need a perspective, so they can take their lives into their own hands. We have an abundance of talent on the island. People must get the opportunity to find their talents. Otherwise they are trapped in apathy, emigrate or just run wild. In addition, we have the hurricanes that hit the country every year. Then some corrupt politician turns up, arranges for some object of prestige to be built and has his photo taken next to it instead of investing the money where it is really needed. Only recently the prime minister form the JLP had to step down because of some scandals. The new one, Andrew Holness, gets a lot of support from the people.
Maybe this is a sign that the voters don't just accept everything anymore.
Maybe it is, but we simply need to accept our responsibility. You have to be ready to sacrifice a little for change. If you only sit on your bed, nothing ever changes. I don't know when, but a change must come.
We wish your country and yourself all the best for the future. Thank you very much for the interview.
Nuff respect, man.
[alert type="blue"]The final Dub Syndicate album, Hard Food, will be released by Echo Beach Records in Februray 2015. A musical tribute of Style Scott has just been published by Reggae historian David Katz here.[/alert]