It will be a special event on 2nd June, 2018 in Coventry's Ricoh Arena. The Specials will be th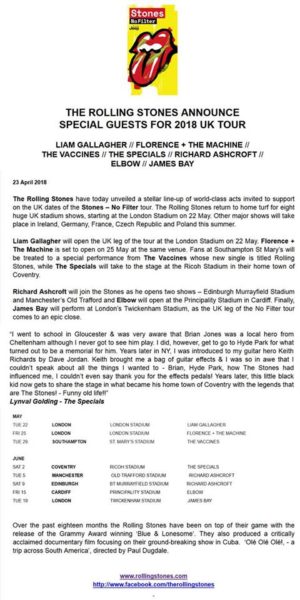 e support act for The Rolling Stones. 
One remaining member of The Specials is especially happy about the show: Lynval Golding talked about his history with The Rolling Stones.
"I went to school in Gloucester and was very aware that Brian Jones was a local hero from Cheltenham although I never got to see him play. I did, however, get to go to Hyde Park for what turned out to be a memorial for him.
Years later in New York, I was introduced to my guitar hero Keith Richards by Dave Jordan. Keith brought me a bag of guitar effects and I was so in awe that I couldn't speak about all the things I wanted to – Brian, Hyde Park, how The Stones had influenced me, I couldn't even say thank you for the effects pedals. Years later, this little black kid now gets to share the stage in what became his home town of Coventry with the legends that are The Stones. Funny old life."