The Skints have already come a long way since starting their musical journey with a self-titled mini album in 2008, on Kevin Flowerdew's UK Ska label Do The Dog Music.
London Style
Album No 4, "FM", the first for Easy Star Records, can take the four Londoners even further, not only in the charts. There's a strong concept behind it. The album imitates an hour of browsing through some London radio stations. The moderators in the radio skits are also the featured guests on the album, Horseman, Tippa Irie, Rival, Natty Rasamurai Irie. Their features are spot-on, Tippa Irie and Horseman killing it on the London representing song "This Town", Rival so wicked on the second video release "Eyes In The Back Of My Head." But that's enough for name-dropping.
Band And Soundsystem
The setting of "FM" is plain perfect, because it plays to the versatility of The Skints who are a band in the most modern sense. Their vision doesn't end at the basic lineup with drums, bass, guitar and organ. Marcia, Joshua and Jamie constantly take turns as main vocalists. Joshua and Marcia do sing as well as rap, and then again easily let themselves fall back to just play their chords and let the others shine. All seem to be like co-producers or parts of a sound system, too, who make decisions on how to add what is needed to accomplish this epic sound of today that pays tribute to the past. Well, producer Prince Fatty also earns credit for bringing the diverse talents into one flow that lets you move through the album – from Dub and Ska, from Lover's to music for todays clubs and cars.
The Next Level
Yes, the radio concept may invite comparisons to another classic album: The Streets "Original Pirate Material". But when listening to "FM", I personally have to think more of the latest Buster Shuffle album "Naked" (2014), because both bands are onto the same thing, with very different results. They take inspiration from old-school Ska or Reggae music and shape it in such a way that it has relevance in today's culture. Like, Buster Shuffle, The Skints totally succeed doing this.
The Skints discography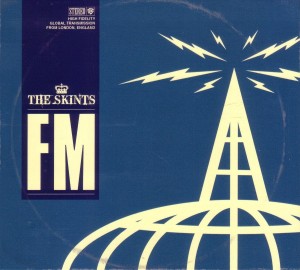 FM (Easy Star Records, 2015)
Part & Parcel (Bomber Music, 2012)
Live. Breathe. Build. Believe. (Bomber Music, 2009)
The Skints (Do The Dog Music, 2008)