One great way to find new Ska music from all over the world is to listen to Ska podcasts or radio shows. With the Radio And Podcast Questionaire Series we like to present those shows and the people who make them. Plus, we try to help make contact between bands and shows. For an overview, you will soon be able to find a list with all podcasts and radio shows (we hear about) at REGGAE STEADY SKA. 
I'm happy to kick off this series with an episode featuring a guy that inspired me to start Ska-blogging. Let's hear it from: JJ Loy. Especially the claim of his podcast Ska Blah Blah stuck with me: "Taking Ska Seriously." Yeah, let's do it.
About
JJ Loy has been a ska fanatic for nearly 20 years, cutting his teeth on 3rd Wave local groups like The Urge and MU 330, before becoming obsessed with the roots of ska and other Jamaican styles. His work on the podcast, Ska Blah Blah lead to the hosting position of Ska's The Limit on 88.1 KDHX.
Question: When did you start your podcast or radio show?
Answer: Podcasting with SkaBlahBlah in 2007 (haven't had new episodes in years). Radio gig with Ska's The Limit started in 2008. Ska's the Limit has been on the air with other hosts since 1991.
Q: How can we listen to it?
A: Ska's the Limit can be heard LIVE Saturdays 7-9 pm US Central Time: kdhx.fm
STL is archived for two weeks and streams from: skasthelimit
Q: What's the show/podcast about? Any speciality? Your take on Ska, your focus in the Ska world?
A: My focus is broad: Ska. The music that influenced it and the music that was influenced by it. On any given night, you'll hear Ska from every era as well as rocksteady, reggae, calyp so and punk.
Q: Any special mention of bands that were guests, or incidents that happened in your show?
A: I love it when bands stop by the KDHX studios for a live session. A couple of years ago, Chicago's The Drastic recorded this cut that will melt your brain:

Q: Any dream projects you would like to feature in your show one day?
Q: I'd like to one day get enough live sessions recorded to maybe release a benefit record similar to what Ska Parade did in the '90's. Much respect to Ska Parade, btw.
Q: What other Ska-related projects are you involved in?
A: Nothing at the moment.
Q: Your 3 favourite contemporary Ska to Early Reggae tunes:
A: Favorites? That's tough, here's 3 off the top of my head:
Dreadsquad – Old School
Maddie Ruthless and the Secret Affair – Funeral Dirge
Slackers – Same Everyday
Q: Your 3 alltime favourite Ska to Early Reggae albums:
A: Despite the fact that I LOVE traditional ska, my 3 favorite records are really non-tradtional, almost avant-garde:
Da Whole Thing – Tooth (just re-released on Whatevski)
Mephiskapheles – Maximum Perversion
Skandalous All-Stars – Age of Insects
A: Your 3 favourite Ska to Early Reggae artists:
The Skatalites
The Slackers
Jump With Joey
Q: Your 3 favourite Ska to Early Reggae concerts:
A: That I've been to?
The Urge – St. Louis – X-Mas 1995 – My first 'ska' show.
The Slackers – Chicago – Fireside Bowl circa 2002 – Eye-opening experience.
Ska Weekend 2007 – So many bands, such a great time!
Q: What's the best way for bands to contact you?
A: skasthelimit@kdhx.org
Q: On which formats do you prefer music to be sent in?
A: Strictly digital, don't hate.
Q: Your message to the global Ska community: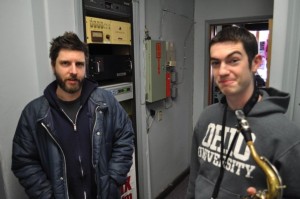 A: Let's push things forward.
Q: Your message to the producers of Ska (bands and labels)
A: Station Identification- If you record station Ids for the show, it greatly increases the likelyhood of your band's airplay. Plus they're a great way to distinguish yourselves from the other stuff I play. Just record something like: Hi I'm so-and-so, from Band X, with a new record on Lable Y available at some website. You're listening to Ska's The Limit on 88.1 KDHX.
In Studio Session-
KDHX makes a BIG deal about Live In-Studio appearances. Bands come in and record 3-4 songs in our state of the art studio. They walk away with a demo cut of the session, share-able sound files on SoundCloud, and usually a YouTube of the session.
It's a great way to get your band noticed in St. Louis and on the Web.
New Tunes-
I usually start each show with new music and I tell people where they can get it.
Show the world what Ska sounds like currently, send me your newest tunes, live recording, b-sides, demos- ANYTHING to get the word out about what you're doing, I want to play it, and I want to talk about it.