We have been talking about it again and again since last year. Now the day has come to finally do it and release the Ska Music Yearbook 2014, a summary of the year 2014 in Ska.
It's a mix of ebook, magazine and catalogue, filled with words and pictures from 2014, best for use on tablet, laptop or desktop computers. It's 107 pages long, and it consists of:
– 120 album releases on 19 pages including cover shots and basic info (label, country, style, release date)
– 20 calendar pages with dates from the world of Ska
– nearly 50 pages of interviews with Derrick Harriott, The Aggrolites, Rhoda Dakar, Monty Alexander, Buster Shuffle, Pannonia Allstars Ska Orchestra and many more, from the vaults of Reggae Steady Ska, now printable
– lists you'll love (labels, podcasts, more releases, history).
We are excited about it. Do you want to have a look inside? Let me show you some pages from every chapter, starting with
The Intro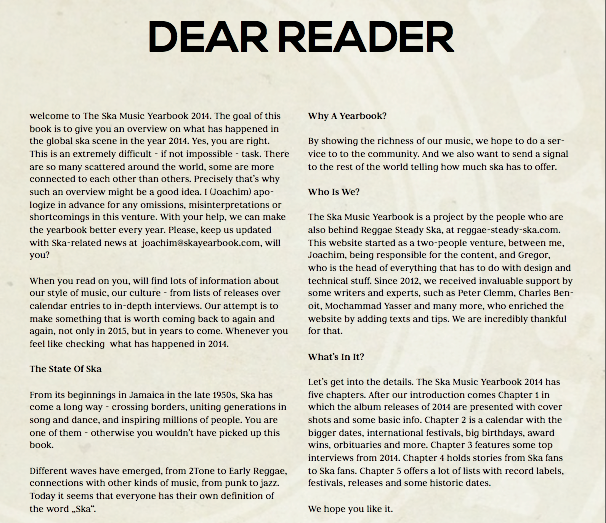 Chapter 1 – Albums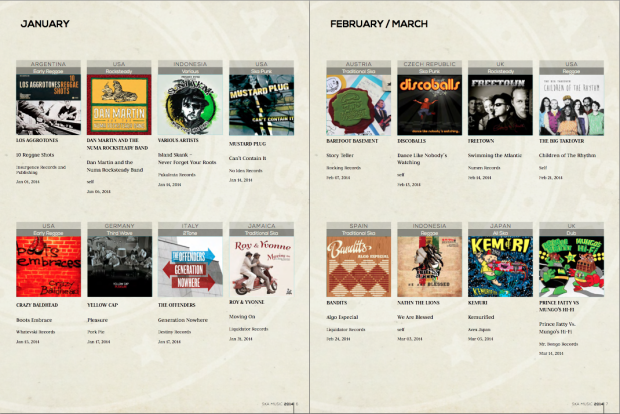 Chapter 2 – Calendar (with releases, tour starts, big birthdays, band splits, deaths)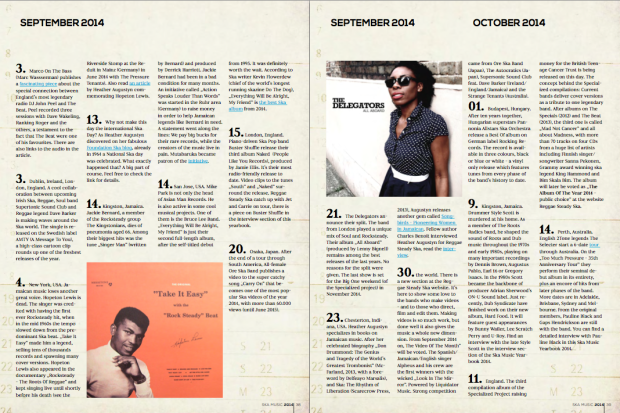 Chapter 3 – Interviews (with Pannonia Allstars Ska Orchestra, Derrick Harriott, Monty Alexander, Rhoda Dakar, The Aggrolites, Style Scott, Toulouse Skanking Foundation, Buster Shuffle, Heather Augustyn, Melbourne Ska Orchestra, Alpha Boy School Radio, Rude Boy George).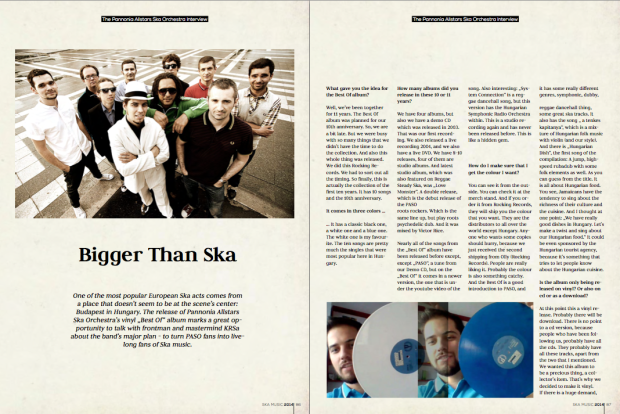 Chapter 4 – Story


Chapter 5 – Lists (more releases, labels, podcasts, websites, year-end poll top 10s, videos 5 years ago, releases (on Unicorn Records) 25 years ago)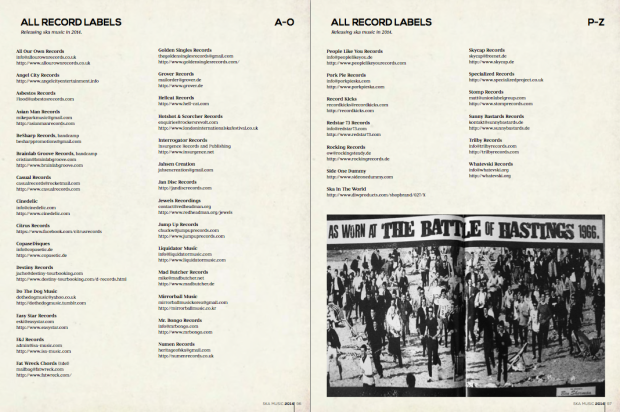 Something for you? Just head on over to
The Ska Music Yearbook available now for 2.99€, (plus taxes, differing from country to country).
We have put a lot of work into the Yearbook. We tried to build something that has some value two lovers of ska music in years to come, something that you will love. Believing the Ska world is strong on tradition and that sometimes we like to take a look back in history.
Huge thanks to Peteonthebeat, Charles Benoit and Mochammad Yasser for their interviews and texts and other contributions.
If the Ska Music Yearbook is something for you, don't hesitate to get it at
Any questions or comments? We'd love to hear them.
Enjoy, Greg (design and tech guy) and Joachim