Formed just 3 short years ago in Perpignan, France, The Skamanians gained notoriety with their debut release, "One for the Founders" (available from the band—connect with on Facebook), and the band has jumped to the head of the queue with their latest release, Ride Again.
With one foot firmly planted in the early 60s' sound of the Skatalites and the other foot tapping into 2Tone, jazz and blues, The Skamanians are gaining new fans worldwide, including Reggae-Steady-Ska contributor Charles Benoit, who named Ride Again one of his top 3 ska releases for 2014. "I fell hard for this album," Charles says. "I'll let you know if it's possible to wear the groves off an Mp3 file."
RSS: You describe your sound as "sunny-side up, sweet, old-school ska."
The Skamanians [Gavin Hackett]: It's all about conveying the warmth and atmosphere of 60s ska. When you put on any of those old tunes you can't help but smile and your body starts moving involuntarily. You can hear the musicians smiling. We hope to transmit a little of that energy and feeling when we play and that phrase seems to sum all that up.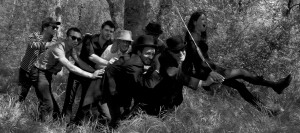 The level of musicianship in the band is outstanding and clearly there's lot of straight-up jazz and Big Band influence to your sound.
That's a great compliment, thanks. There is a big mix of influences in the band and there is certainly some big band influence with 4 horns up front, all of whom have at some point played together in the big band Gavin runs in Perpignan.
This question for your bari sax player, Caroline Landes. You don't see a lot of bari sax in ska bands. What drew you in?
[Caroline Landes] I started on Alto when the band first got together. We put together a set very quickly and when we recorded those tunes as One for the Founders I wanted to add the Baritone to some and it worked really well. As we also play quite a bit as a marching band I decided to settle on one or the other and the Baritone is my favorite sax.
The upright bass of Guillaume Bouthie really accentuates that old-school sound.
[Guillaume Bouthie] There is no comparison really between the two. If you want to sound authentic then you have to play authentic instruments. That said, I have started using an electric upright lately which gives a good compromise between the fatness and punch of the double bass with a slightly more electric sound but doesn't take up so much space in the tour bus.
You backed The Originals—Count Prince Miller, Dennis Alcapone, Carl St. Clair, Jimmy James and Tony Washington on If You Lose a Good Thing for the Specialized III: Mad Not Cancer album. What was it like to work with ska royalty?
Just to be associated with such fantastic singers is a huge privilege. Being asked to do that project was a true affirmation of our musical convictions. Although we have backed Dennis Alcapone and Winston Francis in concerts, that whole track was done via the internet and we never met any of them physically. We recorded a couple of versions as backing tracks in France and they then chose the one they preferred and recorded the vocals in the UK. Those were then sent back to France for mixing and editing into the version that ended up being released. We were very pleased to see that album getting such well-deserved support in the readers' polls.
Toulouse Skanking Foundation (TSF) [read interview] is also from your neck of the woods. What's the secret behind Southern France and great ska bands?
There does seem to be an affinity with Ska in this region—maybe it's something to do with the amount of sun. When Winston Francis came over to meet us he fell in love with the area and said it reminded him a lot of Jamaica, and even said that he would like to move out here.
What's next for The Skamanians?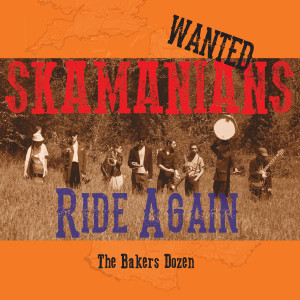 We'd really like to hope that Ride Again gets out there and into peoples living rooms, ska nights and hearts. In that way we get better known and in turn end up playing more live gigs. That's what we feel being a band is all about; sharing the music making experience live, together with the public.
The whole music business changing very quickly it's difficult to envisage the future but we decided to make Ride Again available as a "pay what you want" download through Band Camp because we believe it is a pretty honest way of doing things these days. We also made the decision not to release the album on CD as a way of reducing the amount of plastic polluting our world. If we get enough interest we may do a limited release on vinyl.
We have recently begun putting together some new tunes for the next album Passport to Paradise. All things being well that will be out in 2016 and the first tunes sound really promising they still keep that authentic feel and sound but with our own twist. We'll be running those in over the summer's concerts.
The Skamanians are:  Gavin Hackett—tenor sax and vocals; Mathias Coste—trombone; Greg Balidian—trumpet; Caroline Landes—baritone sax; Guillaume Bouthie—bass; Alex Conventi—keys; David Vilayleck—guitar; Bruno Godin—drums.
Links to YouTube videos:
Ska Party