To mark the release of Subculture, which was our "Album Of The Month June 2015", we took the chance to ask Pauline Black a few questions.
"Subculture" is the third new album (plus a live album) in the four years after your reunion, your audiences seem to grow bigger and bigger – how are things in the world of the Selecter?
The Selecter has definitely been on an upward trajectory since October 2010, when we decided it was time to record new material and tour again. Back in March we finished a brilliant 22-date 'Subculture Tour' in Britain.
People were bouncing off the walls at our Koko, London date on March 27th and I remember seeing the audience reaction from the stage and thinking how it compared very favourably indeed to the Two Tone heyday of 1979.
We have just announced another 16-date UK tour for November and December 2015, so that we can visit all the cities that we didn't get to earlier in the year.
We have been reviewed a lot over the past month or so, and we have not had a bad review yet for Subculture. So all is positive in the Selecter world.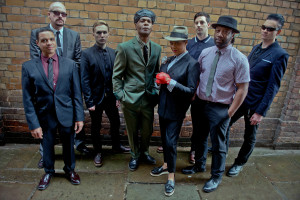 What had stopped you from playing with The Selecter in the five or so years before?
The Selecter stopped working in Dec 2006. From 2006 – 2009 I wrote my 2-tone memoir 'Black By design' and spent a year writing new music and playing as the Pauline Black Band. In 2010 the opportunity arose to play two anniversary shows – one in Belgium and the other at Bloomsbury Ballroom in London.  I invited Gaps Hendrickson to join me to front The Selecter. The shows were received well and we decided to continue.
Why did you name the new album "Subculture"?
The 2-tone movement was and always will be a subculture. Not only that, but the movement acted as an umbrella for many other subcultures or youth tribes – mods, punks, skinheads, rude boys/girls, soul boys etc. All these disparate groups shared a feeling of dissatisfaction with the status quo and enjoyed 2-tone music when they came together.
In 1979, the 2-tone movement came together to fight racism, sexism, economic inequality and homophobia. In 2015, I believe 2-tone is the musical embodiment of multiculturalism.
And after 36 years of making 2-tone music, I still believe that a hybrid mix of ska/reggae/punk/ and rock, with dash of calypso and forthright lyrical content gives a voice to disaffected people everywhere. It's why the Selecter is at home anywhere it plays, be it a punk show or a reggae show. We embrace the subcultures and they embrace us. So this album is a celebration of subcultures.
With a musical heritage like yours, it can be difficult to get your old fans to listen to a new album. How are reactions so far?
People can choose to listen to what they want and if some prefer the old stuff so be it, but I do not believe that bands should just limit themselves as musicians and never progress. If you look at our discography, The Selecter has never stopped putting out new music. It's the right thing to do. Just being a 'heritage' band is not for us, but for those bands who are content with that status, good luck to them.
We do think that bands of our vintage shouldn't just rest on our laurels of yester-year. We think that it is good for a band to challenge themselves and produce new material. It's the brave thing to do and moves the scene forward, instead of making today's ska movement nostalgic and esoteric.
I think we have been proved correct in that assumption with the release of 'Subculture' and its enthusiastic reception by critics and fans.
Your new album manages to sound fresh and new, but at the same time there are many obvious trademarks of the Selecter of old, like the mixture of serious political and social issues and cheery pop melodies. One of these melodies is the opener "Boxfresh", which you have described as a "love song to Gaps, but not in a romantic sense". Could you explain that?
The two lyric lines should give you a clue:
You will always wear the crown
I will never let you down
Boxfresh was the first song that I wrote for the album. The Boxfresh lyric was probably written in about 10 minutes and encapsulates everything I wanted to say to Gaps for the past 35 years. We have an excellent rapport on stage and both admire the energetic verve and passion that we put into our performance. We've never said a bad word to each other in all these years. That is born of respect for each other as performers. In the musical world that is often a rare quality between people. Every time we both step on stage it is 'Boxfresh'. Enough said.
Some songs express a lot of anger about issues like the criminalisation of black people (Breakdown) or the conflict between Israel and the Palestinians (Babble On). You are in your early sixties, yet you still seem to feel as passionate about injustice as a young singer just off university?
I consider that a healthy way to live. Injustices have to be fought. Also, so much to say and maybe so little time to say it.
How personal is the last track, "Still I Rise"?
I wrote this track as an homage to the great writer, poet and activist Maya Angelou, who died in May 2014. I found many resonances within her poem 'Still I Rise' with my own life trajectory. Maya Angelou was a wonderful woman, who I had the privilege to meet on more than one occasion and the world shines a little less bright in her absence.
The only cover version is "Because The Night" (by Bruce Springsteen and covered by Patti Smith). Why did you choose it?
The Selecter rarely do love songs, but this was love song with a difference and lends itself well to a reggae treatment.
The Selecter were pioneers in that they were one of the first mixed-race bands and fronted by a woman. There is hardly any Ska band fronted by a woman that does not cite The Selecter as an influence. No Doubt or more recently The Skints or The Meow Meows come to mind. In how far do you think have you paved the way for other bands, whether it comes to race, gender or your music?
I'm honoured if anybody has been influenced by me. My credo is: love art in yourself, not yourself in art. That transcends all matters of race and gender. Use what you are given and do the best you can with it.
Do you see any fresh talent on the ska scene that you can identify with?
Currently I like The Interrupters and The Tuts.
Have you considered doing Dub versions of the album with him? Tracks like "Breakdown", "Still I Rise" or "Stone Cold Sober" with their driving bass lines seem to beg for dub versions.
That's right and 'Dubculture' is being worked on as a future release and will probably use a variety of re-mixers.
At the beginning of 2Tone, it seemed like (or maybe it was marketed like that?) the bands and the musicians were like one big family. How are relations nowadays?
It is unrealistic to think that 35 years later we will still be the same as our younger selves. To use a farming analogy, The Selecter 'hoes its own row' and shouts friendly greetings to those in adjoining fields when we see them.
Finally, Gaps and you are going to join the Jools Holland Orchestra for their tour in autumn.
We will do four songs with Jools Holland. Probably two from the new album and two from the Too Much Pressure album. Jools has always been a great fan of ska music and is a thoroughly nice man too.
What else does the future hold?
The Selecter is very busy at the moment. We are booked up until 2017. Who knows what might happen after that.
---
The Selecter – Info
Line-up
Pauline Black: vocals
Arthur 'Gaps' Hendrickson: vocals
Winston Marche: drums
Will Crewdson: guitar
Luke Palmer: bass
Lee Horsley: Keyboards
Neil Pyzer-Skeete: tenor sax
Orlando LaRose: baritone sax & flute
Discography (click the links to listen/buy)
Subculture,Vocaphone Records 2015, CD/LP/Download
String Theory,Vocaphone Records 2013, CD/LP/Download
Made In Britain,Vocaphone Records 2011, CD/LP/Download
Real To Reel, Captain Mood 2003, CD
Cruel Britannia, Madfish/Snapper Music 1998, CD
Pucker!, Dojo Limited 1995, CD
The Happy Album, Demon Records 1994, CD
Celebrate The Bullet, Chrysalis Records 1981, MC/LP
Too Much Pressure, 2 Tone Records 1980, MC/LP