My hometown of Rochester, New York is a jazz city. It's where you'll find one of the finest jazz schools in the world, one of the last 24-hour jazz radio stations in the US and a jazz fest that rivals the best anywhere. So it's only natural that I'm drawn to the jazz side of ska. From the Satellites, Jazz Jamaica and Western Standard Time to Rotterdam Ska-Foundation, Melbourne Ska Orchestra, Toulouse Skanking Foundation and dozens of other bands big and small, there's a lot of jazz-flavored ska out there. And if it's ska-jazz with more than a hint of bossa-nova, salsa, funk and rock you're dancing to, it may well be, Sao Paulo Ska-Jazz. This 8-piece band out of Brazil first caught the world's ear with their self-titled 2009 debut, and with their latest release, Gringo, they've refined their already excellent sound and brought in a couple of surprise guest musicians. I caught up with founder and bandleader Marcelo Calderazzo to get the latest on this bar-raising ska-jazz band.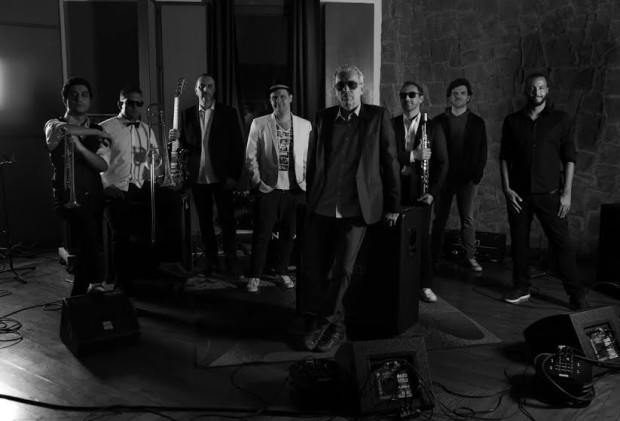 RSS: Tell us how the band originally got started.
Marcelo: I first had the idea of Sao Paulo Ska Jazz back in 2007, on a trip to Japan. I heard a CD that a friend had lent me and started composing the songs for the first CD. When I got back to Brazil, Renato Guizelini (guitar player, composer and music director of the CD) and I got the band together and started recording. We started performing in the end of 2009.
What bands or musicians inspired you?
In the beginning I didn't hear a lot of bands so I wouldn't lose the "originality" that I wanted for the project. I was afraid that listening to other groups would turn us into a conventional ska band and that wasn't the idea. A while after we finished recording, I started listening to Skatalites, New York Ska Jazz Ensemble and Tokyo Ska Paradise. Today, they are definitely my biggest inspirations.
With such a talented line up of musicians, you could have taken the band in any direction. Why did you choose to form a band that mixed ska, Latin jazz and traditional Brazilian styles?
Because it was fresh. In Brazil, ska is still very new, we don't have a "culture" set up. Exploring ska with other rhythms would mean to go into a whole new world, to discover new horizons. Mixing ska with bossa-nova, samba, baião, frevo, salsa, jazz, funk, rock defined SPSJ's path. The band's musicians have a very similar background, listened and played to all these rhythms, they were very acquainted with the diversity of styles. We got this "chemistry" making ska the main reference of our music. There is a phrase from a friend of ours, Adriana Bueno, who says "SPSJ mixes ska's vibration and swing with jazz's creative freedom and improvisation to create contagious grooves."
Do you think of yourselves as a jazz band that plays ska or a ska band that plays jazz?
Charles, we are a band of Brazilian musicians that embraced ska because of its joy and positivity and honor jazz, the style that changed the path of music in the whole world. And we are grateful for it. In Brazil, I think we can take in very well the different styles that come from abroad, but I can't say if we play jazz or ska. Americans play jazz and Jamaicans play ska like no one else. We hope that, through our music, we will be worthy of these strengths created by these and other countries and to show our best every time we go on any stage, anywhere in the world.
There's a strong funky 70's vibe to several songs on Gringo (Sampa, Skazz, A Onda) – what inspired this musical direction?
I consider the 70's music one of the most creatives of all time. "Chemical", a song by me and Manu Falleiros, may be our biggest reference to it. Naturally, this style appealed to all of us, but I don't think we stopped there. "A Onda", my composition, was inspired by the Bossa-Nova melody, which also reached its highest point in the 70's. "Skazz", by our drummer Ramon Montagner, paid a tribute to Jazz. And "Sampa" was Manu's idea to honor one of Brazil's greatest songwriters, Caetano Veloso.
You worked with keyboardist Ken Stewart and sax man Zem Audu of the Skatalites on a few songs on this CD. How did you meet these men and what was it like working with them on these songs?
We have a friend, Bruno Lancelotti, producer of Radiola Records in São Paulo, who is responsible for bringing the Skatalites and many other ska and reggae artists to Brazil. Through him, we invited Ken and Zem Audu to be a part of 4 tracks on our CD. It was both an honor to meet them and a joy to have them in the studio. Ken Stewart made the grooves in the keyboard in "Adios Nonino" and "SP" and Zem Audu, who is responsible for the Skatalites' current arrangements, was incredible to record with. He improvised in "Sampa" and "Skaramouche" and displayed talent and kindness. It was unforgettable and enriching to share this moment with the musicians of the pioneer band of ska in the world.
There's a swinging cover of Three Little Birds – while the original Marley tune has a meditative quality to it, your cover has a fun party mood that makes you smile just listening to it. Tell us how your version of this song developed.
Manu Falleiros did the arrangement of "Three Little Birds" thinking exactly of what we like to bring up in our concerts: the party! We did a warmer and dance-ier version of it and it's one of the most requested songs of the show. Besides that, we also play "I Shot the Sheriff" and "Is This Love", all in more powerful versions. We couldn't leave out of our repertoire the biggest name of Jamaican music, Bob Marley!
While Gringo focuses on both ska and jazz, there's a few hardcore, almost ska-punk elements to the final song on the CD, Skaramouche. What inspired this direction for the song?
"Skaramouche" is a song by the Swiss musician Gabriel Stampfli, trumpet player that lived in Brazil and played with us for a year. He went back to Europe and left us this song! Gabriel was influenced by rock and lived closely the punk and hardcore movement. He was inspired by the character in the movie Scaramouche by Commedia Dell'arte italiana and added the "K" to the name. This song was also chosen for our first video.
Any chance we'll see SPSJ touring North America or Europe any time soon?
Definitely! It's our main priority. São Paulo Ska Jazz was designed for the world, Charles. We have a project on going with our record label, Br2, to distribute and communicate our music in many countries and we will be on foreign stages very soon.
What's next for the band?
We are dealing with some producers in Mexico, Germany, and Switzerland and expanding to some other countries, and of course, Brazil. In August we will release our CD in São Paulo and some other cities. Hopefully, we will take our show to the USA very soon and see you guys there!
Sao Paulo Ska-Jazz is:
– Marcelo Calderazzo: Electric and Acoustic Bass
– Manu Falleiros: Alto, Tenor and Soprano Sax
– Marcelo Pereira: Alto, Baritone Sax and Flute
– Reynaldo Izeppi: Trumpet and Fluegel Horn
– Douglas Freitas: Trombone
– Sidney Ferraz: Keyboards and Accordion
– Aquiles Faneco: Electric Guitar
– Ramon Montagner: Drums and percussion
Videos:
Skaramouche
Armrcord
Three Little Birds
I Shot The Sheriff