The Aggrolites – Reggae Now (Pirates Press Records)
For quite some time, it had looked like Jesse Wagner, Roger Rivas and the other Aggrolites didn't think it was necessary to beautify the world with a new product. But why was that? You wouldn't think it was just because of the loss of guitarist/producer Brian Dixon as a driving force. Maybe it was lack of time. Roger spent many hours, days, weeks and months in his studio in Los Angeles producing the next vintage reggae generation from the US Westcoast, The Delirians for example. At other times he joined the Long Beach Dub Allstars for some big shows. Whereas Jesse did it his own way as a singer and songwriter with Vic Ruggiero of The Slackers (and drummer/producer Nic Leonard as Reggae Workers Of The World), touring Europe and recording two albums. And when The Aggrolites had been touring themselves, then just without a new release since 2011. You can do that for some time, but you can't do it for ever. Otherwise you run the risk of getting left behind by the young blood, bands like The Steady 45s who rule the scene with the sweet Chicano Soul Reggae Vibe now. So it's good to see The Aggrolites back on track with "Reggae Now", not only an album title, but a statement. Because who was it that developed "Dirty Reggae", the sound that has influenced hundreds of bands in the last 15 years? True. The Aggrolites' trademark call and response vocals, the hard-hitting breaks from the snare, the pimped up early 70s reggae beats, the mighty organ licks have been often copied, but never matched. "Reggae Now" shows that The Aggrolites can still deliver all that in their sleep in 2019. They represent tunes that are set in stone, like their upcoming party hits, the first single "Pound For Pound" and "Aggro Reggae Party". The afore-mentioned  ingredients of the Aggro sound are in the tool boxes of loads of other bands now, but Jesse's voice und Roger's treating of his organ remain in a league of their own. Yet to me, The Aggrolites are at their coolest in 2019 when they try new things, like in the songs "Say Or Do" or "Love Me Tonight", when Jesse's voice gets softer and softer, hardly recognizable, as if he had been listening closely to (and that way acknowledging) those new Westcoast bands. And that's where it comes full circle, don't you think?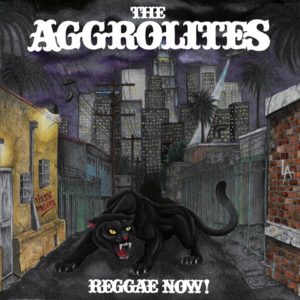 "Reggae Now", the new album by The Aggrolites is available at Amazon.
Get The Aggrolites – Reggae Now on Vinyl.
Get The Aggrolites – Reggae Now on cd.