I read a lot of poetry and listen to a lot of dub, so you'd think I'd know something about Dub Poetry, a type of oral poetry performed to a reggae rhythm that originated in Jamaica in the 1970s, flourished in England and parts of Canada throughout the 1980s, and, depending on who you ask, is either a by-gone relic or a flourishing poetic force. But the depth and breadth of my ignorance cannot be overestimated.
What I know of dub poets and their works I've learned since I first interviewed Eric Doumerc about his book on Jamaican music in England. Since then, I've listened to hours of works by Linton Kwesi Johnson, Jean Binta Breeze and Micky Smith, but I'm far from considering myself even slightly informed. And as a white American, it could be argued that I will never truly understand the importance of this poetic form or its powerful messages, many of which deal with the realities of life as a Black person in a racist world. Yet dub poetry is so compelling, so rich and layered, that I have to learn more. And thanks to Dub Poets in Their Own Words, my teachers are the poets themselves.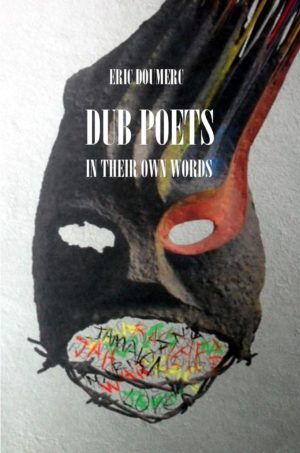 The book consists of interviews with ten influential poets whose combined works span the 40+ years of the genre, arranged thematically starting with the pioneers and moving through the decades to today's leading dub poets. Doumerc sets the stage with an introduction that provides an overview of dub poetry, pointing out its groundbreaking strengths as well as the stylistic and content criticisms it has received. He notes that a few of the poets who helped develop the genre question its purpose today, but this simply shows that the genre is deep and vibrant enough to outgrow its original—and possibly too narrow—role.
Each interview starts with a short artist bio, then follows a question/answer format that allows the poets to speak for themselves, sometimes answering the questions directly, sometimes using them as a springboard to discuss something they find more interesting. Doumerc knows the genre, and his focused questions always return the conversation to the poems themselves. A Google search will connect you to some of the poems mentioned (videos, sound recordings or links to poem anthologies online), but some that are mentioned bring up no search results at all. That becomes a problem when the poets' responses require a careful reading of the poem itself. For example, in his interview with Moqapi Selassie, Doumerc asks if "Batty Bwoy Bizniz" is a homophobic poem. The poet says it's not, and proceeds to recite the poem for Doumerc as evidence, yet we, the readers, don't get it transcribed. All we're left with is the poet's assertion, and there's no follow-up by Doumerc to help clarify. Without easy access to the poem—and to other poems referenced in the book—it's impossible to judge. And that may be the biggest challenge to studying dub poetry. It's an art form that needs to be heard, and unless you're in London, Kingston or, believe it or not, Miami, you may never hear it live.
Every poet in the book has something interesting to say, some insight that made me stop and ponder, but I think I was most surprised by Malachi D. Smith, a dub poet who was a police officer in Jamaica before moving to Miami and joining the force there. It's an unusual combination to say the least, and that alone means I've got to give him a long listen.
The true star of Dub Poets in Their Own Words is a woman who isn't interviewed—Louise Bennett, better known as Miss Lou, the influential and much-loved poet, educator, entertainer, comedian, folklorist, scholar and television personality whose Saturday morning show, Ring Ding, inspired a generation. In their interviews, the poets call Miss Lou the "godmother" of dub poetry and a "shero" who introduced them to the beauty of the spoken word, specifically how it was spoken in Jamaica. I'd love to know what Miss Lou would think of the movement she unknowingly(?) launched.
What's the future of Dub Poetry? Has it served its original purpose of awakening consciousness and turning a bright light of the problems Blacks face in every society? Is it, as the dub poet Mbala suggests, too repetitive and too cliche? Or, as Moqapi Selassie said in a 2017 interview, confined by some to the annals of history, lacking any young dub poets? Or is it as strong today as Oku Onuroa claims, "bubbling" in Jamaica along with other forms of spoken poetry? Perhaps, as poet Klyde Brooks said to Doumerc after his interview, as long as there is one dub poet alive and performing, dub poetry is alive.
In his interview, Malachi D. Smith says that, "the dub poet still has to be mission-oriented, must advocate for the oppressed and disposed of earth, must paint and see for the blind, must speak for the tongueless, must dance for the danceless, must be an endless warrior against injustice, must be a healer, must be a trouble-maker, must be a peacemaker."
Dub Poets in Their Own Words shows why the world needs more dub poets.
Dub Poets in Their Own Words by Eric Doumerc is available on Amazon.