The Downsetters  The Asylum Hotel (CD, Liquidizer Records, 2016)
This is a loosely structured concept album of sorts, where you enter The Downsetters' wonderfully twisted world of amped-up, knees-up modern ska (similar to what was produced in in the UK and Europe in the wake of 2 Tone in the late 80s/early 90s, prior to the rise of ska-punk), though it's not entirely clear if you're being offered refuge from the cruelties of daily life or have found yourself in the psychiatric ward.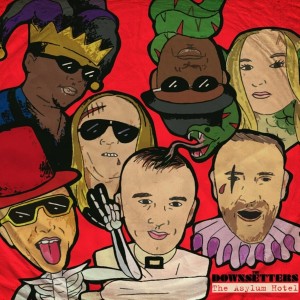 What is certain is that there are some really terrific tunes on this album, including "Mango Rock" (which contains a Rod Serling "Twilight Zone" intro), "Are You Reggae?" (with its nod to Don Drummond's "Man in the Street"), the struggle to get through the working week of "Who? What? Why?," the fact that oppression is oppression, no matter what the setting in "Another Day in Paradise" (and its instrumental version of sorts, "Skafusion"), the inspirational/carpe diem message of "No Burn No Shine," and a warning about backstabbers in "Fakes n Snakes." Based on what's captured here, I suspect The Downsetters must be top-notch live!