The Francbâtards are coming at you with a wild mix of reggae, ska, jazz, funk and punk. Don't forget to check the videos from their performance at the Montreal Ska Festival 2014.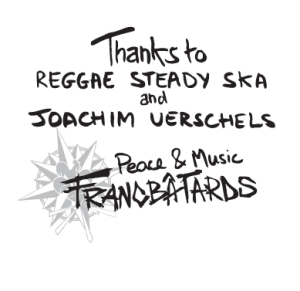 Band's/artist's name: Francbâtards
Active since: 2009
From: Montreal, Canada
Line-Up:
Alex Francbâtards – Singer
Jérôme Cadet – Singer and Acoustic Guitar
Simon Montenoise – Electric Guitar
Marc-Olivier Roy – Drum
Maxime Cormier – Bass
Julien Rose – Sax et percussion
Félix Rheault – Trumpet
Alexandre Lavoie – Trombone
---
Three words that describe your music/performance: 
Uptempo, original, soccialy committed
Your van stops in front of a venue. Someone accidentally comes by, sees your equipment and asks about your band. How do you convince her or him to come to your show later?
We'd probably talk about the festive atmosphere of our shows, say we would  have a drink with him after and we'd likely perform a little appetizer of what he doesn't want to miss!
What's the most-likely compliment from fans after a show?
"I had so much fun, I'm drenched but  ready for more!"
What was the weirdest description of your music that you ever heard or read?
We  have a hard time defining our music properly when people ask, thus it would sound like : ska-reggae carried by multilingual rap with a pinch of punk, funk, jazz and world music. Sounds weird but its good and catchy
What are sure signs that your show has been a success?
If the eight of us are drenched and  if people want more songs, if Jérôme breaks more than 1 string, if  the brass section dance all the way and  if we meet a bunch of new people at our  table.
Have you got any mentors/idols that helped you get your act together, or inspired you?
We are kind of a collective group so we put  this together  due to our work, but  we have received some precious support from many people, such as Frédéric Tremblay from Rude Mekanicals Productions who is a close friend,. not to mention our personal friends and spouses.
What do you like more: Performing live or recording in the studio?
Performing,  without a doubt. Performing live is what we all want with Francbâtards because this is where we share messages with  others, make them dance, and receive their opinions. Recording an album mainly allowed us to claim on more venues.
What does your rehearsal spot look like?
We do not have  a place for that. We try to rent equipped rooms along with other bands, otherwise, we use Julien's  small studio in his father's basement.
If there was an inscription above your rehearsal room, what should it be?
You're late.
Which other band is closest to you personally?
Les Happycuriens, Late Night Munchies.
What is the most under-rated band in the Reggae Steady Ska scene? (Other than yours)
Vinny Savage & The Wild Side deserves much more exposure.
What's the best thing about the global Ska community?
We are  among friends, we like to have a good laugh, play music, dance like morons, drink like fishes and we support each other.
Were there any moments you wanted to quit? What made you go on?
Sometimes the lack of motivation exuding from the band members – everyone has his moments and his reasons – causes the work to slow down but we will never quit  because Francbâtards is above all a passionate story of friendship and delivering messages through music is one of the most beautiful things I could accomplish in life.
Your releases so far were …?
We launched our first album on June 2014!
Three facts that mustn't be missing in any text about you?
Alex, Jérôme and I (Simon) started Francbâtards from nothing, back in 2008 while we were studying cinema at the university. We are very proud of how far we have come and looking forward with much optimism.
We play dancing uptempo beats, but that doesn't mean what we say can be left aside – on  the contrary, our music serves our lyrics.
At this point and we have come a long way, we do not play music for a   profit – even if it would help us to carry on –we do it  out of generosity and passion.
What are your next steps?
We're currently scheduling a European tour including France, Belgium, Spain, Netherlands, Germany and even Russia! Francbâtards is going abroad for the first time!
We're also working on another album through all of this.
What is the best way for fans, friends to stay in contact with you?
Like our Facebook page (https://www.facebook.com/Francbatards) to stay updated about everything we do, and come  see us performing
Questionnaire brought to you by Reggae Steady Ska and The Ska Music Yearbook.
photo: All rights reserved by Eric Brisson Photography.