So, you haven't come around to scan the list of 437 releases for Record Store Day 2018? Don't worry, we got you covered.
Here are our recommendations:
Duke Reid's All Stars & Roland Alphonso – Judge Sympathy c/w Never to Be Mine (O Sole Mio) (RSD 2018 Exclusive) Pressed on orange vinyl and presented in a specially created card sleeve
The Skatalites – Hi-Bop Ska, first time on vinyl (album), Jump Up Records. And Find a bonus release on the Jump Up Records website.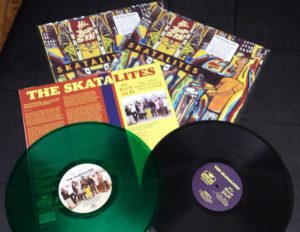 The Hempolics – Riding For A Fall/Come As You Are 12"
Bim Sherman – Lightning & Thunder (Mungo's Hi Fi Remix), Pressed up on a crisp 10
The Maytones – Only Your Picture (LP+12″ / RSD)
Studio One Dub Plate Box Set featuring the following 7"s
1. Alton & Cedric – Black People
2. Cedric Brooks – Soul Eye
3. The Officials – Distant Drums
4. Cedric Brooks – Power To The People
5. Soul Brothers – Skitting Day
6. Carey Johnson – Go Ahead
7. Alton & Zoot – Don't Know What You're Doing
8. Brentford All Stars – The World Is A Ghetto
9. Jacob Miller – Westbound Train (Alternate version)
10. George Philip – One One (Alternate version)
Let us know in the comments, if you have more tips for Record Store Day 2018 and how RSD 2018 was for you.
Find our list with regular album releases from March 2018 here.