Recently I realized I couldn't live another day without an original recording of Theophilus Beckford's "Easy Snapping" on Coxson Records. And I knew right where to find it. Darren Reggae has been collecting ska and reggae records since 1988. Before that, he honed his collector skills tracking down other style records, cassettes, old coins and Silver Age Marvel Comics. His first ska purchase—The English Beat's "I Just Can't Stop It" in 1983—was close to accidental. It wasn't until '87 that he learned about ska from fellow skateboarders and skins. He got hooked on The Specials, rediscovered The English Beat's other releases and, eventually fell hard for The Skatalites. Today, Darren describes his record collection as an organized hord, with more than 8,000 45's and 1,200 LP's. (Add to that his extensive collection of 80's Pop, Alternative, Goth, Metal, Soul, Mod and some Surf.)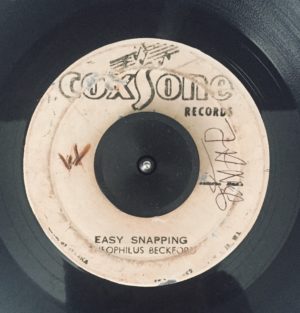 And he's continually adding to that hord. "Records arrive at least a few times a week. Today, 27 60s-70s 45's arrived. Including The Uniques "Girl of my Dreams" backed with Slim Smith "Love Power."" As for his Holy Grail of 45s and albums, "Probably the toughest question for me, but for 45s, The Bleechers "Come into my Parlor" backed with The Melotones "Dry up your Tears" on UK Upsetter, 1969, and for LPs, Laurel Aitken: "Says Fire" LP on UK Doctor Bird, 1969."
Ready to start your organized hord?
Darren Reggae's Battle-proven Tips for the Novice Record Collector
What to collect: I suggest the collector decide what kind of collection they would like to have. I collect whatever I find within the "sounds" I like. If you like 1960s ska and that is all you want to collect, go for it! I mainly collect late 50s-mid 70s Jamaican jazz/R&B, pre-ska, ska, rocksteady, skinhead reggae, reggae and some calypso. Also 2-Tone, 2-Tone era ska, 80s-90s ska and some newer stuff as well. I have a lot of niche sub-collections. I like oddities. Non 2-Tone ska bands and bands that played one-off or just a few ska songs are probably my favorite niches. Decide whether you want to collect to own or collect to DJ. Or both. I say this because it will help you decide how to form your collection. Decide what is important—owning perfect copies or not so perfect copies? Do the record's playing surfaces have to look perfect or just sound good? Does it need to play without skipping, without noise to DJ? I'm a Collector/Selecter/DJ type. I feel records are meant to be played and heard, so I take every opportunity I have to play records to the public. I do a monthly DJ night and several special events and concerts each year.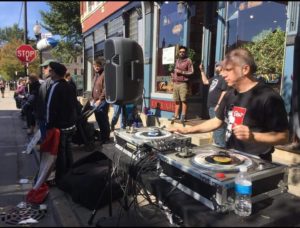 Price: There is no set price, but there is a market price. Use popsike, ebay and discogs to see what records are selling for. Also see what they actually sold for. Common records are attainable for $5 or $10. Modern bands sell records at concerts from $5-$20 usually. The condition of the record can also allow for more affordable records. But be aware, I have seen cracked records sell for $200+ because of rarity. Also, "blank" records can allow for more affordable finds. Sometimes they're unknown to the seller or simply because the label copy is more in demand. "Jamaican Blank" records are 45's and LP's made with Blank Labels that were released and sold before the label copies were produced. Very similar to Promo/Pre-Radio copy in the USA. In many cases label copies had altered or removed labels to conceal the identity of the record, preventing other DJ's from knowing what song they were playing. Competition was high and the DJ with the in demand sounds resorted to this. Others merely scratched off the titles and artists.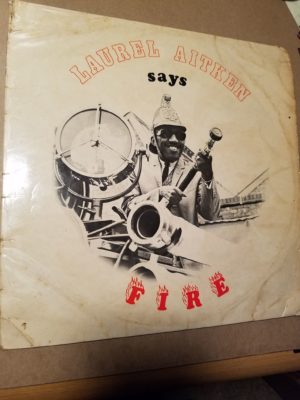 Condition: Deciding if you buy everything you come across or hold off for a better copy? Depends on the person. Are you a collector and just want to have it for your collection, or do you want a great sounding copy, too? Keep in mind that Jamaica and England produced most of the reggae records in the 60s and 70s. The English records are usually high quality, so condition is based largely on how the record was stored/handled/used during its existence. Jamaican records, unfortunately, were not made with the same quality, often misaligned, pressed with noise, manufacturing warps, pressing imperfections, and wrong labels. [Vintage 5-minute video on how records are made] Goldmine is the standard online reference for grading condition. I usually provide my own, much more detailed description of condition online. Remember, grading condition is an opinion, and buyer beware with online buying. Not all sellers are accurate or share your opinion of what meets a condition grade. And some have been outright deceptive.
Buying online: The pros are that it's convenient—you can use all kinds of filters to search for precise or broad ranges of what you are looking for—it's easy, fast and global. The cons are that the condition is not always as stated, shipping charges that are often expensive, the potential for lost/damaged records, sellers' return policies and other possible deceptions.
Buying in stores: The pros are instant purchase, visual and audio sound checks, no shipping charges, employees who can give recommendations and that you can discover new music by accident. The cons are a smaller selection, you have to physically go to the store and, for those who are impatient, you have to dig! I shop record stores with mixed results. I guess it depends on where you live and what is available. Soul records are all over the place in Chicago while reggae and ska are not. I visit record stores in different cities, also with mixed results. If there is no reggae section, check the World, Soul and Jazz sections, too. 2-Tone and later are often filed in with pop.
Buying at record shows: Are Record Shows worth attending? Yes! I actually set up a booth as a seller in Chicago at least a few times a year, at ska shows and I've set up at The Super Nova Ska Festival two years as a vendor. As a buyer, I have found records before. Like shopping at a record store, it depends on the dealers who are there. My sale boxes blow people's minds!
Buying "lots": Several people I know have bought "lots" of 100 or 200 records from sellers. These often claim to be what they're not. I buy individual records from people I know and trust. Buyer beware. And before you ask, my sources will remain secret!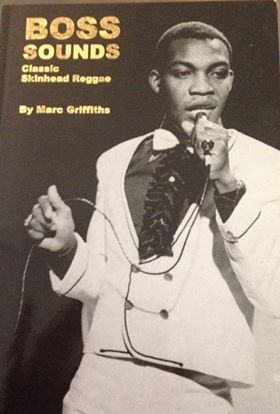 Trading: I suggest you only trade with people you know and trust. [See above]
Storage: At the very least, records should be stored vertically, at room temperature, away from any heat sources and out of any sunlight. Ideally in a sleeve (plain paper or picture sleeve), in an outer plastic sleeve and in an acid-free box or other storage box.
Resources: Most of the best books are out of print, such as Boss Sounds by Marc Griffiths. I use Discogs a lot. Facebook is loaded with groups, some public and some private. There are other online forums such as Pama Forum and 45 Cat.
Have patience: My collection was started over 30 years ago and is still going! I find records daily. There is so much out there.
You can connect with Darren on Facebook and on his ebay site. But if you're looking for a copy of Theophilus Beckford's "Easy Snapping" on Coxson Records, I may have just bought it.
Darren's Ultimate* It's-better-on-vinyl Playlist:
By no means was it easy to limit myself to this list! – DR
1960's Ska
1) Alton Ellis "Cry Tough"
2) The Clarendonians "You Won't See Me"
3) Charlie Organaire "Royal Charlie"
4) Lee Perry "Hand to Hand"
5) Gloria & The Dreamlettes "Stay Where You Are"
1968-70's Rocksteady
1) Jeanette Simpson "The Rain"
2) Glen Adams "My Girl"
3) The Cats "Swan Lake"
4) Diane Lawrence "Hound Dog"
5) Phyllis Dillon: "Don't Stay Away"
1968-70's Skinhead Reggae
1) Pat Kelly "If It Don't Work Out"
2) The Soulmates "Them a Laugh and a Kiki"
3) Symarip "Stay With Him"
4) The Reggae Girls "Rescue Me"
5) The Bleechers "Come into my Parlor"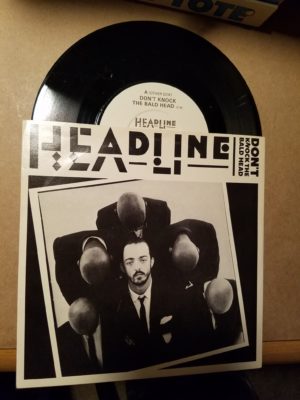 2-Tone Ska Era
1) Headline "Don't Knock The Bald Head"
2) The Employees "Pick it Up"
3) Boss "Rude Boys Are Back in Town"
4) Plastic Gangsters (4-Skins) "Plastic Gangsters"
5) Heavy Manners "Flamin' First"
Late 80's – Early 90's Ska
1) The Hotknives "Don't Go Away"
2) Gangster Fun "I'd Buy a Gun"
3) The Loafers "Every Day"
4) Skindeep "Our Own Way"
5) Os Paralamas Do Sucesso "Ska"
*Subject to eternal revision