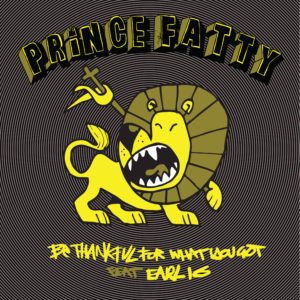 One of the highlights of Record Store Day 2019 was the release of Prince Fatty's 7" cover of the William DeVaughn's 1974 hit "Be Thankful For What You Got." The original was the first song I ever slow-danced to—the best (and sweatiest) 3½ minutes of my young life. Just like the original, the Prince Fatty and Earl 16 remake gets me moving with an irresistible beat and sing-along vocals. There were only 750 copies of the 7" available worldwide, and if you didn't get one—and I'm betting you didn't—you can still buy the digital version or stream it at all the usual places. And, as you'd expect from Prince Fatty, the b-side is a killer. I know why I love the original but I was wondering why Prince Fatty and Earl 16 chose this song to cover. So I asked.
RSS: What made you choose this song?
Prince Fatty: Earl 16 was at my studio, just hanging out, recording some other songs, and it just came up in conversation. Many versions have been recorded, mine was originally done just for the sound system dub-plate box. Sometimes, a song just releases itself over time.
The original is brilliant, Winston Curtis' version is amazing and there have been many excellent cover versions (here, here and here, for example). What did you hope to bring to the song that would make it unique?
I think Earl 16's interpretation and backing vocal arrangement brings something new to the record bag. Most of the versions are straight, so I wanted to add some swing to the groove, or a little pepper as Horseman calls it.
Talk about the musicians you assembled for this project and what they brought to the song.
The core of the Prince Fatty sound has always had the same core musicians, so Horseman on drums, Carlton "Bubblers" Ogilvie on organ and piano, the bass on "Just Be Thankful" was played by Dianne White, a brilliant musician and dope Rasta lady! My friend, Dread Flimstone, in LA helped me with the backing vocals by finding Junior Milton for the third harmony.
Have you shared the song with William DeVaugh to see what he thinks of your version?
No, I have not and have no idea how or where to reach him. I would love to send him copy, from my experience people enjoy hearing reggae versions of his songs, there's a little roots in everybody!
There was some talk around Record Store Day about an upcoming tour. Any chance that it'll include some U.S. dates?
Nothing planned for the U.S.A. right now, it's been a few years since we've been so it's about time. My album is set for September release, its titled Prince Fatty "In the Viper's Shadow" and it features the likes of Big Youth, Marcia Griffith, Cornel Campbell, Winston Francis and more from Earl 16.
Listing all the artists you've worked with would take too many pages. Who you haven't worked with yet, but would really like to?
I have been very fortunate to work with great artists and musicians. I have learned a lot as they are all my elders so now my focus is to work on new up-and-coming artists. I have found a great soul singer called Shniece McMenamin and I am planning some roots funk to blow people's minds! In Brazil, I've been recording deep spiritual percussion albums for myself and it's my passion. It's all in the percussion, if you don't believe me just listen to Marvin's "What's Going On" and check how loud the congas are in the mix.
At one point, you were the new kid on the scene. Today, you're one of the well-established masters. What do you do to challenge yourself and keep your sound fresh?
The journey I have been on has come full circle, so I feel the same energy as when I left home as a teenager. I love collecting vinyl, and digging for new sounds and lessons. I spent four months in Brazil last year touring with Monkey Jhayam. I privately baptised myself in the waterfalls of Ubatuba so it felt like a re-birth. I love the album we made called the "Role of Monkey Man" and it features Earl 16, Tippa Irie, Horseman and the soul sounds of Shniece McMenamin. Delicious Vinyl got involved and released the album and the whole experience was dope. Big shout-out to Mike Ross and the Sao Paolo family!
5 great Prince Fatty productions:
The Skints – Part & Parcel (Bomber Music, 2014)
The Skints – FM (Easy Star Records, 2015)
The Selecter – Subculture (DMF Records, 2015)
Holly Cook – Vessel Of Love (Merge Records, 2017)