One month before the release of the new Prince Fatty album "In The Viper's Shadow", the tune "Everything Crash" feat. Big Youth and George Dekker has already been made available on Spotify!
Have a listen. You can now also pre-order the album, check the link further down for your vinyl pleasures. Here's our review.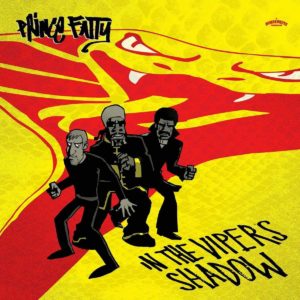 "It's all in the percussion" says Prince Fatty. And he acts accordingly. Last year, the British reggae producer recorded loads of percussion music during his four-month stay in Brazil, only for fun, and for himself. Twelve months later there is a new album ready to go, with tunes for everyone else, Prince Fatty's new solo work "In The Viper's Shadow". Accompanied by his studio crew including Horseman on drums and Carlton "Bubblers" Ogilvie (organ, piano), he built fresh roots music that now serves as backings to the vocals of some old friends, from Cornell Campbell, to Tippa Irie, from Big Youth, Winston Francis, Marcia Griffith, George Dekker to – of course – his mate Horseman again.
Some of the tunes ring memories. "Get Ready" ft. Big Youth and George Dekker, apart from being a classic in its original by The Temptations, has been released as a single beforehand. Earl 16 had voiced the Derrick Harriott classic "Tonight" already for Reggae Roast a few years back. And "The Break" is originally from 1969!, when Winston Francis was still called Bobby Melody and worked for Duke Records. One favourite is missing though, the fantastic version of "Be Thankful For What You Got" that Prince Fatty and Earl 16 had released as 7'' on this year's Record Store Day.
"I have been very fortunate to work with great artists and musicians. I have learned a lot as they are all my elders so now my focus is to work on new up-and-coming artists", says Fatty. He is probably talking about people like Shniece McMenamin, whose original tune "Deep Sleep" is one of the top-moments of the album, thanks to that deeply soulful voice sitting on that omnipresent Jamaican percussion. Like Prince Fatty says: It's always there. And everything is in it. We should never stop listening to this great producer and music lover.
You can pre-order "Prince Fatty – In The Viper's Shadow" (Evergreen Recordings) now! (Amazon affiliate link)
---
Full disclosure: As an Amazon Associate RSS earns from qualifying purchases.