SKA EXPLOSION was the name of a 12" EP released by a young London band called The Potato 5 in 1985. Produced and released by Gaz Mayall as the first release on his new Gaz Rockin`Recordings label, the record and the four horn-driven tracks on it – Spin On Your Head, Jesse Jackson, Tear Up and Big City – were the founding stone and gave name to what became known as the "Ska Explosion" in the late 1980s and early 1990s. This wave soon swept all over Britain, Europe and the rest of the world and laid the ground for the global ska scene we know today.
To mark their comeback show at Freedom Sounds festival Cologne in September, this is an effort to reconstruct the story of one of the most influential British ska bands. To help us, we talked to four members of the original line-up: Simon Driscoll (trombone), Malcolm Buck (tenor sax), Rick Walker (alto sax) and Andy Minnion (tenor & baritone sax).
When was the band founded?
Potato 5: It was 1983 and Simon (trombone) and Martin (guitar) started the band from South London and got Rick and Andy in from North London and then the horn section grew to 4 after Malcolm caught us at a gig in Elephant & Castle and wanted in. If anyone who came along liked us, played an instrument and asked to join, we said yeah! Sometimes the band got very big – we did some live sets with 5 horns, accordion, violin…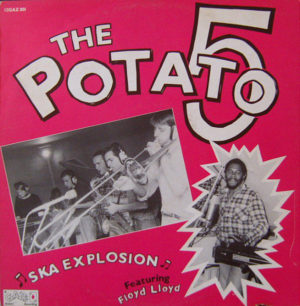 Listening to your first releases, it is remarkable that they don't seem to be influenced too much by the 2 Tone sound but rather have a 60s feel to them.
Potato 5: Two Tone got us into Ska but it had kind of blown through …meanwhile there were stacks of old records that were brilliant to get into. We all loved the original Jamaican Ska and were starting to listen to some Studio 1, Treasure Isle and the Skatalites. One of our first covers was Man in the Street – and that sounded better than anything we'd played before. So afterwards, in the pub, we decided to be a Ska band and Martin started writing a lot of songs in the old style.
We were playing out in small pubs and community centres, doing loads of benefit gigs and rehearsing on the weekend in a basement in Stoke Newington, North London. We met Floyd Lloyd at a Hackney gig and he asked to join and we couldn't say no. He had attended Alpha Boys School after all (like Don Drummond and half of the Skatalites and Rico had) and had a sweet Jamaican voice that came out of the 1960s – it was a great fit (but we did have to talk him out of doing reggae versions of Van Morrison songs!).
We did a lot of benefits for the striking coal miners in 1984 – it was a year-long strike and we did concerts to raise cash for the strike committees in Yorkshire and Nottinghamshire. At the end of the Strike we went up to Kiveton Park – a Mining Town in Yorkshire with the Deltones and put on a Ska party with the miners and their families – it was epic!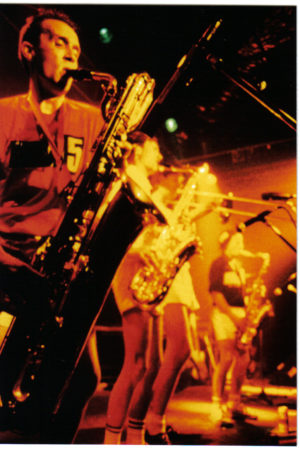 How did you make contact with Gaz Mayall?
Potato 5: Gaz had the legendary Ska and Rocksteady club – Gaz's Rocking Blues in Dean Street and he and Martin had 'crossed paths' over 7" Ska records in obscure record shops. We made a tape and took it down the club. He booked us to do a night and the rest is history. He put us in touch with artists we loved like Laurel Aitken and and Duke Vin – a legendary DJ that we loved – he had a fantastic big Sound System in London in the 60s called "the Tickler". And then Gaz introduced us to another legend, Prince Buster. Our horn section recorded a 12", "Stack-A-Lee" with Prince Buster along with the Trojans horn section. It was beyond our wildest dreams to play with Prince Buster – and he was complimentary about our big horn sound. He said we were "More than qualified! More than qualified!"
In 1986, Potato 5 released three singles simultaneously (!), which together became singles of the week in the NME, which was quite something at the time. The first one was "Ska Danger (Dub)" produced by Mad Professor. The B-side was "Dead Boring" and it was on Drolltone Records. The other two were collaborations with a legendary Jamaican singer: Laurel Aitken aka the "Godfather of Ska", a title given to Laurel by exuberant producer Gaz Mayall.
For a young band to work with people like Mad Professor and especially Laurel Aitken seems a huge step. How did that happen?
Potato 5: Malcolm worked down the road from Mad Professor and so he just knocked on his door and asked if he'd record us and do some mixes. We liked his sound so much…
And we met Laurel Aitken when we supported him at Dingwalls Camden, North London. He watched us from the side of the stage and we noticed him smiling. When he asked us if he could sing with us, we had to say yeah! The Godfather of Ska! We were made up.
The two singles with Laurel Aitken, "Mad About You/Sally Brown" and "Sahara/Long Time", sparked off the "Ska Explosion". Sally Brown, written by Laurel Aitken, with horns added by the Potato 5 Horns, may well be the most popular song of the era and spawned a trail of cover versions, most notably by Bad Manners. At this time Potato 5 became involved with Jerry Dammers and Artists Against Apartheid.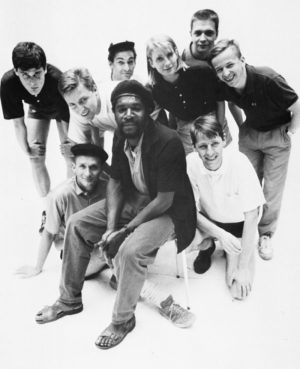 Rick: I'd got to meet Jerry Dammers through playing with the Potato 5 and various gigs (I seem to recall he nominated us for an NME new bands night at the ICA). I think I asked him if he'd get involved in a benefit I was organising. Instead he suggested I joined an organisation he was founding with Chandra Sekar and Dali Tambo (son of Oliver Tambo, head of the ANC) called Artists Against Apartheid. It's difficult to find anything on this online as it's usually obscured by the American version and also perhaps because of its conflict with Paul Simon, who flouted ANC recommendations for artists to form a cultural boycott.
Dammers, Sekar and Tambi launched the organisation in 1986 with renowned musicians such as Harry Belafonte. The organisation arranged concerts at Clapham Common (featuring Big Audio Dynamite, Style Council, Sir Coxsone Sounds etc.) and the Nelson Mandela 70th Birthday Tribute concert at Wembley Stadium in 1988 and a further tribute that Mandela attended in 1990. I was involved arranging smaller gigs in provincial British cities (with bands like the Smiths and The Fall), but the first AAA gig was arranged by Chandra Sekar and myself at the Brixton Fridge with the Potato 5, Howling Wilf (James Hunter) and the Mint Juleps.
The Potato 5 also played a later gig at the Brixton Academy with Madness and Dammers guesting Gil Scott Heron attended – though I can't recall whether he played or not.
Potato 5: Yeah we all ended up on stage at the end playing some old classic song from "The Harder they Come". The horn section later went onto to record on a few tracks on the album done by "The Madness" around about the time when they were splitting up.
So did people beyond the ska circuit take notice?
Simon: Well, in January 1986 we unexpectedly got asked to play a completely live session for Janice Long's evening show on BBC Radio 1 when there were literally millions of listeners (I did hear 7 million being mentioned). It was crazy because we hadn't been playing that long, and we chose some new songs that we had been working on and so you can imagine how nerve-racking would have been. We did instrumentals Asleep, Kenny Achampong (we're probably doing those two in Germany), Fish, and Floyd's songs Babylon Shall and Sweet Lady.
And I guess that's how we got to play at Glastonbury that year. We were the last band on the second stage. The last band, the Cure, finished on the main stage, and so thousands of people boosted the crowd, and so we just carried on playing. Probably not a great idea having us hanging around Glastonbury all day and then playing last, but it was good fun. I dread to think what it actually sounded like!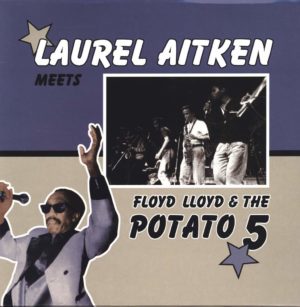 The album "Floyd Lloyd & the Potato 5 meet Laurel Aitken", released in 1987 is a classic that most ska fans have in their collection. Can you tell us something about the song-writing process with Laurel. Did he bring these tunes and you arranged them together?
Potato 5: Laurel brought the tunes and then we'd sort out some rhythm and horn parts with help from Dick Cuthell on the later ones. Then we just practiced them without Laurel quite a bit – and then we gigged them all lots with the man himself. It was quite complicated because Laurel lived in Leicester but didn't have a phone. You had to get in touch by ringing the local Cab joint near his house and they'd send a car round to pick him up and put him on the line… there was a gig at the Town & Country Club and he didn't turn up…. After we weren't sure if anyone had told him!
The debut was followed up in 1988 by "True Fact", a second, more experimental album, produced by Specials trumpet player Dick Cuthell and featured Laurel Aitken and many storming live shows with Floyd Lloyd, Laurel Aitken and then Spider Johnson, who became the permanent front man.
I remember many ska fans being confused by the "modernized" sound of True Fact. Looking back, how does the album sound to you in hindsight?
Potato 5: We liked the beats that were playing out at the time – we were also listening to Hip Hop and dance stuff and it was the Summer of Love and there were acts like Longsy D and Rebel MC doing Skaciiid records that mixed the old sounds with the beats. Martin, 'the instigator', and Paul, 'the drummer', wanted to change direction so they went to Paul's flat and made all the beats in his really seedy bedroom. He Man vs Skeletor, Ska Flames, Pancho and Dial M for Murder were great songs to play and it was brilliant to work with Dick Cuthell…. But we never really sorted those tunes out live. The album might sound dated but those were the times – it's vintage 1980's.
In 1989, you even managed to tour Japan and The USA.
Potato 5: We did an exhausting month-long tour of the USA with the great 'Let's Go Bowling' that included playing with the Toasters at the legendary CBGB's club in New York. In the end we decided to call it a day in a surf bar at Seal Beach, Los Angeles. So, after a farewell concert at London's Town & Country Club on 29th December 1989 it was all over.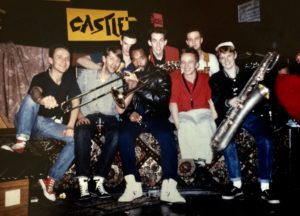 While Spider went on to become the drummer for The Nutty Boys, the band by Lee Thompson and Chrissy Boy (Madness) and after that Lee Scratch Perry, the rest of the band went more or less went missing. Why the split at a time when the "ska explosion" seemed to take off everywhere in Europe?
Try being in a gigging band for 6 years! We needed to earn money and get the rehab going (joke). We had some ska children and had proper jobs… stuff like that!
How do you feel about the name of your first EP becoming synonymous with the whole ska wave of the late 80s/early 90s?
Potato 5: Ska Explosion was Gaz Mayall's idea for the album title. We had no idea really that it was kicking off a whole movement in Europe or US.
Looking back, what are your feelings about the band? Any regrets?
Potato 5: It was good fun – we did a lot of great stuff and we met the legends we loved and made music with them. What's not to like…?
Why do you think did none of the many bands of the Ska Explosion years cross over into the mainstream?
Potato 5: The Potato 5 were all about being live and having a good time… When we got serious music industry agents and management became interested, they found us all rather tricky to work with as we just wanted to have a good time. That whole scene for us, and the Deltones and the Forest Hillbillies, was about being live (drinking beer…) and having a good time. However, we did get signed by Stiff Records, but we were the kiss of death, and they went bust just when we were doing an album for them!
On your live album, 5 Alive, there are a lot of tunes that were never recorded or at least never released. There are other non-album tracks scattered across a few compilations. Any plans to release some of the rare material or maybe even to record new music?
Potato 5: Not really as someone else has got all the master tapes. (They were all sold by the drummer for £200 to someone – allegedly) We are since used to random Potato 5 releases appearing that we never get any royalties on – but we aren't bitter. We don't mind if people are getting to hear the music…
In 2018, the band's horn section suddenly reappeared.
Potato 5: We found ourselves on stage at the London Ska Festival, playing a short set of Potato 5 tunes together with Maroon Town. We subsequently did quite a few gigs with Maroon Town – mostly at the Troubadour in Fulham, near the famous Craven Cottage ground of the oldest football team in London!
The horn section also did some gigs with The Dekkertones, which feature David Driscoll, the original bass player of Potato 5 and twin brother to trombonist Simon Driscoll.
And now, more than 30 years after their last show, Potato 5 will reunite to play at Freedom Sounds Festival! Six of the original members, including singer Spider Johnson, are on board and ready to launch the next level of the SKA EXPLOSION.