This is part 2 of the Reggae Steady Ska interview with Pauline Black of The Selecter. You want to read part 1 first? Go here.
RSS: People who read your autobiography can only be impressed by how you have been successful in a whole lot of fields. Apart from music, also in theatre, as a presenter on television, actress in a movie and a book author. One could get the feeling that many things just happened, the amount of work that had to be put in, wasn't stressed. Was it like that or did you not want to tell?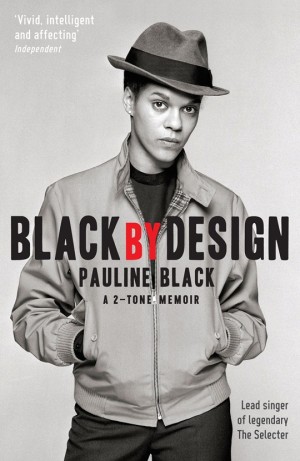 It's quite odd when you sit down and write your autobiography. The one thing that I wanted to do was make sure that I wrote it myself and didn't have somebody ghosting it, as a lot are. And I wanted it to be a personal journey. My personal journey was finding my parents, finding out who I was. When you start doing that you start about look at what you have done. I hope I'm not saying in the book that all these things just happened. I was there at the right time and with the right type of skills and was able to take advantage of them. It was never my intention when I set out that I was ever gonna be a singer in a band, but I began taking steps towards being that. It was never my intention, having been a singer in a band that I would be an actress, but I began taking steps towards doing that, because of the people that I met. Those opportunities arose and you either take advantage of them, or you don't.
It's very much been like that. There have been tiny steppingstones I guess towards a bigger picture. And a lot of that is just restlessness. I wasn't content just to be in a band. I wanted to write songs as well. And when the opportunity to act came along I very much liked it. The way I got into acting was by being asked by the director to provide some music  for a play they were directing. So, it's always been that kind of way, by doing little stitches into something and at the end you get a lovely piece of embroidery. And that's your life I guess.
RSS: But you didn't take any formal training let's say as an actress. You said some of the actors helped you while rehearsing the play.
The thing I like most about anything, particularly songwriting and performing in general is the collaborative nature of it.
Pauline Black: Absolutely. I have always believed that if you're going to do something stick it in front of an audience and they will tell you ten times more than when you're spending three months in an academy, whatever it is you want to do. An audience will always tell you when you're doing something right or wrong. It's always better to be your own best critic. I don't intend to worry too much about what people say to me, because you know best if something either works or doesn't work.
The thing I like most about anything, particularly songwriting and performing in general is the collaborative nature of it. Stanislavski said: "Love Art and yourself rather than yourself and Art." I always thought that that would be the best thing to do, you get the best results from that. I'm not David Bowie in that way I can't think of huge concepts (all by myself). But through collaboration and taking an idea to somebody and the wonder of … and then somebody else comes along and says "Yeah, but what if you did this." All of that is exciting. And I think the creative process always ought to be exciting, because if you're bored in the creative process it's time to move on and do something else.
RSS: When did you start writing the autobiography?
Pauline Black: I wrote a novel in the 1990s. Like any writer who starts out doing something, there is an enormous amount of themselves in the book, even if they are proportioning it to different characters. I tried to get a deal, Marsha Hunt (US author) helped me for a while, because I was in touch with her. She was writing and had a few novels out by that time. It didn't come to too much. Then I met a guy called Tony Mc Mahon who ghostwrote Neville Staple's (of The Specials) autobiography. He was interviewing me for it. We just got around talking about writing. I said: "Hey, I got a novel at home. I can't really get it off the ground." And he said: "You need a literary agent. I'll introduce you to my literary agent." Which happened. I got introduced to a wonderful guy called Oliver Munson who read my novel for me and turned around and said: "Have you thought about writing an autobiography." And I said: "No, I haven't."  So he said why don't you do a few chapters, send them to me and I'll say what I think." Which I did. And he signed me as a literary agent. I carried on and I wrote it in a period of a year and a half. He then presented it to some publishers. My favorite publisher, which was Serpent's Tail immediately came on board and offered me a deal straight away. And I have been working with them ever since. I have a new novel on the go, called "The Last Supper."
RSS: The subheadline of the book is: A 2-tone memoir. But it's much more, isn't it?
Pauline Black: It's a play on words. The book is in three sections: The first section is "White to Black", the second section deals with 2Tone and is "Black and White", and then the third section is "Back To Black" which is the search ultimately for my mother, and my father. We wanted to play around with that concept of the black and white being within you. And those people who have formed you. I was a black child brought up in a white working-class household. It's also a little bit eavesdropping on both black people and white people. And I've done that all my life.
[On the 2Tone movement]
2Tone, when it came along, was the perfect fit. It dealt with both of those things at a time when nobody was talking about mixed-race issues. People were talking about the struggle between black and white people. But within myself and also within The Selecter's rhythm guitarist Commie, we were both mixed-race children and we were growing up in Britain.
And so many people hold the idea of 2Tone in huge respect, because it epitomizes everything that is good about people with different cultures and different colours.
There were lots of these children all over the world by that time growing up in households which were not their own; having to deal with the casual racism, and the more virulent racism that was around on the streets – just in people's everyday language at that time.
We live in a very different world now. We live in a world where people are more comfortable with multiculturalism. We live in a world where – whatever you make think about him, the leader of the Western world is a mixed-race man, in the White House. Me personally, I never thought that I would live to see such a thing. When your life has covered the span that mine has covered, from the 1950s, the whole Civil Rights Movement, and seen how the world has grown in terms of the non-acceptance of racism. And now the non-acceptance of sexism, it was quite a lot to deal with in one book.
RSS: The whole 2Tone movement played a good part in creating awareness in the late 70s and early 80s.
I would hope so. That's the wonderful thing about the legacy of 2Tone. It wasn't just us. It was a whole bunch of bands that pretty much had the same idea. It wasn't just the 2Tone bands. There were bands in other countries who picked up on the idea and ran with it. I visited so many countries in the past five years, Argentina, Brazil, Australia. And so many people hold the idea of 2Tone in huge respect, because it epitomizes everything that is good about people with different cultures and different colours.
Maybe we don't get that close to it sometimes, but it's there. And I think that everybody except out-and-out racists think that some people are less human that others.
[On other 2Tone books]
RSS: I can only say that as a teenager in Germany it meant quite a lot to me, too. From the other books that have been published about the 2Tone era, which are the ones that you like? 
The male autobiographies tend to be about the things that men are into, which is playing really loud on stage, and having a lot of ladies.
Pauline Black: I like Horace's. There is very much Horace in it. He wrote it himself, it's his own voice. You can tell. I've known Horace for a very long time now, about 35 years. I'm less unanimous with some of the other books, because with many of them, the writer has never come along and actually asked. They've just gone on other people's hearsay. Or they lifted quotes out of reviews, which – lifted out of context – don't say what you would wish them to say. If you were talking to the person, you could explain them more fully. And I think that's how it should be.
The 2tone story was told in a male-orientated way, in the way of the audience. It's never been told from a woman's perspective. The male autobiographies tend to be about the things that men are into, which is playing really loud on stage, and having a lot of ladies.
RSS: I think you're alluding to Nevile Staple's book. I haven't read it. But I will.
Pauline Black: There is a lot of Neville in it. I always liked Neville. He is my favourite Special.  He is what he is, he has never pretended to be [anything else]. I like that degree of honesty. And in his autobiography he is definitely honest, he is very upfront. In terms of what he did and how he got what he wanted. I think that's refreshing.
RSS: I got the impression that your autobiography is very honest, too. When writing the autobiography, did you discuss beforehand any parts you would rather not publish? Were you surprised by some of the reactions to certain episodes?
Pauline Black: I can't think of any negative things that happened. I think the people have been shocked to a certain degree by some of the episodes, but it wasn't for shock value. I know that there are a lot of black women of my age in this country that have been adopted by white families. That was a thing that happened during the 50s, and during the 60s. And I met quite a lot of them. And a lot of them had the same experience. They maybe haven't gone on to do what I have done. But their formative years were very much familiar to mine. The things that happened to them were similar. And I feel the people who have come to the book readings have highlighted those things and told me about their experiences. And some of them are ten times more harrowing than mine.
Part 3 of the interview with Pauline Black will be published on Tuesday 22nd of October 2013. In the meantime we recommend you pick up Pauline's autobiography "Black By Design" and the current album "String Theory".