It's every band's story. A handful of musicians with a shared love of music get together, play some covers, land a few small gigs, refine their sound, write some songs, play bigger and better gigs, record a few originals and, if the music gods smile on them, they get noticed. It's a story West London's Hometown Hi-Fi is writing for themselves, offering a fresh, Nutty Boy take on the 2-Tone sound. Long Gone, their debut EP, made a lot of waves when it hit in late last year, earning the band an invitation to participate in the Specialized 4: Combat Cancer project. They're a band on the rise and they're clearly enjoying the ride. I emailed drummer Justin and keyboardist Paul to get the latest.
Whether it's superheroes or bands, everybody loves a good origins story. How did Home Town Hi-Fi come to be?
Justin: Hometown Hi-Fi was born in early 2013 out of the ashes of other bands. Me and Mark played together in a previous band and liked the idea of giving a more traditional indie/rock set the "Easy Star All Stars" treatment. We landed a punk bass player [Pete], keys [Paul] and vocals [Jim] to complete the line-up.
Paul (Keys): We all had a passion for UK 2-Tone — The Specials, The Beat, Bad Manners, early Madness — so we started building a set of cover versions to recreate that edgy, punky Ska sound.
Justin: Our name was offered up by Greg "Dread" Roberts of Big Audio Dynamite and Dreadzone. Big honour as I am the biggest B.A.D & Dreadzone fan alive. Greg was the main reason I wanted to be a drummer along with the likes of John Bradbury and Woody from Madness.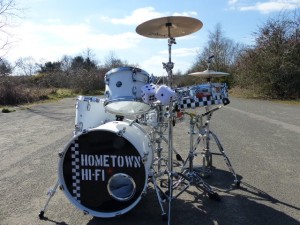 What was the first song you played together?
Paul: The Specials version of Monkey Man was the one that got us all looking at one another. It was one we could all play and we jammed it perfectly. It was the spark that began it all. ?Starting off a new band from scratch was hard work and this was the tune we jammed to perk us up when things got tough. 
First gigs are like first dates—never perfect, always memorable. What was your first gig like?
Paul: We were formed in February 2013 and rehearsed solidly until one day we got a phone call inviting us to play at London's legendary Ace Café on the same bill as Mod bands The Sha-La-Las and The High-S. So, we rapidly pulled together about ten songs and made our live debut on 4th April 2013. Surprisingly to us we nailed it! It was a great start for all of us. We signed autographs—which included signing a side panel from a Vespa scooter. We played again soon after this with The High-S supporting us at a pub in Greenford, West London, and we blew the roof off. Our first stand-alone gig was in May 2013 in Feltham, West London, where we were watched by a nutter in the audience who said he was a saxophone player and loved what we were doing. This guy was Smudge who later became our sax man!
Justin: We opened a festival in June 2013 and played a private party both in the same day! Unfortunately, this was to be our bass player's last gig—so we took a pause to find a new bass player [Robin] and get on board Smudge as our sax man. This was a huge turning point for us!
Your sound is part Nutty Boys, part 2Tone and 100% party ready. Talk about how it developed.
Paul: Getting Smudge on board as our sax man has been pivotal in developing our sound. Before this, we were more like The Specials, but adding sax and then focusing more on both piano and Hammond organ moved us more toward the Nutty Boys sound.
Justin: So far, the song writing process has been Paul writing the tune and melody with me adding the lyrics. We have written around 15 songs this way—but going forward we want to expand with the whole band contributing songs and being more involved in the creative process. Mark [guitar] has an amazing voice and has written a few great songs. Jim and Smudge also are busy developing original material. We have been repeatedly referred to as having an 'early Madness' sound, which we don't mind, but it's not something we are particularly aiming for—it just seems to be developing that way naturally. We all have a love for Madness, particularly earlier work from albums such as One Step Beyond and Absolutely.
My favorite song off your 2014 debut EP is Checkered.
Justin: Checkered is one of our favourites and the song fits perfectly into the Ska/2-Tone world with its Checkered theme. This song is about how our pasts are a mix of good and bad, sometimes black and white choices/decisions and how from being down and out (lost sunshine from my days/can't tell day from night) to learning to fly with broken wings. How pain and hurt can make us stronger… We are all Checkered people and that's ok!
Paul: It's about us all being the result of our choices/luck/bad behaviours. We all have good and bad, light and dark and we are all human and have faults but we can move on and make fresh starts using our past as a springboard for a brighter future…damn, that explanation is as long as the song!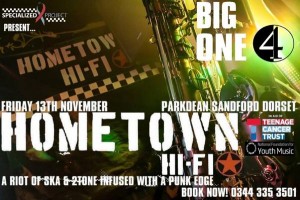 You'll be participating in the Specialized 4 Combat Cancer project, providing your version of Crooked Beat. What's that been like?
Paul: When we made the decision to start writing our own stuff and replacing our cover versions with original music things started taking off! Paul Willo [founder of Specialized] approached us and asked us to be part of Specialized because of our fresh approach to writing new 2-Tone inspired Ska. There is not a lot of original music in the UK Ska scene at present.
Justin: It's a fantastic honour and we are hugely looking forward to the Big One in November, but it's been great to be a part of such an amazing thing. A two-way process where we are honoured to be a part of it and also to be able to use our own creations to help those who are suffering.
With an impressive debut EP and a growing, well-earned reputation in the ska community, Home Town Hi-Fi is poised to make the jump to much bigger things. You're in a place hundreds of ska bands dream of being. What's the view like up there?
Paul: Well that's very kind, but? it doesn't feel like that to us. We have our feet on the ground and working hard on developing new original music which has got something to say. The meaning behind our lyrics is a vital part of Hometown Hi-Fi.
Justin: We all still feel we have a long way to go to come close to some of the greats in the game. There are so many incredible bands around and we are just grateful that people like our sound. We have just released our video for Checkered as it's always been a favourite for those who come to see us. We intend to keep the original stuff coming as we step away completely from the covers scene. 2016 could be an amazing year if we manage to keep the creativity coming. I guess we have good energy on stage too, our front men are brilliant and those of us at the back keep a steady skanking foundation and we all love playing live, so the recipe for a good time is always there.
The Hometown Hi-Fi are:
Justin (a.k.a. Jay)—drums
Brando (a.k.a. Paul)—keys
Mark—guitar
Jim—lead vocals
Robin—bass
Smudge (a.k.a. Smudge)—sax
Video Releases
Get the Long Gone EP at the Hometown Hi-fi website.