In the end we just did it ourselves. We are thrilled to announce the first edition of Cologne's new Ska and Reggae hub:
On Saturday, 16th March, 2013 the FREEDOM SOUNDS festival and allniter will be staged at Cologne's Gebauede 9!
After years of lamenting the absence of a festival dedicated to Ska and early Reggae in our hometown and after we had asked a number of commercial promoters to organise one to no avail (quote: "Sorry, but I just don't see how I can make money with Ska."), we finally decided to give it a try. We, that is your two humble hosts on this site, Joachim and Pete, and a bunch of other Cologne friends and fans of the most wonderful music that ever graced our stereos. As we are in it for the music, we don't need or want to earn any money with this, so the whole enterprise is strictly non-commercial and DIY.  Should there be anything left, it will be saved for the following year.
Freedom Sounds is an ideal title for this baby because Ska & Reggae has always been music of liberation. Ska was the soundtrack to Jamaica's successful strive for independence in the early 1960s. Since then Laurel Aitken, Derrick Morgan, Prince Buster, Desmond Dekker, Jimmy Cliff and Bob Marley's "Songs Of Freedom" (as in Marley's Redemption Song) have conquered the whole planet, not least because of their universal message of freedom, equal rights and justice.
Musically, we take the liberty of crossing musical boundaries, not limiting ourselves to any one variety of music. That is why Freedom Sounds presents an eclectic mix of artists from Germany, Spain, England and Wales.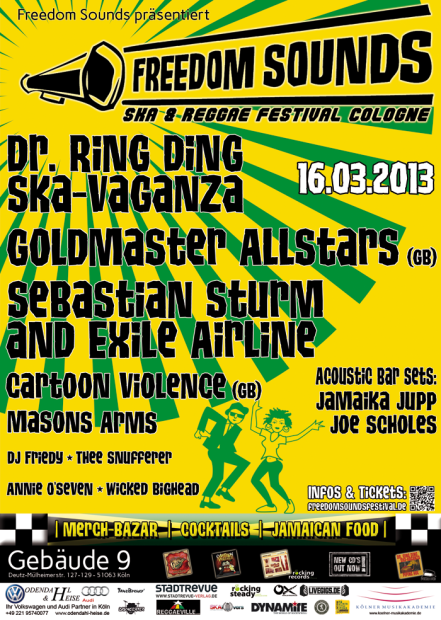 Dr. Ring Ding has been a household name both in Ska and Reggae for the past 25 years. Starting out as trombonist with El Bosso & die Ping Pongs, he went solo in the mid-1990s with his own band. Dr Ring Ding & the Senior Allstars released a number of highly acclaimed albums under their own name, proving that Jamaican music produced inGermany can sound authentic and original. As a result, they quickly became a much sought-after backing band for touring stars like Judge Dread, Lord Tanamo or Doreen Shaffer until they went separate ways in 2002.
Richie has since made himself a name in Dancehall. His single Doctor's Darling became a massive hit in 2002 and has been covered numerous times, resulting in the VP Records compilation "Riddim Driven – Doctor's Darling Compilation".
Besides, he has worked and played with everybody from The Skatalites, Stubborn Allstars, Rotterdam Ska-Jazz Foundation to Germany's H-Blockx (toasting over their highly successful version of Johnny Cash's Ring of Fire), not mentioning his excursions into Jazz or French Chansons.
Dr Ring Ding's willingness to cross musical borders makes him an ideal headliner for the Freedom Sounds Festival. His new project, Dr Ring Ding Ska-Vaganza, may indicate a focus on Ska in its title, yet the album Piping Hot is so much more, reflecting many of Richie's musical influences like Reggae, Calypso, Jazz and even a bit of Klezmer. His new all star band features musicians from Barcelona's Freedom Street Band, the Busters and the Senior Allstars. We are thrilled to have them on stage on 16th March.
Co-headlining will be Goldmaster Allstars from South East England and rising German Roots singer, Sebastian Sturm with his Exile Airline band.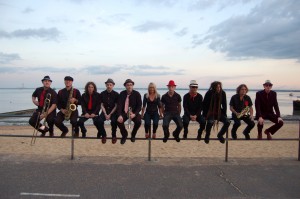 Goldmaster Allstars, an 11-piece powerhouse of a band, are considered by many to be a modern version of The Skatalites, not just owing to their incredibly tight and authentic sound, but also because they have backed and recorded with so many of the great Jamaican singers like Alton Ellis, Dave Barker, The Pioneers, Michael Prophet or Winston Francis. In Britain they are one of the most popular Ska and Reggae outfits and are nominated as best British Reggae band at the British Reggae Industry Awards, to be held in London's O2 on 21st February 2013. Competition is stiff (UB 40, Steel Pulse, Aswad…), but who knows…
It was not easy to organise for such a large band to travel abroad, but we did it and are really proud to present, for the first time inGermany, the Goldmaster Allstars, presenting their new album, Colt 45. You will love them.
Sebastian Sturm, is a rising star on the international Reggae scene. In 2006, his debut album "This Change is nice" took both critics and lovers of classic roots rock reggae by surprise. The 70s style off-beat interpretation by German native with Indonesian roots was met with acclaim and instantly propelled him onto the European scene, earning him invitations to all the major festivals like Bersenbrück (Reggaejam), Cologne (Summerjam), Paris (Zenith), Bordeaux (Reggae Sun Ska) and Udine (Rototom).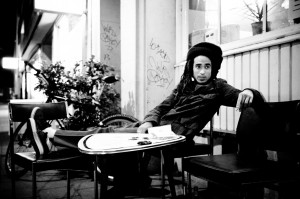 He has since released two more albums, One Moment in Peace (2008) and Get Up & Get Going (2010), and with his new band, Exile Airline, and toured with international heavyweights like Groundation or Gentleman.
At the Freedom Sounds festival in March, Sebastian will present songs from his forthcoming new album for the first time. As he is based in Cologne, this premiere at his home fixture will be special – for Sebastian, the band and the audience.
Cartoon Violence from Wales are another great band that has not yet played in Germany before. Currently putting the finishing touches to their killer second album, they will end this deplorable state of neglect now and finally treat us to a heavy dose of their quite irresistible 2 Tone based power pop tunes. Anyone with an ear for Buster Shuffle, Hotknives, Madness or any good British pop music, will love Cartoon Violence. Here's a preview of their new album.
Local heroes Masons Arms will start proceedings with their very own blend of "Heavy Reggae". Hanno and his gang have come a long way from their Punk Ska debut. For their impressive new album "Gepackt", they have got rid of the punky guitars and added plenty of Early Reggae, Ska, Soul and Funk to the mix.
In-between gigs on the main stage, we are delighted to have Joe Scholes and Jamaika Jupp perform acoustic gigs on the smaller stage in the bar room.
When the live bands finish, a host of DJs will take over and spin Ska, Early Reggae, Boss Sounds and Roots at the Allniter until the morning, rounding off what promises to be a night to remember.
Throughout the evning there will be food and merchandise stalls both in he bar room and in the courtyard outside.
Tickets (22 €) and more information at: www.freedomsoundsfestival.de
Or get in touch directly at info@freedomsoundsfestival.de