In 1974, Susan Cadogan became world-famous, when the Jamaican singer landed a UK-Top 5 hit with the Lee Perry-produced tune "Hurt So Good." Ever since those days, she had an on-off career, at times working with such diverse musicians like Mad Professor, The Slackers and Ken Boothe. 
Prior to the upcoming shows that Susan Cadogan will be playing in Europe in 2018, we shot a few questions at a man who has helped the Jamaican singer come up with exciting new tunes so that she needn't solely rely on her (nonetheless impressive) back catalogue. Canadian producer Mitch Girio talks about how the two worked together without ever meeting in person.
When and how did you connect with Susan Cadogan?
I made a connection with Olly Will (Rocking Records) through my work with Prince Perry. I expressed an interest to him in writing songs for/ with other people. Olly was very encouraging and connected me with Susan Cadogan. As Susan and I didn't really know each other we decided to try recording one song to see how it turned out, how we got along. We started by doing "I Don't Wanna Play Around" and it went well.

How did you work on the releases you did so far?
For everything, Susan has to vet the tracks. In some cases, like "Crazy" or "I Don't Want Anybody But You", Susan would select them from a number of potential candidates that I'd send her way. In other cases, I would send sketches, like Best Of Me or Take Me Back, and if Susan liked it then we'd develop it further. Susan has had to listen to some truly rough song sketches, but she has a sharp ear for what she finds exciting. usually it's the lyrics that she zones in on. Which was a lesson for me as I sometimes write ideas with the lyrics as a place holder, with more emphasis on the musical idea. With Susan, it has to all be there. This makes complete sense as she is a singer who wants to get 100% behind a song so she can give it everything that she's got.

"Don't Know Why" was special, Susan's brother Paul wrote the song and it was originally released in 1981 or 82. We had a conversation about the track and I suggested re-recording it as an exercise. No pressure to release it if it didn't turn out well. It was such a great lesson for me to try and capture some of the spirit of the original version while bringing some of my own sensibilities to the track. In the end, what I did or didn't do wasn't so important once we got Susan's terrific vocal takes. To me, she sang it even better than on the original.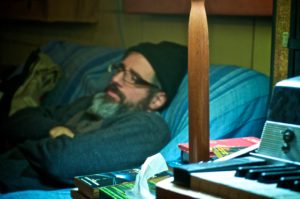 We had "Lucky" Pete Lambert (The Trojans) drum on most of the recordings. He's a wonderfully intuitive drummer. Often listens a couple of times and then knows what to play. Usually a take or two and we have it. Olly did us a big favour by getting the Keyser Soze horns on our first recording. They recorded in Bamberg. Wish I had been there to enjoy it! We had the King Kong 4 on "Don't Know Why". Great players and lovely gentlemen.
As strange as it is, Susan and I have never met in person. I've recorded the music here in Toronto at a couple of spaces (except for the Keyzer Soze horns) and Susan tracked her vocals in Jamaica with Wayne Armond, who is a very talented musician/ arranger. They've worked on a number of recordings together and work very well with each other.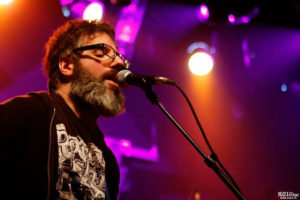 How many songs have you recorded?
We've done 9 songs over the past year and half. Not including all the "versions," of course.
Any more aspects of your work together you like to mention here?
The big thing for me, when I first began talking to Susan was the idea that the artist should have control over their art. I've worked with a lot of artists/ bands who got signed to small deals (either with labels or publishers) who not only lost control of their music (I'm speaking about ownership of publishing or the master recordings), but were emotionally crushed from the experience. Is that too dramatic? More accurately, artistically drained. To be more specific, their band broke up, or they stopped composing because they ended up trapped in a one sided relationship with someone who didn't really care about them or (not surprisingly) their music.
As is often the case with singers, Susan's career has mostly been in the hands of those higher up the food chain. So my initial thought here was "let's make music together as a kind of partnership," but Susan must retain control of the masters. This is how Stonyhill Records (Susan's label) started. Doing this doesn't stop Susan from working with other producers, composers or other labels, but I think that it's important for her to have a foothold on her work. To have a safe place to create and share her music. To have control over some of her catalogue.
For the last year and half we've put out numerous digital releases, a few vinyl pressings (including a run of cassettes) thanks to outside labels and we've done our own grassroots marketing. To me, it confirms that Susan is a vibrant artist who has plenty more to say.
Show me Susan Cadogan's new tunes on bandcamp.
Jump Up Records released an album of the new tunes on vinyl and cassette. Check it here.
The Classic
In the mid-1970s Susan Cadogan became a huge star after Lee Perry recorded the tune "Hurt So Good" with her. The album with the same name has become a reggae classic.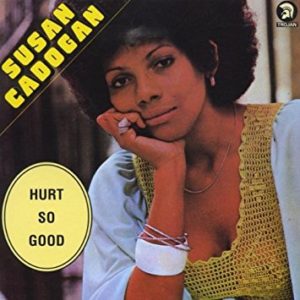 Show me the vinvl version of Susan Cadogan's "Hurt So Good" on amazon (Affiliate link, support Reggae Steady Ska by using this link without paying a penny more).