The name of this website is Reggae-Steady-Ska, and if you're here, you probably know how the three are connected. Ska evolved into rocksteady, which in turn became reggae. But as much as we might like to believe that ska suddenly appeared, fully formed, like Athena springing from the head of Zeus, ska, like all music genres, evolved from what came before it. Lots of things went into creating that ska sound, but ska's closest musical ancestor is mento, a Jamaican folk music that fuses multiple African rhythmic stylings with European song elements, topped with witty, innuendo-filled lyrics. It's also the perfect summer music. Three bars into any song and all you want is a tall, cool drink, a floppy sun hat and a slice of beach to dance on. And the band you want to listen to this summer is Los Apartmentos. Their debut album on Jump Up Records, Water di Garden, is a collection of covers of mento classics, all delivered in an authentic, old-school style. All the more intriguing when you learn the band is not from Montego Bay but from Cologne, Germany. I picked up the album on Record Store Day and it hasn't been far from my turntable since.
And, full disclosure: the Joachim Uerschels/Joe Scholes in the band is the same Joachim Uerschels/Joe Scholes behind this website. Not that it influenced anything in the interview. I love the album and so will you.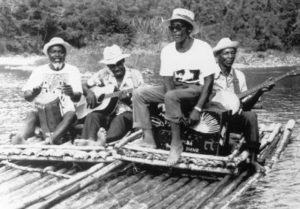 RSS: Maybe I'm naive, but when I think of authentic mento music, I don't think of Cologne, Germany. How did the band members find each other and discover their shared love of mento?
Winston Friday (rhumba box): I found most of the others. Ali Pang (banjo) and P.P. (guitar) had just split with our minimal reggae band, Jamaika Jupp. We sat together in a beer garden and shared our last salaries. I told the others of my just-finished DIY rhumba box [example build here]. And Ali told us he'd learned the banjo. Usually he's a guitarist. At that point it was clear to me to start the mento project because banjo players are hard to find. Most of them come from bluegrass or Dixie. But not Ali—he has a stronger reggae feeling and liked the idea. I'd always wanted to start a mento band since I got in contact with the Jolly Boys in the late 80s on their European tour. P.P. was skeptical at first, but I think he couldn't stand to let his former Jamaika Jupp compagnons go on their own. So after a week, he said yes to his guitar part in Los Apartmentos.
Apart from Ali and P.P., I asked Lord Extra if he would like to sing. I knew him as the singer of Kapelle3, a local ska band. And I thought he would have an African background, but I was wrong. He is born in Cologne. I didn't know at the time what he knew about mento, but thought at least he is experienced in ska and liked the idea.
So is Joe Scholes [aka Joachim Uerschels.] He's a ska veteran, having formed The Braces in the 80s. Besides, we're neighbours. Easy for him to stop by and shake maracas and play the clave. Finally, Ali brought Proppe into the band. He just liked that bizarre mento sound, he had never heard it before.
Ali (banjo): I fell in love with the banjo during a trip to the Appalachians in the U.S. I didn't know what mento was, but was convinced when I heard the first tunes.
What's the reaction been like in your hometown?
Ali: People were curious and surprised, and immediately started to dance. Which is what they're supposed to do.
Winston: I would also say they were curious. Unfortunately, not much more. We still do not need sunglasses in the streets.
Joachim (maracas, claves): The surprise was on our part, too, because usually it's very difficult for a new band to get people off their sofas and into the clubs, especially when you've reached a certain age. But something different seems to be at work when mento is on the bill. It proved to be quite addictive. We have a few hardcore fans who come to every show.
Take us through the songs on the album. Why these songs and do individual band members have any favorites that may not have made it on this album?
Ali: Everybody made suggestions and then we decided which ones to play. I personally like the tunes with the most West African vibe in it, like Dalvey Girl/Parson and Hill 'n Gully Rider.
And I am a huge fan of Pork Chops, Lord Flea's banjo player. Have you seen his dance performance in Bop Girl Goes Calypso? [At 3:35] Nice hat, too!
Winston: Most of the songs were chosen because they're both nice and typical for the genre. Mento material is restricted. There are only a few hundred songs to cover. Count Lasher is my favorite. One criterion is understanding the lyrics.
Joachim: Peter, our singer, has the hardest part, because he has to transcribe the songs, word for word. Most songs are not to be found on "azlyrics" or similar websites. My favorite is "Love. Love Not Alone." The lyrics are insane. And you won't find a tune more catchy than "Linstead Market." It's hard to believe how people like to sing along to the chorus. There is some magic in this one.
There's an authenticity that rings true in every aspect of this album, from song selection and the recording technique to the instruments and the vintage-looking album photo. Clearly authenticity is important to the band. Tell us about your overall approach to this project.
Ali: Well, as Germans, we have quite a cultural distance to cross to the Caribbean world. We are more like ripe potatoes, so authenticity is, in a way, ironic.
Winston: The approach is less thoughtful than one would guess. We just started the project as written above. But from that point on, we focused on authenticity. For sure, the instruments must be most similar to the original set up. No mento without a rhumba box. No mento with a proper drum set instead of hand drums. And eyes listen to music. The optical appearance of a band is nearly as important as the music. We therefore ordered shirts from West Africa, which, for sure, is far away from Jamaica. But musically, both regions are close relatives. And in my eyes, our shirts are the visual extension of our mento sound.
Joachim: The band members have been making ska music in different lineups for the past 30-plus years. Each of us went a long way listening to the Jamaican originals and emulating those sounds. We failed. We listened again. And we failed again. This process helps today when we work on original recordings from the Caribbean. There is a deep appreciation for the originals—and for the culture from which they stem.
Tell us more about the actual recording process—was it as spontaneous and fun as it sounds on the recording? Was there any overdubbing or post-production tricks to get that sound? Was there a lot of rum involved? (I only ask because I know there's been a lot involved on the listening end.)
Joachim: We hadn't intended to record any songs. It wasn't our plan to release an album until Chuck Wren of Jump Up Records offered to release a 10-inch record as part of their loose calypso series. It was clear that we wanted to do it like in the old days, live in the studio. So, we discussed the idea of how we should get there. We have two sound engineers in the band. Should they do it? Or should we use one of the other go-to studios in Cologne that we knew would do the job? We decided to go another way. There was this guy in the Netherlands that had shown his love for Caribbean vintage sounds in the recordings of his bands, The Upsessions and Boss Capone. We contacted Boss Van Trigt, the musical prodigy, and asked whether he would be up for producing us. As it turned out, he worked in a team with another musician and engineer in Cologne, Hanno Schattow from Masons Arms. That became our team for the album. It was agreed upon from the start that we really wanted that original sound. We worked fast, and the 10-inch record became a 12-inch LP.
Ali: We recorded with three ribbon mics. We placed the band at the two sides of the figure eight of one mic. Volume adjustment through distance. The singer was placed off axis on the figure eight and the third mic was placed in front of the rumba box. We overdubbed only the background singing and the sax/flute/clarinet played by Pascal. Hanno and Boss did a very good job, put some digital mojo on the mix. When we played our last gig the promoter put a beer barrel on stage. We liked that! But the recording session was sober.
Winston: It was important to all of us to record live as much as possible to keep the mento spirit. Mento music is first of all exuberant and lively. It's better to hear fun in it than the perfect pitch of a note. We therefore left obvious carelessness in the recordings to keep the immediacy. When discussing critical parts in the recordings, we mostly decided not to play the song again. There was no chance to drop in and out, because we played live with the rhythm section and vocals. Many of the tracks are first takes.
What are your live shows like? Do you mic the band or do you stay strictly acoustic?
Ali: The band sounds cool without mics. We recorded our videos "Linstead Market" and "Ripe Tomato" with one mic in front of the band. But in a gig situation, we have to mic things up, especially the rumbabox and the vocals.
The Specials' debut album introduced listeners to ska, a sound the band did not create but one they clearly loved. In much the same way, "Water di Garden" introduces listeners to mento. What do you hope listeners take away from your album? Where should they go next to continue their mento education?
Ali: I recommend mentomusic.com as an inspiration.
Winston: I don't want to push someone to follow a certain path. Mento music is not worse or better than heavy metal or classical music or whatever. I'm glad in the moment a listener enjoys my music. But if someone likes mento, they might love Calypso from Trinidad, Highlife from the 50s in Ghana or Quelbe from the Virgin Islands. These are close relatives.
Joachim: A comparison to The Specials? This is bold. A few options: There are some really good mento music compilations. Or you can check the originals of the songs that we recorded (on Youtube, Spotify or the like) and take it from there. Or listen to the podcast: Generoso And Lily's Bovine Ska and Reggae podcast. They always have a mento set on their show.
Los Apartmentos are:
Winston Friday – rhumba box
Ali Pang – banjo
P.P. – guitar
Lord Extra – vocals
Joachim Uerschels/Joe Scholes – maracas, claves
Proppe – djembe
The album Los Apartamentos – "Water Di GardenW is available on vinyl at Jump Up Records:.jumpuprecords.com/losapartamentos/
You can also download it at bandcamp.com/losapartamentos.
To find out more about Los Apartamentos on Facebook, go here.