Maroon Town are back. That's brilliant news for anyone who has had a serious interest in Ska in the last 25 years. For those of you who may not have heard about them before, you are in for a treat. Founded by childhood friends Deuan German and Rajan Datar, Maroon Town emerged from London at the end of the 1980s.
Together with other pioneers like Potato 5, the Trojans or the (original) Hotknives, they were part of a wave of exciting new Ska bands who rejuvenated the global Ska scene as what became to be known as "Third Wave Ska". That label, like any label for that matter, does not really fit Maroon Town because they were different from the beginning, mixing original Jamaican Ska with global sounds from Hip Hop to Cumbia. Their very first EP, Pound To The Dollar, set the sublime tone mixing political and social comments with breakbeats and irresistible Ska grooves. Play any of the four tracks on this 12" and try not to dance!
They released four albums in the 1990s, constantly expanding their musical scope, but became more and more invisible in the 2000s. Two years ago, however, a new album, Urban Myths was released on Rocker's Revolt. Now, after a 10-year hiatus, original front man and rapper Stevie B has returned and the band played their first comeback gig in March 2013. We took the opportunity to ask Deuan German and Lenval Brown aka Stevie B all about it.
RSS: Was there a masterplan to create the Ska/Reggae/Hip Hop/Latin music fusion that is Maroon Town or did it just happen?
Deuan German: Yes, essentially the purpose behind the whole idea of Maroon Town was to create a group that represented as much of the world we could gather and that could only happen organically. So when we met Len, who was involved in the whole hip hop scene, it just fitted naturally. When we met Natalio from South America that partnership was perfectly natural because it was part of this whole global vibe we were all up for creating….
RSS: So was Natalio the one that added the Latin influences (as they are not so strong on the first two albums)?
Deuan German: That's right. When we heard that he was into Cumbia, that was it. He was in!
Lenval Brown: As Deuan said, it grew organically as other people who joined the band added their influences which created theses sounds. Natty added his style, too…
Deuan German: …It was important to the integrity of the whole thing that others brought their own influences, energy, vibe – call it what you will!
RSS: Len, did you come from a purely Hip Hop angle or did you listen to Ska and Reggae before you met the band?
Lenval Brown: Well, I grew up with Ska and Reggae as my folks were of the Windrush generation and as you know they brought the music with them……Hip Hop came in later. Having grown up with the music, made it easier for me to adapt when I met the band later.
RSS: When Maroon Town started out, your sound was completely new and original (at least to me). How do you explain that you never had the commercial success you deserved?
Deuan German: Good question! We are not called Maroon Town for nothing! I guess it was a stance, a position that we took, maybe not conscious, but always there… We always had it that Maroon Town was the four-wheel drive version of a band. It can go anywhere – big festivals, on a European tour, play to royalty but also in prisons, schools, community centres, hospitals. And that's a problem for 'making it successfully' because it screws up making money for the record companies and the promoters and agents.
RSS: Considering that others were commercially more successful with similar approaches, like say the Dub Pistols, The Skints or even Gorillaz, maybe you were too early…
Deuan: … and too early. But maybe that's how you get 'too early' by being of independent spirit!
Lenval Brown: Who knows if we deserved commercial success at the time? We never looked at it as searching for success. We always saw ourselves as independent as the original Maroon towns were!
Deuan German: A 'Maroon' would never have become the 'houseboy' on his master's plantation. I guess it is what is now a 'Rastafarian' value: to not get sucked in.
RSS: At least you got to play in places and countries not many bands have. What was the most impressive experience in terms of touring?
Lenval Brown: Now you are asking!! It is difficult to say. In terms of touring we love Spanish crowds, but in sheer terms of experience, it's got to be India. Just because of the size of the place, the beautiful places, the audiences and the energy of the people. I did enjoy Bali……paradise!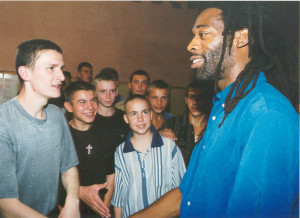 Deuan German: Casting my mind back I recall a tour to Kazakhstan. Whilst we did some impressive gigs and festivals, one of the things that stood out was a gig we did at a school, I guess it would be a junior school with children up to the ages of 11. We played in their playground, in the early autumn sunshine. Whilst that was a truly joyful and fun experience, what was really remarkable was that next door to that school a woman who had found out about the extent of heroin addiction amongst young people had opened up a rehabilitation centre – with her own money and from selling her flat and car, no support from anyone.
And there in this playground with all the other kids were all these young people recovering from their addiction. To me it seemed that that human connection to the children was part of their rehabilitation back into the world – a reminder of what life is worth living and fighting for. We were so moved by the work of that woman – who set up the centre against all the odds – that we went back and set up a benefit concert. Its proceeds they used to buy a tractor, so they could cultivate their own food and use it to work and gain some kind of fulfilment with the soil and nature. That's not to try and impress anyone because that woman inspired us so much. It's like we had to do it!
RSS: Wow! Some of those tours were organised by the British Council, right? How did that happen?
Deuan German: They saw that we were this band representative of the UK ethnically and they wanted to project that image to the world that the UK is not just city of London bankers and the royalty (though they are running the show in their own interests, of course!).
RSS: Talking more about the present, what is the situation of the band today?
Lenval Brown: Well, I have rejoined after 10 years away from the fold and we are looking to resume where we left it back then…….and bring it to the masses.
RSS: So you are going to stay permanently again?
Lenval Brown: Yes. That is if I don't get sacked!
RSS: Who else is in the present line-up?
Deuan German: Rajan who has been there from the beginning but who also presents on BBC TV and radio, so he is sometimes not around (Rajan Datar – keys). Then there is Amaziah, our female singer. Jake Painter – trumpet. Carl Sterling – Sax, Chris Webster -trombone, Kita Steuer on bass, Jarrod Pizatta on drums and Charlie Lewis on piano.
RSS: For us not in the UK, what programme does Rajan present?
Deuan German: Fast Track. It's a travel programme on BBC World which he presents from different parts of the world.
RSS: So are you in the process of recording anything?
Lenval Brown: Recordings will come in due course. Firstly we need to get playing again and things will develop organically once more. I have a few ideas for some new songs….watch this space!
Deuan German: There is plenty to come.
Lenval Brown: 10 years away as just made me more hungry……..I'm like a loaded pistol.
Deuan German: We are going back into live action.
RSS: What are the chances of people in Germany and other countries to see you live again?
Lenval Brown: The plan is to start touring again. So, yes, we will be out there …soon, I hope.
RSS: Maroon Town have always been a politically and socially aware band. What are your views on the current situation of Britain under the coalition government?
Deuan German: The old order are reasserting themselves and the British seem to be capitulating!
Lenval Brown: They suck! That's another reason to come back. Fight the power!
RSS: From the outside, it looks as if the country becomes more and more insular, now that Cameron is threatening to leave the EU.
Deuan German: Some of those 'leave the EU' lot seem to forget that the UK are totally linked with Europe and the rest of the world and forget the reason that the EU was set up in the first place – to ensure that peace and prosperity could develop.
We have a fascist as our education minister who seems to believe in segregation, though he calls it something different. 'Choice' or some misnomer like that.
RSS: What's the background to that?
Deuan German: It's been the biggest revolution in education in decades. What we will see is a huge hike in the number of children being put out of mainstream education whilst others are 'fast tracked' for 'success'. It's a big subject. But I run a charity which supports children excluded from school – a massive issue here in the UK particularly among African and African-Caribbean children. It's something that Maroon Town are going to put their name and activities more and more to because exclusion is a global issue, not just here in the UK amongst some of our youth
Lenval Brown: This country is insular under this rudderless leadership but it will change. The people won't stand for it
RSS: Do you think that is what a majority of the British population thinks? The perception over here is that Cameron does it purely out of populist reasons, trying to please his voters.
Deuan German: Ultimately we stand for peace, justice and unity. From that we can build a pretty cool civilisation!
Lenval Brown: They'll say and do anything to stay in power. But they won't be in come the next election.
RSS: The present trend in German education is inclusion, which means trying to integrate more and more students, especially disabled ones.
Lenval Brown: Great, we need more programmes like that.
RSS: So Britain goes the other direction?
Deuan German: That's why it will be interesting for us to come and see what you are up to. Divide and rule. It's been the British way for hundreds of years. That's how we maintained an empire (not really WE!). The class system here is pretty entrenched and has indoctrinated a lot of people!
RSS: Another thing that is hard to understand from the outside is that the Conservatives can do that in a coalition with a party that used to advocate European unity.
Deuan German: Power at any price…! I guess that's always a temptation.
Lenval Brown: It's a farce…an unelected party ruining this country. I still don't know how.
Deuan German: I think, ultimately it's a spiritual solution. Once you have forgotten who you are and begin to identify with the physical world too much – you know, your looks, your possessions, your status and power etc. We are all on the road to oblivion… maybe having fun too, but with a lot of suffering.
Lenval Brown: I agree.
RSS: Thanks very much, Len and Deuan.
Lenval Brown: We hope to come to Germany again, maybe next year. We enjoy the energy and support of Ska and Reggae music. Keep it up. Peace.
Maroons – The original Jamaican Maroons were the ex-slaves or descendants of enslaved Africans who had fled to the hilly regions of Jamaica where they founded independent communities and managed to stay free. Today there are still four major Maroon Towns in Jamaica: Scott's Hall in St. Mary, Moore Town in Portland, Charles Town in Portland and Accompong in St. Elizabeth.
More: www.anngel.com/ACIJ/history-maroons.htm
Albums by Maroon Town:
Urban Myths (2011) (affiliate link)
One World (2001) (affiliate link)