by Nate Taiapa
[dropcap]O[/dropcap]ne of my first Two-Tone / Ska albums that I bought and owned was 'One Step Beyond' by Madness. I remember buying it from a secondhand record store back in about 1984-85. I tacked the record cover of 'One Step Beyond' to my wall along with many other Two-Tone posters of bands and album covers. It was like 'One Step Beyond' gave me permission to be different because it was different. It was 'One Step Beyond' that got played again and again and again.
I lived in Hamilton, New Zealand and was about 15 when I first heard the sounds of Madness and Two-Tone. My friend Michael Heperi introduced me to the sounds of The English Beat and another friend, Larry Rarere, introduced me to Madness. Both friends had records by these bands and played them often in various house parties during the weekends. Jason, my brother, also helped me discover more Two-Tone bands when he brought home the 'Dance Craze' and 'This Are Two-Tone' cassettes.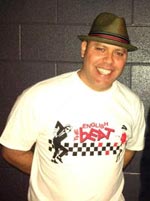 Some of my friends just didn't get what Madness was about. Other friends didn't know about Madness until they heard radio hits like Our House. I remember finding out a club in my city called The Cage. There were no bands only records played in this club but it was like no other club in Hamilton. While most clubs were playing Rock or RnB, The Cage DJs would play everything else like The Clash, B-52s, Culture Club, Talking Heads, Simple Minds, Dexy's Midnight Runners and so many other great 80s bands. The Cage DJ also played MADNESS! No other Hamilton club played Madness and because of this The Cage was where we started to hang out each Friday night till late. The song 'One Step Beyond' would start up in The Cage and all the new-wavers would clear the dance floor and us nutty boys would jump up and do every form of Madness dance we could, even the synchronized Madness walk! This memory of skanking to Madness is still as vivid today as it was for me back then.
What a buzz! I can still see us all dancing, I can remember the feeling I had and the smoke machine blasting smoke out across the floor and the strobe light going full tilt. Some of us had Doc Martens, others had Loafers, some even had shoes they had designed themselves with the distinguishing black and white checkers.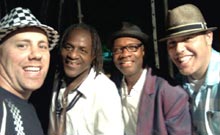 My friends and I would sometimes walk home from town after the clubs closed, eating a hot mince and cheese pie and sipping on a coke that we'd often end up sharing because we were broke. I remember singing songs like Night Boat To Cairo or Madness amongst other Two-Tone gems or chanting Chipmunks Are Go while dodging cars because we'd be walking down the middle of the street!
Everything about Madness I loved – their look, their sound, their flat tops, their nuttiness – they were simply Madness! One Step Beyond! I had not heard of nor seen any band play music like these guys. I so wished Madness had come to New Zealand back then! We would have been up front for sure as only dedicated fans would be. If they only knew how influential they were on us back then, us nutty boys of New Zealand.
[alert type="blue"]
This post is part of the Madness Album Series at REGGAE STEADY SKA. To celebrate the arrival of Madness' tenth studio album "Oui Oui, Si Si, Ja Ja, Da Da", we asked Madness lovers from around the world for their personal tales on Madness and their albums. For an overview on all the texts from this series, please go here.  "One Step Beyond", the band's first album, was released in 1979 and was an instant classic with hit singles such as the title song plus "My Girl" and "Nightboat To Cairo". Would you like to share your memories in the comments? 
[/alert]