by Sergio Rallo
[dropcap]M[/dropcap]ilan, Italy, 3.30 p.m. circa, of a windy week-end on July 1988. I am making the final preparations for the upcoming summer holidays with my new girlfriend and, among other things, I decided that I have to make my personal new soundtrack for the summer.
Stop with Frankie Goes To Hollywood, Falco, Dire Straits, Talking Heads, Genesis and Alan Parson's Project, stop with Tom Waits and Duke Ellington, the Marllion and the Cure and stop with the Blues Brothers too. For that summer I wanted something new in my discography and it was a fact that until a few years before – just before the explosion of house music – it was not unusual to dance to some famous Madness' tracks in the discotheques (places that, to be honest, I was used to attend more for hormonal reasons than just for the pleasure of dancing/interest in the music). So I go out to buy what will be my first Madness' album.
Half an hour later I come back home holding in my hands the cassette version of Absolutely (yeah, it was a time in which you could find near my house at least five record stores instead of banks and, of course, in which you could buy a cassette!). So I "dive" into the listening of my new recording. I just knew that the band from Camden Town made cool videos. Videos that were usually aired on MTV and for that reason, like many youngsters of that time, in my imagination there was a very clear picture of an odd flying sax player… I also knew that the music played by Madness was called "Ska" music.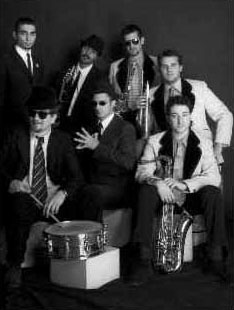 Although, at that time, my only definition of "Ska music" was: "the music played by the band called Madness". I knew Ska was a genre that appealed to the mods who were used to haunt Piazza Mercanti near the Milan Cathedral and I remember well I heard it pumping from a car full of skinheads near the Roman ruins named the Columns of San Lorenzo. That's what I knew on the subject.
At 7 p.m of the same day my girlfriend called me on the phone asking me if I hade filled the bags. To be frank, the truth was that I had spent the whole afternoon to listen and listen again and sing my heart out to every single song from "Absolutely". The phone call actually pulled me out of the trance in which I had fallen. "Absolutely" would be played for the entire summer spent on the beautiful coast of Gallura in Sardinia and it would become the perfect soundtrack for a perfect and carefree holiday.
From that time on I got severly infected by the famous virus named Ska Fever, a terrible virus from which I would never be cured! And when after a few months from that nice summer holiday my girlfriend and me broke up, that vague sense of sadness that tried to peep into my mind and heart was immediately blown away by a melody: "I suppose I'll be sad for a week or two, but in the end it's the same for me and you, we'll both be sorry trhough and through…"
[alert type="blue"]
This post is part of the Madness Album Series at REGGAE STEADY SKA. To celebrate the arrival of Madness' tenth studio album "Oui Oui, Si Si, Ja Ja, Da Da", we asked Madness lovers from around the world for their personal tales on Madness and their albums. For an overview on all the texts from this series, please go here.  "Absolutely", the band's second album, was released in 1980 and included the singles "Baggy Trousers" and "Embarrassment" . Would you like to share your memories in the comments? 
[/alert]